Creation and Criticism
a literary e-journal
Visitors
Videos
Featured Interviews
News
Call for Poems.
Anthology on Contemporary Indian English Women's Poetry. Editors: Charu Sheel Singh & Binod Mishra
Tuesday, 5. April 2016 - 17:42 Uhr
---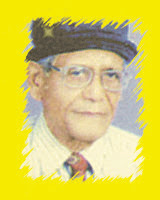 Brajbhushan Singh Gautam 'Anurag' was born on 30th June 1933 at Badaun, U.P. At the age of 23, he left Badaun for Moradabad and finally settled here.  Being a meritorious student, he got post-graduate degrees in five subjects— Hindi, Political Science, Economics, History and Sociology and, thereafter, a bachelor's degree in Law. He is a prolific poet and writer of Hindi literature. His literary pieces have been published in various magazines, newspapers, anthologies, etc. His published books are— Ansoo (Lyrics, 1951), Darpan  Mere Gaon Ka (Epic, 1996), Chandani (Epic, 2003), Dhoop Aati Hi Nahin (Gazals, 2009), Sonjuhi Ki Gandh (Lyrics, 2010), Angan Mein Sonpari (Lyrics, 2010), Sanson Ki  Samadhi (Poems, 2012), Ek Tukra Aasman (Short stories, 2013), Apne-apne Sooraj (Lyrics, 2013), Chandan Van Sanvaren (Lyrics, 2015), Harsingar Khilega (Lyrics, in press), etc. Two books— Viswa-stareey Sahitya ke Srijak Brajbhushan Singh Gautam 'Anurag' (2010) and Mahakavi Anurag : Angan Se Akash Tak (2013) are also published on his life and works. He resides at: MMIGB-23, Ramganga Vihar, Phase-1, Near Sonakpur Stadium, Moradabad, U.P., India.
E-book:
---
Tags:
Poetry
Brajbhushan Singh Gautam 'Anurag'
Author
375 Views