News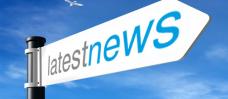 CC also invites latest news (creative writings, honours, accolades, events, book releases, etc.) from the authors for tagging under the tab YOUR NEWS to provide the wider readership for the purpose of dissemination of knowledge across the globe.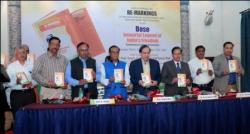 Launch of Re-Markings Special Number on Subhash Chandra Bose
Agra: In what turned out to be a mega-event, Professor Sugata Bose, Gardiner Professor of Oceanic History, Harvard University, USA launched the glittering Re-Markings Special Number titled Bose: Immortal Legend of India's Freedom - New Critical Orientations at Agra on 18 March 2017. Read More.
- Shivam Singh, April 05, Wednesday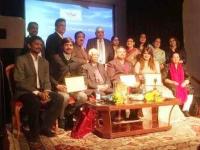 Vatayan Annual Award Ceremony 2017
London: London based literary cultural society 'Vatayan'gave its annual awards for the year 2017 on 24th March 2017 at The Nehru Centre in London. This year, the leading publication house of Hindi, Vani Prakashan and its authors shone on the Vatayan Awards tally. Arun Maheshwari, Managing director, Vani Prakashan, poet Dr. HariOm and cultural activist Smita Parikh were conferred with the Vatayan awards in London for their exemplary contribution to the fields of publishing,literature and cultural awareness. Shri Kesharinath Tripathi, governor, West Bengal, was given the most prestigious Vatayan award, Vatayan Shikhar Samman. Read More.
- Shivam Singh, April 05, Wednesday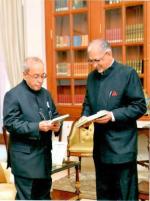 Dewdrops at the Rastrapati Bhawan
President of India Shri Pronob Mukherjee received from Sujit Mukhejee his book of poems DEWDROPS at the Rastrapati Bhawan on 1st February 2016. He highly appreciated Mr Mukherjee's poems and mentioned that poetry writing is a rare gift and only the blessed person can write such beautiful poems. He encouraged Mr Mukherjee to continue to write poetry. Read More.
- Shivam Singh, Dec 18, Sunday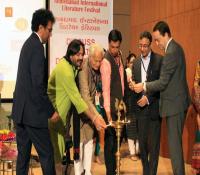 Ahmedabad International Literature Festival 2016
Ahmedabad, Nov 12-13: Ahmedabad International Literature Festival commenced with many leading personalities including poets, writers, storytellers, actors, directors, journalists, publishers, editors, entrepreneurs convening at Ahmedabad Management Association (AMA) for the inaugural ceremony of the fest on Saturday...The LitFest seeks to promote writing, reading, speaking and listening, particularly among children and young adults, with a focus on literature, cinema, media and entrepreneurship providing a rich feast for self-development through value-based messages. The event's byline is 'Discuss, Debate, Deconstruct' with a positive note- 'You can do it all. Be there.' Over the course of two days, the fest explores varied themes like the relevance of Indian literature, world literature, Gujarati literature, mythology, poetry, short stories, literary commerce, entrepreneurship, workshops and much more. Read More.
- Rashmi Goyal, Nov 18, Friday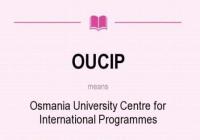 Two Day National Seminar in Osmania University
Hyderabad: The Osmania University Centre for International Programmes (OUCIP), Hyderabad, India is organizing a Two Day National Seminar on "Themes and Narratives in Postwar American Fiction" from 27th – 28th December 2016...The seminar will offer a prominent platform to bring together scholars, academics, experts, writers and critics in the domain of American as well as related multidisciplinary areas to discuss and deliberate on issues and concerns in numerous areas central to the human predicament. The seminar will contribute new research topics to the aspiring research scholars as there is greater need to examine the postwar American novel from a fresh perspective. Read More.
- Nibir Ghose, Oct 13, Thursday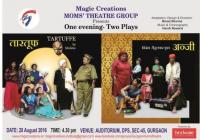 Two Sensitive Issues Wrapped in Comedy
Gurgaon : Giving Gurgaon a flavor of two famous plays, Magic Creations Mom's Theatre Group in association with Hindware presented- TARTUFFE by Molière &ANJI by Vijay Tendulkar on Sunday evening at DPS Sec 45 Auditorium, Gurgaon.The first play called TARTUFFE, Hindi adaptation of a comedy by renowned French play writer Moliere and the second presentation called ANJI by none other than Vijay Tendulkargrabbed the audience attention completely. The plays were staged by Magic Creations Moms' Theatre Group, an all mothers group of Gurgaon who have come together to reclaim their 'creative kick'! Read More.
- Geetika Goyal, August 28, Sunday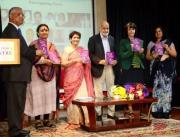 Native Scents Launched at the Nehru Centre
London: the Vatayan launched its fourth anthology of poems, Native Scents/Watan ki Khushboo (Editor: Divya Mathur, Co-editor: Dr Hilal Fareed, Interviews: Shikha Varshney) in the presence of Ruth Padel, British poet and writer with close connections to conservation, wildlife, Greece and music. In chair was Dr MZA Shakeb, historian and Chairman, Ilmi Majlis-London, who also reviewed the book, which has been part funded by the Big Lottery Fund for Languages & Linguistics. Read More.
- Divya Mathur, July 28, 2016
Chandra Arya released Stephen Gill's The Singer of Life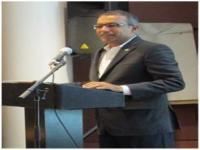 South Korea: Heavenly Culture World Peace Restoration of Light (HWPL), headquartered in South Korea, sponsored the evening of the 25th of June 2016 at Ottawa City Hall, where Stephen Gill's book of love sonnets, The Singer of Life, was released by Chandra Arya, Hon'ble Chief Guest of the ceremony. The Hon'ble Guest pointed out the contributions of Canada to world peace and appreciated the works of Stephen Gill as a writer. Read More.
- Stephen Gill, June 29, 2016
A Vatayan Confers Award on Madhu Chaturvedi, Yogesh Patel and Kunwar Bechain

The House of Lords, London: the Vatayan Poetry on South Bank Award Ceremony-2016 took place at House of Lords in the presence of the Baroness Flather of Windsor & Maidenhead, Patron of Vatayan, Mr CB Patel, Editor of Gujrat Samachar and Asian Voice Newspapers and Tanya Wells, singer, songwriter and composer. In chair was Dr MZA Shakeb, historian and Chairman, Ilmi Majlis-London. The Annual Vatayan Poetry Award were conferred on the well-known and seasoned poets- Dr Madhu Chaturvedi, Yogesh Patel and Dr Kunwar Bechain. Read More.
- Divya Mathur, May 19, 2016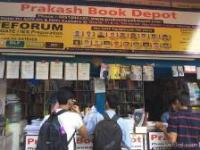 Book Release Ceremony of PBD, Bareilly
We are pleased to inform the release (new titles/new editions/reprints) of the following books:
Robert Frost: A Study of Select Poems by A. N. Dwivedi

Aravind Adiga's The White Tiger—A Study by Sudhir K. Arora

A. K. Ramanujan: The Bridge Between Tradition and Modernity by Dushyant Nimavat

A Handbook of the Study of Literature by M. N. Sinha

Premchand: Godaan—A Critical Analysis by I. D. Sharma

Rabindranath Tagore: Gitanjali—Text with Critical Study and Notes by Som Dev and B. C. Chakravorty

Sarojini Naidu: Select Poems—with Critical Introduction, Notes and Comments by A. N. Gupta

My Days in Tulasikshetra—Memoir by P. G. Rama Rao

Segregation—Collection of Poems by Sankarsan Parida

V. S. Naipaul's India: A Wounded Civilisation—A Study by R. K. Jha

Nothing from Nothing—Collection of Poems by R. M. Prabhulinga Shastry
- Rahul Shinghal, March 30, 2016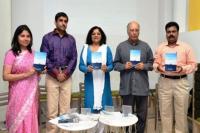 Book Release of 'No Waiting Like Departure'
It gives us immense pleasure to announce the release of No Waiting like Departure (Authorspress, New Delhi) authored by Debasish Lahiri. The occasion was graced by eminent poet and fiction writer Shri Keki N Daruwalla and eminent poet, critic and academician Sukrita Paul Kumar with the flowing nature of Pradipta Mukherjee an associate at IIAS Shimla, Himanchal Pradesh, India.
- Sudarshan Kcherry, March 25, 2016

The Launch of ELSA and 150th Birth Anniversary of Rudyard Kipling
It was sheer delight to speak as Chief Guest to the august gathering on the "Contemporary Relevance of Rudyard Kipling" whose 150th Birth Anniversary was celebrated under the banner of English Literary Society of Agra today, the 12th of March 2016 at Youth Hostel, Agra. Kipling has been a controversial writer and has often been branded a "Jingo Imperialist." Read More.
- Nibir K. Ghosh, March 12, 2016