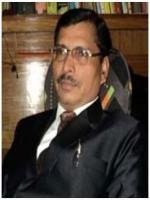 A Story of C L Khatri
---
C.L. Khatri, editor of Cyber Literature and of several anthologies of criticism, is an emerging voice in Indian English poetry. He is a bilingual poet writing in English and Hindi. His three poetry collections in English are Kargil (2000), Ripples in the Lake (2006) and Two- Minute Silence (2014). He edited an anthology of poems on world peace Millennium Mood in 2001. He was awarded Michael Madhusudan Acadmay Award for his poetry collection Kargil in 2002. Currently he is University Professor, Dept. of English, T.P.S. College, Patna. He can be contacted at drclkhatri@rediffmail.com.
---
Maya's Mystery
---
'What the hell is going on between Akash and that whore? I won't let her steal my husband. I will kill her. I am not a weakling.' Maya's fury burst out.
'You are so serious; you must have serious misgivings about him. Maya, please don't make a mountain out of a mole. There is nothing going on between them as you think. They are colleagues; a little bit of healthy flirting, pranks and fun make working place congenial. There is nothing more than that.'
'Flirting? Pranks? Fun? Healthy flirting? Congenial atmosphere? You all men are the same-- seducer, womanizer and bloody fucker, looking for flesh everywhere and these are your gimmicks. There is nothing healthy about flirting, Akash, at least not for a married man. These are convenient terms introduced by perverted men to legitimize their extramarital relationship. These advances from either side are sexual and unpardonable.'
She was pacing to and fro in the room gesticulating and speaking. Suddenly she stopped, walked up to Akash and looking to his eyes asked, 'How far they have gone? Do they have physical relationship? You are his alter ego. He must be sharing everything with you.'
'Does anyone tell such thing?' he chuckled trying to cool down the situation.
But it acted the other way round and the fire flared up, 'For God's sake don't tease me. You know the truth and you admit it this way. Tell me the whole thing. For how long has it been going on?'
Akash sternly snubbed her, 'Maya I am sorry to say you are sick with suspicion. As far as I know him and Sanjana, they are just friends in the profession. It's true he often flirts with her as I flirt, you flirt and everyone at some point of time flirts in one's life. It is needed to break the monotony of life. Flirting invariably is non-serious and asexual. Get rid of your sickness. Rohit loves you like anything.'
Akash stood up like a friend in need, came close to her, held her face in his comforting palms and kissed softly her forehead to soothe her fevered mind. He turned back and left her room in a huff.
For a moment she was stupefied like a statue and then broke down in sobs. But her anger and anguish did not melt away. She murmured to herself, 'I am not Othello's Desdemona. I will hit back. Rohit, I will make your life hell. I won't spare that bitch either. How infidel and perverted are men; they can flirt with any girl/ any number of girl at anytime, anywhere, always on a prowl. And for these modern girls sex is like shaking hands with someone.'
Maya felt exhausted, hungry and thirsty; and was in no mood to cook today. A woman usually does not cook for herself. She was all alone. Rohit was on a business tour to Goa for a week. Her boutique work was still to pick up. She ordered for lunch and a bottle of whisky—liquor for liberation. She took lunch but the taste of whisky repelled her. She kept it for the night. As she wanted to know the truth and settle the score, she called at a detective agency Sky Snoop. Mr David, the chief detective welcomed her in the privacy of his chamber. 'What a beauty!'
'Did you say something?'
Oh! No. I was just wondering how a husband can stay away from such a beautiful wife. If I am blessed with one, I will make her my detective. Ha ha!!
She chuckles.
'Either your husband is invalid or has found a more beautiful partner.'
'I doubt the second. Can you spy on them and give me the authentic report?'
'Of course, it's my duty. Please give me their details, photographs and phone No. I will keep you update about their activities.'
Maya gave the relevant information she had. She told that her husband was on a business trip to Goa. He was staying in hotel Minerva. He had to find out if that bitch was with him and how far they had gone in their physical relationship and what they were planning to do. She paid the advance fee ten thousand. David brought coffee and some snacks for her and continued talking.
'At the outset I assure you that our talk would be confidential. Now I will ask you some personal questions that will help me in this investigation.
'Alright.'
'When did you marry?'
'Two years back. Love marriage'
'Do you love him?'
'Certainly.'
'Does he love you?'
'Very much. He is very handsome and jovial. He is a caring husband and least interfering in my life.'
'Then what's the problem?'
'I am afraid of his virtues. Anyone gets attracted to him. I can't see him flirting with anyone. I can't share my husband even with my sister. I keep a close vigil whenever she is here. This is what I want you to do with him outside.'
'You mean your sister developed…'
She interrupted 'Stop it. It has nothing to do with the case.'
'Have you ever met Sanjana?'
'No.'
'What is your relation with Akash?'
'He is a true friend of my husband. That's all.'
'Have you talked to your husband about it?'
'Not yet. It's early.'
'Thank you. I will get back to you soon. Now you can go home with peace of mind. Enjoy your life and leave this for me.'
Mr David stood up to see her off. A sense of fear dawned on her; and she requested that no one should know about their secret meeting. One can make out of it a scandal. They should avoid meeting.
'But we have to… Anyway as I said all meetings would be confidential.'
David held her hand and kissed it as if to assure she was in safe hands.
Maya returned home perplexed with two kisses of the day unable to decide whether they were sex symbols or sympathy and compassion. How she could neither resist nor react to them! What others would make out of them! It was time to go to bed. She took off her trousers and shirt to put on a nightgown. Her naked body showed on the mirror sensuously inviting. She felt proud of her blooming bosoms, smooth silky banana legs and intoxicating aroma of her armpits. She carefully observed each part of her body- lips, rosy cheeks, shining black eyes, stylish black dense hair, and the curve of the waist…Anyone would get crazy. What else was he looking for elsewhere that she didn't have? The phone rang; 'Hello!'
'Hi! How are you, Maya?'
'Fine.'
'Have you taken dinner?'
'No. Don't feel like….'
'At least have a glass of warm milk before sleep.'
'Hun', she replied curtly to avoid the outburst of her fury.
'I can understand you miss me. But I miss you too. Good night. Sweet dream.'
She put down the phone muttering aside 'Why will you miss me? You are having your bed partner there.' She went to her bed room with the nightgown flung across her shoulder, took a glass of whisky. As she went for the second Akash snatched it from her hand, 'What are you doing my dear? You left the main gate open. And you have taken to drinking. I didn't know you love him so much.'
Maya was shocked to find her nude body exposed before him but reeling under the spell of whisky she could not help collapsing in her arms, 'Help me Akash. I don't know what I am doing.'
'Don't worry. I am with you. You are maddeningly marvellous, hot and sexy Maya.'
A chaste wife opened her chastity belt for the first time. Both had their fill. Sanjay woke up early in the morning, kissed her and left her sleeping. She was woken up by the phone call of David, 'Hello! I am David. Good Morning Maya. I have got important information in your case but I can't share it on phone. Shall I see you?'
Maya found herself alone in the bed and wondered as if all that was a dream. But night's hangover was lingering on. She first hesitated but then asked him to come. In the meanwhile she got ready. David reached there in time and after a brief pleasantry took his seat beside Maya and began, 'Maya your suspicion is true; both of them are staying in the same hotel, the same room. It's not a business tour but a honeymoon trip. Perhaps Rohit has married her. Here are some pics of their intimate moments on the beaches and elsewhere.'
It came as a thunderbolt to her. She felt the earth slipping under her feet. Pictures of Sanjana leaning against Rohit, dancing with him, kissing and hugging him were enough to shatter her. She had a mix of hatred, anger and revenge. But she burst into irreconcilable tears. David moved to her sofa, tried to console her taking her in his arms 'Don't cry baby. Return it to him in the same coin. Tit for tat to shake him to his senses.' David offered her a peg of whisky and she gulped it in one sip. She groaned 'Tit for tat, tit…' David took her to bed, wiped her tears and kissed her eyes, cheeks, lips and said 'Go for tit for tat.' She seemed to echo 'Tit for…'She took the first revenge in a fit. It was neither romance nor sex, a fitful bout of revenge followed by tears of remorse.
David offered a lame excuse 'I am sorry, Maya. Take it as an accident. What I propose is that you give him a ring that you are coming to Goa for a business deal. Stay with him, call me there, introduce me to your husband as your business partner in Goa and go with me to the export agency for a deal and stay overnight at another hotel. Our feigned intimacy will bring him back to you. I will arrange everything. You have to bear the expenses and pay me ten thousand.'
'I am ruined. Give me time to think. I will call you. Bye.'
She was immersed in a whirlpool of intimate scenes with Akash, of David mounting on her, Sanjana sleeping with Rohit and of thoughts, 'should I follow David or not? Should I talk to Akash? David can repeat the act. No, No. I was at fault, a willing submission. But you were not in your senses and he exploited the situation. Who created the situation?...'
They flashed upon her inward eyes. She felt as if her head would burst. She was still in a fix. She decided to knock at Akash. His wife, he had said, was away at her mother's home. She burst forth on seeing him, 'Akash, you lied to me. Your friend and Sanjana are staying together in the same room in Goa making honeymoon. They have married. I am ruined by you people. Ruined….'
He patiently listened to her barbs at length and then tried to pacify her, 'How do you know? Reality and perception are two different things. What you have learnt may be true or may not. Even if it is true, it's not the end of the world for you. There is life beyond marital bound, and I am always with you. You are free to sue him for this illegal marriage if it is. But first, we must try to talk it out. If you say I can accompany you. But let's take a break.'
They went out for a long drive in the cool evening and had dinner at a hotel. He drove to her place and kept talking till late night. At last Maya broke in, 'Thank you Akash for your well-needed company. It's getting late. You can go now.'
'I am happy I could relieve your tension a bit. I can stay with you tonight.'
'No. Thanks. I am at the crossroads. See you again.'
Akash kissed her before parting for the night. She again had a drink as she could not sleep without a drink or drug.
Next day she alone went to Goa disguised as a Sikh youth and booked Room No 41 in the same hotel. She got it confirmed that Room No 42 was booked by Rohit and Sanjana and that Sanjana was married. In the evening she saw Rohit and a married woman flirting and walking arm in arm to Room No 42. She took her for Sanjana as she had just heard about her. At night she could overhear them talking on the terrace.
'Rohit, this exchange really brings a different experience. Sex can be different with a different person. Do you think Maya will accept this arrangement and will have the same experience as I am having?'
"I don't know. She is of different mettle. I wish she could.'
'I think you should have taken her in confidence.'
'No, not possible. It's for Akash to handle. She will come to terms bit by bit or not at all. It's all fine but I can't think of losing her.'
'Nor I. I have an instinctive respect for your wife. But it's not the time to be serious.'
'O K. Should we go to bed now for another round…?'
'I will kill you hungry wolf. By the way, who invented this wife swapping? He must get a Nobel prize.'
They went in without realizing that a storm had erupted in the neighbouring room.
Maya could not wait for the daybreak. She stormed in Room No 42 and started hurling non-stop abuse to Akash's wife, Rohit and Akash. Her fire was more directed against Sanjay's wife, 'you bitch, whore, you have corrupted my innocent husband, spoiled his mind, ruined my life. You are a slur in the name of woman…'
They were caught offhand and before any of them could respond, she grabbed Rohit by his scarf and pulled him down on the floor like a wounded tigress, 'Rohit, your seed is in my womb. It's for you a choice between a part-time whore and a full-time wife and a baby. Choose it just now. You are free to choose. Say what do you want? Say just now. Speak out. And he fumbled, 'You and my baby.' And she dragged him out in a flash of a moment and left the place.
---