Creation and Criticism
a literary e-journal
Visitors
Videos
Featured Interviews
News
Call for Poems.
Anthology on Contemporary Indian English Women's Poetry. Editors: Charu Sheel Singh & Binod Mishra
Thursday, 13. October 2016 - 19:21 Uhr
---
Osmania University Centre for International Programmes, Osmania University, Hyderabad
---
Two Day National Seminar
on
'Themes and Narratives in Postwar American Fiction'
---
Call for Papers
---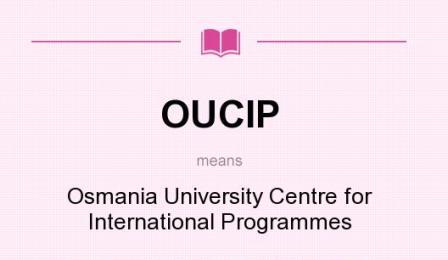 About the Seminar
The Osmania University Centre for International Programmes (OUCIP), Hyderabad, India is organizing a Two Day National Seminar on "Themes and Narratives in Postwar American Fiction" from 27th – 28th December 2016. The proposed National Seminar on "Themes and Narratives in Postwar American Fiction" will have for its focus Fiction written in America after the end of the First World War till the current generation" who produced their major work during the nineteen twenties and after, their legacy was continued by Post-Second World War novelists such as Saul Below, John Updike, Norman Mailer, J. D. Salinger, Nabokov, Richard Wright, James Baldwin, Ralph Ellison and later by Don Delillo, Tony Morrison, Robert Stone, Thomas Berger and others. The postwar literary scenario is principally the story of American vision as it unfolded amid rapidly changing social, political, communal, racial and technological changes. The hyphenated Americans frequently explored the complexity of their identity while addressing the country's deepest political and cultural anxieties. The Vietnam War, the Civil Rights Movement canon blasting avant-grade containment politics, unipolar arrogance increasing commodification and many such aspects inevitably came under aesthetic scrutiny. Even the classics of American renaissance have been critiqued from different theoretical positions.
In continuation of the "lost generation" spirit of the twenties, the rise of the novel influenced by the Communist view point in the nineteen thirties, the arrival of existentialist and "absurd" fiction following the Second World War. American Fiction entered a new phase in the late 1960s and early 1970s with the publication of the most popular works in American Literary writing related to the "Beat Generation" and the birth of the new forms of spiritual experience to counter the stress of postwar American Society through drugs, alcohol, philosophy, religion and specifically through Zen Buddhism.
World War I and World War II and after gave rise to a new perspective and a boom in contemporary war novels. American novelists produced greatest numbers in case of World War II novels. These novels explore the personnel nature of war within the context of intense combat.
The seminar will offer a prominent platform to bring together scholars, academics, experts, writers and critics in the domain of American as well as related multidisciplinary areas to discuss and deliberate on issues and concerns in numerous areas central to the human predicament. The seminar will contribute new research topics to the aspiring research scholars as there is greater need to examine the postwar American novel from a fresh perspective.
Among the major themes and perspectives, the seminar will include the following areas:
 The Lost Generations Novelists.

 The Jazz Age Fiction.

 The Harlem of Renaissance Novels.

 Leftist Learnings: Fiction of the Nineteen Thirties.

 Existentialist novels,

 Campus Novels: The Beat Generation Novelists.

 African American Writings.

 The Black Power Movement.

 War Novels

 Science Fiction

 The Indian Diaspora Novels.

 Buddhist Fiction.

 Terrorism and the African Novel.

 Women's issues and American Novel.

 Human Rights and the American Novel.

 The American Political Novel.

 Ecocriticism and the American Novel.
Osmania University
With a sprawling campus of nearly 1600 acres and buildings of majestic beauty and architectural splendor, Osmania University, is perhaps, the largest higher education system in the Country. It is a home to nearly 300,000 students pursuing their higher studies in its Campus, Constituent, Affiliated Colleges and District Centres. Its faculty and staff number nearly 5000. It is a multi-faculty and multidisciplinary university, offering rich and varied courses in the fields of Humanities, Arts, Sciences, Social Sciences, Law, Engineering, Technology, Commerce and Business Management, Information Technology and Oriental Languages. The University's strategic planning, teaching-and-learning policies and research direction have always emphasized respect for the concerns of the society and the need to address the issues that challenge it. In recognition of its excellent academic achievements, Osmania University had the distinction of being awarded the 'A' Grade status by the National Accreditation and Assessment Council (NAAC) of the University Grants Commission, Government of India in the year 2008.
OUCIP
Osmania University Centre for International Programmes came into existence in August 2006 after the Ministry of Human Resource Development, Government of India, handed over the management and administration of the American Studies Research Center (ASRC) to Osmania University. It is housed in the building complex of the ASRC and has inherited its academic and infrastructural strengths.
However, OUCIP has broadened its scope and added new fields of study from humanities and social studies to American Studies. This was done with the realization that a single discipline Centre with a single source of funding was neither possible nor feasible in the context of the growing need for multi- and interdisciplinarity within the academia. It was also felt that Osmania University located in the city of Hyderabad, needed to reflect the multi dimensional growth and reach of the city that has been evolving as a major hub for the new knowledge's emerging in different fields. OUCIP was thus conceived to complement the special status of the City in which it is located while retaining its strength in the disciplines of American Studies and International Relations acquired over four decades.
Paper Presentation
Abstract should be in MS Word 97-2003 format with Times New Roman, 12 Font, along with Title, Authors names, Address, email.
Presentation facilities: Multimedia projectors for Power Point presentations (MS office) will be made available.
Conference Important Dates
1. Abstracts Confirmation : 15th November 2016
2. Registration : Registration after the confirmation of abstract
Registration Fee (Includes Boarding & Lodging and Conference Kit):
S.No. Category Registration Fee
1. National Delegates 2000/-
2 Research Scholars , O.U 1,000/-
3. Research Scholar Other Universities 1500/-
3. Accompanying Person*** 2,000/-
**Student or Research Scholar should send a certificate duly signed by Head of the Institution and should carry valid ID proof. Student category conference material
will be provided.
***Conference Material will not be provided to Accompanying person.
Mode of Payment:
Bank draft in favor of "Director, Osmania University Centre for International Programmes" payable at Hyderabad, T.S., India.
Communication hub:
1. Prof. A. Karunaker, Ms. Sameera Khundmiri
Convenor, Librarian
Director, OUCIP OUCIP
Osmania University Osmania University
Hyderabad 500 007 Hyderabad 500 007
Telangana State, India. Telangana State, India.
Email:akredrem@gmail.com oucipprogrammes@gmail.com
Mb. No: 9849302145 Contact – 040 – 27098609 –ext: 41
Contact – 040 – 27098609 –ext: 31
2. Mrs. G. Sandhya
Programme Assistant
OUCIP
Osmania University
Hyderabad – 500 007
Telangana State, India
oucipprogrammes@gmail.com
Contact – 040 – 27098609 –ext: 44
For General query & Abstract submission : oucipprogrammes@gmail.com
For Accommodation request : oucipreservations@gmail.com
Website : www.osmania.ac.in/oucip
Registration Form
1. Name In Block Letters
2. Designation
3. Country / Nationality
4. Mailing Address with PIN Code and E-mail
(Entire correspondence will be through e-mail)
5. Contact Number with country & local code
Mobile :
Office :
Residence :
6. Demand draft No. Amount Date: Bank:
7. Category National Delegate
Research Scholar Accompanying person
(Research Scholars are requested to submit their University ID Card as a Proof.)
8. Payable at (Name of the bank)
9. I am interested in contributing the paper YES / NO
If Yes send the abstract to oucipprogrammes@gmail.com
10. Title of the paper
11. I am interested in reserving accommodation YES / NO
If Yes mail to oucipreservations@gmail.com
12. I am accompanied by family and needs food and YES / NO
accommodation on payment basis
If Yes Payment Particulars DD/Cheque NO Dt: Bank:
Branch: Amount:
(Very limited accommodation first come first serve basis)
Note: All the participants should send emails to the concerned sections along with print form of registration duly signed along with DD
Date
Place Signature of the Participant
---
Tags:
University
Seminar
News
217 Views


Weitere 3 Nachrichten nachladen...