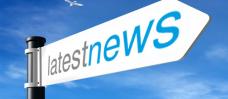 CC also invites latest news (creative writings, honours, accolades, events, book releases, etc.) from the authors for tagging under the tab YOUR NEWS to provide the wider readership for the purpose of dissemination of knowledge across the globe.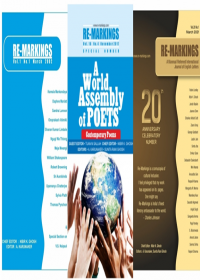 Re-Markings@20th Anniversary Milestone
Beginning in March 2002, Re-Markings has completed twenty eventful years of publication with its March 2021 20th anniversary special number. Published with unfailing regularity, akin to the rhythm of the two equinoxes, in March and September each year, Re-Markings has consistently provided a much-needed healthy forum for scholarly and authoritative views on broad socio-political and cultural issues of human import as evidenced in literature, art, television, cinema and journalism with special emphasis on New Literatures in English including translations and creative excursions like story, poetry, reminiscences, reviews etc.... Read More.
- Nibir K. Ghosh, April 21, 2021, Wednesday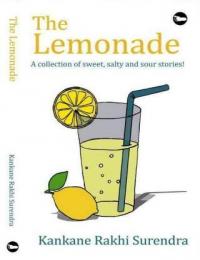 The Lemonade Released
Mumbai, India: Author Kankane Rakhi Surendra's short story collection 'The Lemonade: A collection of sweet, salty, and sour stories' has been released and is now available for readers. The book is available in both - paperback and eBook format. 'The lemonade' is a collection of short stories that are a reminder to embrace life in whatever form it is and look on the bright side of it. All the stories of this book aim to inspire everyone who reads it to find something positive in whatever situations life throws at and make the best lemonade possible. Talking about her latest book, Rakhi says, "I believe just like lemonade, life is a blend of sweet, sour, and salty experiences... Read More.
- Rakhi, April 20, 2021, Tuesday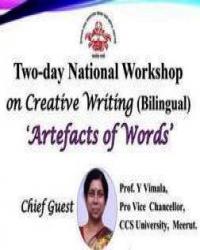 Two-day National Workshop on Creative Writing
Saharanpur: Two-day National Workshop On Creative Writing (bilingual) 'Artefacts Of Words' was organized by the Department of English, ML&JNK Girls College, Saharanpur on August 17 and 18. The objective of the workshop was to boost creativity and innovation through theory and practice and to utilize the lockdown period in a constructive way. The inaugural session started with the presentation of Saraswati Vandana. Principal, Dr. Amita Aggarwal, gave the opening remarks and introduced us with the great achievements of the chief guest, Prof. Y. Vimala, Pro Vice Chancellor, CCS University, Meerut. Read More.
- Anupam Bansal, Oct 20, 2020, Tuesday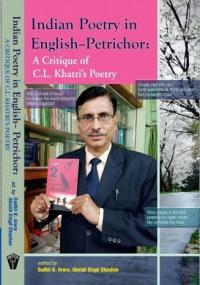 Indian Poetry in English—Petrichor: A Critique of C.L. Khatri's Poetry
The book Indian Poetry in English—Petrichor: A Critique of C.L. Khatri's Poetry contains articles and research papers of the critics who have discovered new idioms, cultural ethos, contemporary reality, socio-political perspectives, ironic undertones, postcolonial concerns, Indian sensibility, philosophical irony, reflections on physics and metaphysics, the satirical vision, representation of Anthoropocene, colours of life, petrichor and many other critical dimensions in Khatri's poetry. This book will surely create an interest in the general readers, students, researchers and teachers, who will be motivated for making further critical discoveries in the poetic world of C. L. Khatri. Read More.
- Shivam Singh, April 20, 2020, Monday