Creation and Criticism
ISSN: 2455-9687
(A Quarterly International Peer-reviewed Refereed e-Journal
Devoted to English Language and Literature)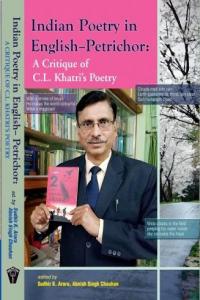 Book Launch
---
Indian Poetry in English—Petrichor: A Critique of C.L. Khatri's Poetry
---
Sudhir K. Arora, Abnish Singh Chauhan,ed. Indian Poetry in English— Petrichor (A Critique of C.L. Khatri's Poetry). Bareilly: Prakash Book Depot, 2020. Pp. 272, Rs. 598/-. ISBN: 978-81-7977-658-2
---
Blurb
C.L. Khatri (1965), with his four poetry collections—Kargil (2000), Ripples in the Lake (2006), Two-Minute Silence (2014) and For You to Decide (2016), has emerged as a significant poet in the domain of Indian Poetry in English by virtue of his Indian themes, inbuilt irony, sparkling wit and fusion of idea with feelings.
The poetic world of Khatri contains "Fire" of enthusiasm to fight against poverty, violence, illiteracy, deterioration of values, corruption and many other Kargils like Jawans of Kargil, "Water" of cultural traditions and Indian values from Ripples in the Lake, "Earth" of ground realities which can be felt when a man remains silent during Two-Minute Silence and reflects over the final outcome of his relevance in this world, "Air" which makes him see the world, equipped with the new scientific inventions and technologies that have made him materialistically rich but spiritually poor, finally leaving everything to him to decide, better For You to Decide.
The book Indian Poetry in English—Petrichor: A Critique of C.L. Khatri's Poetry contains articles and research papers of the critics who have discovered new idioms, cultural ethos, contemporary reality, socio-political perspectives, ironic undertones, postcolonial concerns, Indian sensibility, philosophical irony, reflections on physics and metaphysics, the satirical vision, representation of Anthoropocene, colours of life, petrichor and many other critical dimensions in Khatri's poetry.
This book will surely create an interest in the general readers, students, researchers and teachers, who will be motivated for making further critical discoveries in the poetic world of C. L. Khatri.
---
Critiques
What strikes me most in C.L. Khatri's poetry is the Indianization of English and noticeable expression of Indian sensibility and ethos. — Prof. Satish Kumar, Former Dean, Faculty of Arts, MJP Rohilkhand University, Bareilly.
Khatri is a careful craftsman. — Shyamala A. Narayan
Khatri emerges as a champion of the sufferers whether individual or enmass. — Dr. D.C. Chambial
Khatri is a promising poet who values human relationship and considers the whole world his home. — Sudhir K. Arora: World Literature Today, USA
C L Khatri's love for his land, his people, his culture, his festivals, his flora and fauna, his family and his trilingual existence in Bihar mingles with his mythopoic sensibility and gives a specific structure to his poems in English. — Prof. Shaileshwar Sati Prasad
C. L. Khatri's poetry, at its best, successfully portrays in the English language what is—simply Indian. — I. Sheriff, JIWE
---

About the Editors:
Sudhir K. Arora, the Chief Editor of Creation and Criticism, is presently serving as Associate Professor, Department of English, Maharaja Harishchandra P. G. College, Moradabad. He has several significant publications to his credit including Aravind Adiga's The White Tiger: A Freakish Booker and Cultural and Philosophical Reflections in Indian Poetry in English.
Abnish Singh Chauhan, the Editor of two online journals—Creation and Criticism and IJHER, is presently serving as Professor and Dean, Faculty of Humanities & Journalism, Bareilly International University, Bareilly. He has authored a number of books including The Fictional World of Arun Joshi: Paradigm Shift in Values and Speeches of Swami Vivekananda and Subhash Chandra Bose: A Comparative Study.
---