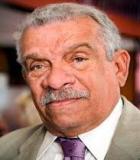 Derek Walcott
---
Vedio-1 : Nobel Laureate Derek Walcott on his Life and Work
English professor, Christian Campbell, interviews Caribbean poet and playwright, Derek Walcott, winner of the Nobel Prize in Literature in 1992. Walcott discusses issues of identity, culture, and language in this illuminating conversation, filmed at Hart House Theatre on November 23, 2010.
Vedio-2 : Derek Walcott discusses his Painting and Poetry
When working on The Writer's Brush, his book about great writers who were also visual artists, Donald Friedman had the honor of interviewing the late Derek Walcott, Nobel Laureate for Literature, about his art and his views about the relationship between poetry and painting. These are excerpts from that interview.
---