Creation and Criticism
ISSN: 2455-9687
(A Quarterly International Peer-reviewed Refereed e-Journal
Devoted to English Language and Literature)
News
---
Two-day National Workshop on Creative Writing
---
Artefacts Of Words
---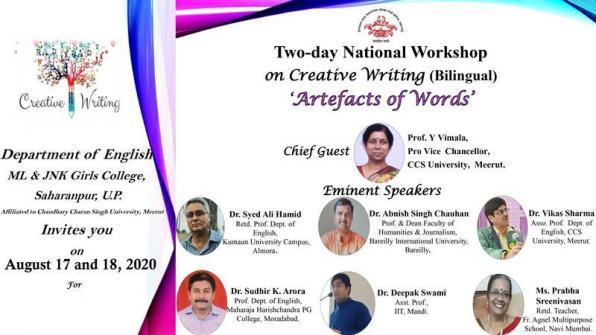 Saharanpur: Two-day National Workshop On Creative Writing (bilingual) 'Artefacts Of Words' was organized by the Department of English, ML&JNK Girls College, Saharanpur on August 17 and 18.
The objective of the workshop was to boost creativity and innovation through theory and practice and to utilize the lockdown period in a constructive way. The inaugural session started with the presentation of Saraswati Vandana. Principal, Dr. Amita Aggarwal, gave the opening remarks and introduced us with the great achievements of the chief guest, Prof. Y. Vimala, Pro Vice Chancellor, CCS University, Meerut. Prof. Y. Vimala congratulated the organizers and highlighted the role of stories in the evolution of our life. The program was conducted by Dr Anupam Bansal, Associate Professor, Dept of English. She first introduced the invited speakers and conducted the program according due protocol.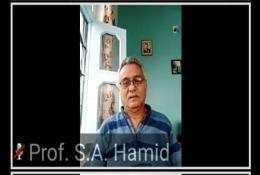 First day speakers were— Dr. Syed Ali Hamid, Retd. Prof. Dept of English, Kumaun University, Campus, Almora and Dr. Abnish Singh Chauhan, Prof & Dean Faculty of Humanities and Journalism, Bareilly International University, Bareilly. Dr. Hamid briefly explained the history of English Poetry and shared the techniques of writing poetry. He added extra charm to the program by presenting beautiful self-composed poetry.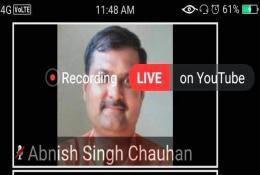 Bilingual poet, critic and editor Dr. Abnish Singh Chauhan defined poetry and discussed in detail the process of creative writing and it's various aspects— the subject matter, the language pattern and the presentation technique, etc. He also spoke meaningfully on the relevance of the clichéd meanings of various definitions as given about Hindi and English poetry while keeping them to the test of logic and reason. Meanwhile, Ms. Shivika's presentation 'Panchtatva' received great acclaim.
Second day speakers were— Dr. Vikas Sharma, Associate Professor, Dept of English, CCS University, Meerut, Dr. Sudhir K Arora, Prof. Dept of English, Maharaja Harishchandra PG College, Moradabad, Dr. Deepak Swami, Assistant Professor, IIT, Mandi and Ms Prabha Sreenivasan Retd. Teacher Fr. Agnel Multipurpose School, Navi Mumbai.
Dr. Vikas shared his views on creative writing in a very interesting manner and recited beautiful poems. Dr. Sudhir Arora explained poetry in a creative way and shared practical tips for creative writing. The powerful presentation of his poem 'Maa' emotionally charged the viewers and received high acclaim.
Dr. Deepak Swami energized the atmosphere with the recitation of his powerful motivational poems. Ms. Prabha Sreenivasan effectively discussed various dimensions of story-telling and narrated few self-written short stories. Ms. Shivani Sharma, a brilliant student, presented a powerful self-composed poem— 'Corona- Ek Yuddh.'
Technical team members— Shivani Sharma, Simran Khurana and Anu Saini did their job with perfection. Organizing committee members— Dr. Shabana Singh, Mrs. Sunita Jain, Ms Swati Sharma and Ms Arshi Iqbal also contributed a lot.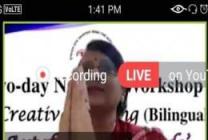 Organizing Secretary Dr. Anupam Bansal did a wonderful job as a moderator and conducted the program with grace and elan.
More than hundred professors, research scholars and students from different corners of the country participated in the workshop.
---
YouTube: Day One
YouTube: Day Two
Speech of Abnish Singh Chauhan on YouTube
---