Creation and Criticism
ISSN: 2455-9687
(A Quarterly International Peer-reviewed Refereed e-Journal
Devoted to English Language and Literature)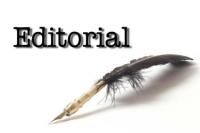 Editorial

Poets are sensitive by nature and temperament. They see, observe, meditate and, then, articulate what they feel as a part of reaction to a particular object, a person or an idea. What makes good poetry is the fusion of naturalness and meditation woven in the fabric of figures and images. They recreate the ideal world which they imagine or form. They become the inheritor of the rich values and traditions of a particular culture. They employ history, myths and legends in order to evoke the contemporary relevance. Life and its predicament become the main motif of every poet who offers his vision through impressions, observations and reactions. The poets get nourishment through dreams and desires somewhere at the subconscious level. But, when they come to the conscious level, they find themselves on the ground of harsh reality. Between dreams and reality lies their poetic creation.
"Poetry makes nothing happen" seems to be odd now. It is only poetry that can bring a change in attitude and understanding of a human being who finds something new and fresh to see life through poetry. Poetry makes him spiritually rich and strong enough to face life and its predicament. The contemporary landscape is dotted with corruption, decline of moral and cultural values and disrespect for the past. Alienation, rootlessness, meaninglessness, absurdity, identity crisis etc., are the components which are rooted in a modern man who remains restless but finds rest only when he seeks his roots in his cultural past.
P. Lal's Modern Indian Poetry in English: An Anthology and a Credo, Vinayak Krishan Gokak's The Golden Treasury of Indo-Anglian Poetry 1828-1965, Saleem Peeradina's Contemporary Indian Poetry in English: An Assessment and Selection, R. Parthasarathy's Ten Twentieth Century Indian Poets, Keki N. Daruwalla's Two Decades of Indian Poetry,1960-1980, Vilas Sarang's India English Poetry Since 1950: An Anthology, Arvind Krishna Mehrotra's Twelve Modern Indian Poets, Makarand Paranjape's Indian Poetry in English, Eunice de Souza's Nine Indian Women Poets: An Anthology and Early Indian Poetry in English An Anthology 1829-1947, Jeet Thayil's The Bloodaxe Book of Contemporary Indian Poets and 60 Indian Poets, Sudeep Sen's The HarperCollins Book of English Poetry, Vivekananda Jha's The Dance of the Peacock: An Anthology of English Poetry from India and Binod Mishra's Exiled Among Natives: An Anthology of Contemporary Poetry are some significant anthologies of the contemporary Indian Poetry in English. Today poets, rather poetasters are more in numbers than readers. Time will sift the wheat from the chaff. Only genuine poets will remain and the rest (poetasters) will be forgotten.
Creation and Criticism (A Quarterly International Peer-reviewed Refereed e-Journal Devoted to English Language and Literature) provides a stage to the creative authors and critics for sharing their creative and critical views through poems, plays, fiction, interviews, book reviews, research articles and videos, which will be helpful in making the readers reflect, think and understand the contemporary scenario.
The Journal is devoted to highlighting the genuine creative authors and critics who are not well recognized but possess the potential. Such authors and critics will be highlighted through interviews and videos.
The Journal also offers one award in creation (Poetry / Short Story) and one in criticism (Review Article / Research Paper) every year to honour the potential and creative talent of the contributors. The Jury will select the best research paper / article and the best poem / short story, published during the year. The winning contributor will receive a certificate along with a symbolic amount of love that will be a token in recognition of the talent.
Here, we, the editors, present Creation and Criticism with the hope that you will enjoy its reading. A tour of the CC, we believe, will motivate you for fresh ponderings.
Wish a blissful flow to all the readers in the year 2017.....
All the best!
Happy reading...
Editor-in-Chief
Editor
Managing Editor