Creation and Criticism
a literary e-journal
Visitors
Videos
Featured Interviews
News
Call for Poems.
Anthology on Contemporary Indian English Women's Poetry. Editors: Charu Sheel Singh & Binod Mishra
Creation and Criticism
ISSN: 2455-9687
(A Quarterly International Peer-reviewed Refereed e-Journal
Devoted to English Language and Literature)
Jan 2017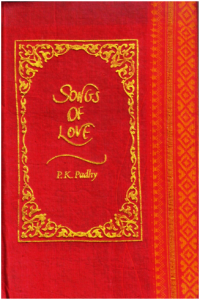 Songs of Love: A Celebration by Pravat Kumar Padhy
---
Padhy, Pravat Kumar. Songs of Love: A Celebration. Kolkata: Writers Workshop, 2012. Pp. 48. Price: Rs. 100/-. ISBN: 978-93-5045-029-1.
---
Reviewed by Sudhir K Arora

In me
I discover you. (14)
Pravat Kumar Padhi's Songs of Love is a celebration of life which runs smoothly because of love that lubricates to the extent that it faces all the troubles of the journey. Both the lover and the beloved praise each other's poetry and become ready for nuptial tie that prepares the ground for divine living. They search each other sensuously while closing their eyes. The lover moves his fingertips over her "sedulous lips" and takes rest on "the high seas" of her beauty. His inner sun begins to swim with her "passionate waves." He hears the "symphony of love" and feels that she is "soft, calm and poetic." The following lines reveal the height of the romantic love:
You wake me up
In my moist dream
And your soft touch
Lulls me to sleep.
Closing my eyes
I search
The shade of light
Over your
Flowery smiles. (14)
The lover becomes confused whether physical relationship leads to the height of love. He interrogates himself "Whether sublime love / Grows with counts." But soon he corrects himself to trace out creation in cosmic love. He states his wish:
In your cosmic love
I search the
Cause of creation
And wish
I could discover
Adam and Eve. (19)
He also wonders and begins to think over what makes them one. Her love is nectar which flows from her eyes. He also recalls the time when they quarrelled with each other resulting in togetherness after forgetting the argument. He recalls:
I recall
Unmindfully sometimes,
Opinion gets divided
I poise for mine
And you for yours.
After a brief spell
On a different musical tone
We sing together
The same soulful song
Forgetting the argument gap
As a devilish dream (22)
When he is alone, he recalls her. The letter she sends brings "a fresh breeze of remembrance." Love for him is "an act of creation." Soon a baby is born. He welcomes the beloved's womanhood that offers him "a gateway to another new poem." She assimilates love for a noble cause. Both of them discover "petals of love and glee" in the sunny and innocent smiles of their kids. He feels that these are the flowers of love that "confer together" while "weaving the inspiring Generation link." He goes back and reminds in order to read the poetry of love. He is thankful that time has enriched them with beauty and bliss that will lead them towards "a divine journey." He knows that their love is "a ceaseless / melodious celebration." Their love is the lamp and they themselves are its brightness. They are the rhythm to the song of love. Their journey is "an extension / of the boundless voyage." With "nostalgic memories", they hope to realise the "sun of a new bright light" so that they may walk the cosmic path together with "the evolutionary smile." The poem that begins with the physical ends with the sublime. Physical love ends with the passage of time but the sublime love with which the lover in Padhy is blessed continues to shine and shower blessings which lead to celebration.
The poem is the song of love that Padhy sings spontaneously. It flows from his blissful soul. Phrases like "melodious pages of time", "sedulous lips", "burning grief", "pearls of love", "the abyssal sea of quest", "the rhythm of silence", "the morphology of feeling", "the dimension of affection", "the inheritance of creation" are worth remembering. Simple figures like "Like a bird / You dream to fly" (20), "I circulate you / Like breeze / Everywhere" (30), "Life is a wave / Of joy and sorrow" (43), and "My dream silently streams" (28) appeal the heart that longs for love.
The poet in Padhy is a traveller who soars high on the wings of imagination and sings the songs of love that echo and re-echo in the hearts of the readers who are also on the journey of life in the quest of blissful love. The songs in Songs of Love are indeed the songs of love which move the heart so profoundly that the readers cannot remain without praising them for their flowing lyricism, innate feelings and faithful longings and blissful celebration of life from physical to sublime.
---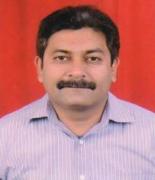 The Reviewer:
Sudhir K. Arora (b.1968) teaches English at Maharaja Harishchandra P. G. College, Moradabad affiliated to M. J. P. Rohilkhand University, Bareilly. He has several significant publications to his credit including Aravind Adiga's The White Tiger: A Freakish Booker and Cultural and Philosophical Reflections in Indian Poetry in English in Five Volumes.
---