In Memorium

---
Premananda Panda: A Messenger of Benevolence
---
Let us give something to our ability
to those who need to live—
money, education, labour, advice—
but demand nothing
except joy
to see them smiling and dancing. (Joy of Giving)
Premananda Panda (1950-2015), an Indian author of Odia and English with a poetry collection in Odia— Sidi (meaning ladder, 2001) and a collection of English short stories— Across the Blue Horizons (ed. 2008); and editor of Replica (a popular magazine of English language and literature, started in 1997) breathed his last on 30th May 2015 due to severe heart attack at Sun Hospital, Cuttack, Odisha. A man of benign nature and helping attitude Mr Panda was born on 17th Feb 1950 at Parahat, a village in the District of Jagatsinghpur, Odisha. Late Baikuntha Panda was his father and Late Keluni Devi was his mother. He left two daughters— Mrs Prajna Panda and Mrs Priti Panda and one son— Malaya Manas Panda along with his courteous wife— Manjuprava Mishra. He did his M.A. in English in 1972 from Ravenshaw College, Cuttack. He started his career as a Lecturer in English at S.V.M College, Jagatsinghpur in 1976. After that he joined Salepur College as HOD- English in 1991, Kendrapada College as Reader in English in 2003 and Kishore Nagar College (Cuttack) as Principal in 2008 and worked there till his retirement in 2010. He was felicitated as a poet in World Poetry Day Celebration in Gangtok, capital of Sikkim State, India from Government of Sikkim in the year of 2006. Besides 'Radha Krishnan Gold Medal Award' (given posthumously) on the occasion of Teachers Day dated 5th September 2016 from Global Economic Progress & Research Association, Chennai, Tamilnadu, he was also conferred with 'Sahakar Award'(Cuttack, 1999), 'Kalinga Sahitya Academy Samman'(Salepur, 2001), 'Kendrapada Sahitya Sansad Samman'(Kendrapada, 2002), 'Jagatsinghpur Sahitya Sansad Samman'(Jagatsinghpur, 2005), 'Loving Sisters Award' (Jagatsinghpur, 2002), 'Guru Gaurav Samman' (Cuttak, 2007), etc. from different literary and socio-cultural organizations of Indian territory. After retirement, he was preparing a poetry collection in English— a big dream of his life, which may come true in near future.

---
Poems of Premananda Panda
---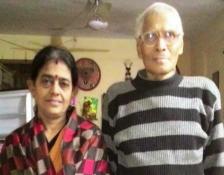 1. Dawn
Sweet refrain of the flute
'hangs in the air,
birds chirp and quietly soar.
Myriad coloured flowers
smile in the breeze sweet,
one by one vanish fading stars.
Cock begins the morning carol,
crow hovers around
the broken electric pole.
Atop bygone zamidar's
falling haveli, a lonely pigeon sits
and meditate, on gargoyle.
Half asleep village folk
tread towards the temple
to have god's darshan.
East begins to turn crimson
like the scattered petals
on a piece of blue satin.
In a half-lit labour-room
readies herself a would-be mom
to hear the cries of her babe.
2. Image of the Real
If God's name is not a password
for godly abode
then what of this life
only to muse on money and matter?
One killing induces thousand killings
your blood– smeared palms
get reflected on your placid face.
A heart made of granite
only turns the other hearts
into red rocks.
Rain drops
evaporate halfway.
The rainbow that hangs
on the feathered clouds.
fades away in moments.
Roses– let their petals drop
as winds turn putrid
with the smell of the carcasses.
Who is then the savior–
an incubus or a pious soul?
3. Father
The wooden staircase
spirals up
to the roof of our home building.

In my childhood days
my father would sit me
on one of its steps
and ask me fondly
to jump into his arms.
Dump merrily.
He holds me tightly
to his broad chests.
We both enjoy those moments.
The more I grew up
the more I jumped
from the upper steps
into my father's arms.

Today I am
on the last step and feel
as if father is asking me–
your feel scared!
No, jump into my arms,
never looking to the ground.
Indeed, how strong are
those two arms of our Father.
4. True Race
The child moves the mouse
of the PC,
questions to mum
on Steve Jobs, Obama;
on Sachin and Beckham
even on Laden and Hirosima;
His eyes move
from the earth to the sky,
and from the sky to the water
smiles, shrieks in wonder.

Memory beckons childhood
Time moves back swiftly
sixty years to the past
dusty village road
half-naked children
with round coconut-shells and marbles,
play and shout:
hide in corners when schoolmaster comes.
Ponds with fish, lilies and lotus
a midday sweet:
a pair of golden orioles
atop of leafy twig.
In winter evenings
a loving grandmother
telling stories of ghosts and witches
or lions and princesses:
now all is only a lively painting
on a large canvas.
The flame of the lamp flickers–
a new lamp is to be lighted soon.
5. This is India
This is India:
Where–
a battle of Dharma
fought between the Pandavas and the Kauravas
Lord Krishna had taught Arjuna–
the third of the Pandavas,
the duty of a hero.
the duties of a Kshatriya
to save and safeguard Dharma
the basics of a noble soul!
Where–
emperor Ashok learned
The basic truth of life
to protect but not to destroy mankind
and turned a martinet adopting Buddhism.
Where–
the British realized
the power of non-violence,
the power of satyagraha and meditation
bent before the iron-willed 'Naked Fakir'
The foes turned the friends, embraced, united.
Where–
in sixty years, the tags 'developing' to
'almost developed'
dazzle in Delhi and Mumbai
in haloed letters on papers and on the screens
the millionaires have grown billionaire
and shine in the Forbes list–
India shines.
But here–
The industrialists grab the land and forest
the tribals of the hinterland are pushed to the corner
with their pot-bellied children,
sick, pregnant women and some black, red hens.
The filmmakers sell poverty in world market
but the heroes grin and the heroines giggle
in award winning ceremonies.
Bribes float in the air like flakes
the girl-child is killed even when it is in the wombs
the river of wine flows through the cities and villages
but never meets the estuary.
Young girls are allured and eluded
raped and murdered
and thrown into the thorny bushes.
The gurus and the guardians of law pose
as the demi-gods only to severe virginity.
The moon shines on one side
but hides the other one.
6. Joy of Giving
King Karna is revered and remembered
for his matchless philanthropic deeds
even could part with his invaluable earrings
which he gave to Indra who begged him in disguise
though he knew well before that
this act of benevolence
would surely claim his precious life.
Personal fear
surrendered to dignity of promise.
Destiny had made Raja Harishchandra work
at a cremation grout,
But he had never budged from his promises
to help the needy.
He lost his kingdom
and sold his wife and son
and suffered until their happy reconciliation.
History records
countless kings, emperors and billionaires
whose timely help could alleviate
the plights of the sufferers;
tireless efforts of the scientists and explorers
centuries old inventions and discoveries
have made mankind strive,
against all odds and adversities
to fight and survive.
Let us give something to our ability
to those who need to live –
money, education labour and advice–
but demand nothing
except joy,
to see them smiling and dancing.
---
I, Abnish Singh Chauhan, with the team of Creation and Criticism pay my sincere tribute to this messenger of benevolence. May his soul rest in peace!
---