Creation and Criticism
ISSN: 2455-9687
(A Quarterly International Peer-reviewed Refereed e-Journal
Devoted to English Language and Literature)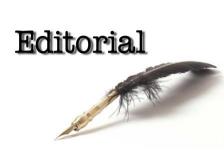 Editorial
Creation is a matter of heart while criticism is of head. Both of them are an integral part of life. The world is in the grip of the monster of terrorism. Terrorists do not talk of peace, but of violence through the weapons. Religious shops vie for selling their products. The cloak of politics has become dirty. Politicians talk of their self-interests and do not hesitate in throwing values and ethics into dustbin. Political ethics and political understanding are not taken as virtues and jewels to be equipped with. The words like 'intolerance', 'sedition' etc., are in the air. Nationalism and patriotism are given new definition to suit the self-interests. The scenario has become chaotic. Here lies the importance of the creative authors and critics, who can contribute in spreading the positive vibes through their writings.
Creation and Criticism (A Quarterly International Peer-reviewed Refereed e-Journal Devoted to English Language and Literature) provides a stage to the creative authors and critics for sharing their creative and critical views through poems, plays, fiction, interviews, book reviews, research articles and videos, which will be helpful in making the readers reflect, think and understand the contemporary scenario.
The Journal is devoted to highlighting the genuine creative authors and critics who are not well recognized but possess the potential. Such authors and critics will be highlighted through interviews and videos.
The Journal also offers one award in creation (Poetry / Short Story) and one in criticism (Review Article / Research Paper) every year to honour the potential and creative talent of the contributors. The Jury will select the best research paper / article and the best poem / short story, published during the year. The winning contributor will receive a certificate along with a symbolic amount of love that will be a token in recognition of the talent.
Here, we, the editors, present Creation and Criticism with the hope that you will enjoy its reading. A tour of the CC, we believe, will motivate you for fresh ponderings.
All the best!
Happy reading...
Editor-in-Chief
Editor
Managing Editor