Creation and Criticism
a literary e-journal
Visitors
Videos
Featured Interviews
News
Call for Poems.
Anthology on Contemporary Indian English Women's Poetry. Editors: Charu Sheel Singh & Binod Mishra
Monday, 4. April 2016 - 19:33 Uhr
---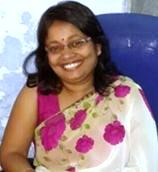 Dr. Kalpna Rajput is the poet, translator, reviewer and editor and co-author of several books. She has been widely published in India and abroad. She is the Associate Editor of literary ezinewww.creativesaplings.com. Her poems, articles and papers have appeared in different journals of India and abroad. She has lectured several times on Aakashvani Rampur on the subjects of education and its degrading standard. Her area of interest is Indian English Literature and Commonwealth Literature. She has edited Swami Nem Pal's Pearls of Wisdom in three volumes. She has also translated Dr. Mahendra Bhatnagar's Dr. Mahendra Bhatnagar Ke Geet into English, titled Lyric Lutewith Dr. Shaleen K. Singh. Presently, she is teaching at G.D. Mahavidhyalaya, Budaun. She can be contacted at kalpna999@yahoo.com.
Research Articles:
---
Tags:
Kalpna Rajput
Author
306 Views