Creation and Criticism
a literary e-journal
Visitors
Videos
Featured Interviews
News
Call for Poems.
Anthology on Contemporary Indian English Women's Poetry. Editors: Charu Sheel Singh & Binod Mishra
Monday, 4. April 2016 - 19:43 Uhr
---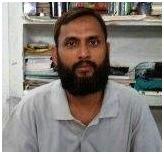 Md Jawed Akhtar (1973- ) is currently Assistant Professor in the Department of English, Shibli National Postgraduate College, Azamgarh, UP (India). He obtained the Master's Degree in English Literature in 1995 from AMU, Aligarh and the Degree of the Doctor of Philosophy in English in 2013 from the V.B.S. Purvanchal University, Jaunpur (India). He has also obtained PGCTE and PGDTECertificates from English and Foreign Language University (EFLU), Hyderabad (India). He has a rich and varied experience of teaching for over a period of fifteen years. He began his teaching from Aligarh Muslim University, Aligarh (India) where he worked as lecturer (Temporary) from 1997 to 2003. He has been teaching at Shibli National Postgraduate College since April 2004. His areas of interest are Modern British Poetry, Indian English Fiction, Linguistics and English Language Teaching. Dr Akhtar has contributed more than twenty five research papers in various journals and anthologies of national and international repute. He has also presented papers in more than fifteen national seminars and conferences. He can be contacted through email mja2007eng@gmail.com.
Research Articles:
---
Tags:
Author
Md Jawed Akhtar
Research Article
254 Views