---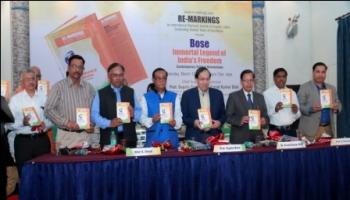 Agra: In what turned out to be a mega-event, Professor Sugata Bose, Gardiner Professor of Oceanic History, Harvard University, USA launched the glittering Re-Markings Special Number titled Bose: Immortal Legend of India's Freedom - New Critical Orientations at Agra on 18 March 2017.
Along with Professor Sugata Bose who graced the function were Dr. Arvind Dixit, Vice Chancellor, Dr. B.R. Ambedkar University, Agra, Dr. Anil Rajan, Dr. M.C. Gupta, Prof. Abdul Shaban (Dy. Director, TISS, Mumbai), Prof. Shankar Dutt (Sangeet Natak Academy, Patna), Prof. Asim Siddiqui, Group Captain JPS Chauhan, Omkar Sane, Dr. Dev Vrat Sharma, Mr. Debashish Chakraborty (Director, ADRDE, Agra), Swami Sujayanand (Ram Krishna Mission, Kolkata), Prof. Muniba Sami, Prof. Sugam Anand, Prof. A Karunaker, Dr. Sunita Rani Ghosh, Dr. Harendra Yadav, Dr. Devashish Bhattacharya, Col. Shiv Kunjru, Mr. Arun Dang, Mr. K.K.Kapoor, Mr. K.C. Srivastava, Mr. Ameer Ahmed, Mr. Dheeraj Goyal, Atul Sharma, Balesh Singhal, Tara Sami Dutt, Mr. S.P. Farsaiya, Mr. Sandeep Arora (Executive Editor) and Prof. Nibir K. Ghosh (Chief Editor, Re-Markings), Mr. Subir Ghosh (Secretary, Agra Club) among many others.
As a fitting finale to the event, Prof. Sugata Bose sang "Suno re suno" in his inimitable voice and style to the standing ovation of the audience. The program came to a close with Dr. Shobhi Mathur singing "Ekla Cholo Re" by Rabindranath Tagore.
For copy of the Special Bose Number, contact Prof. Nibir K. Ghosh at ghoshnk@hotmail.com (Website www.re-markings.com).
---
3117 Views