Creation and Criticism
a literary e-journal
Visitors
Wednesday, 5. April 2017 - 06:24 Uhr
---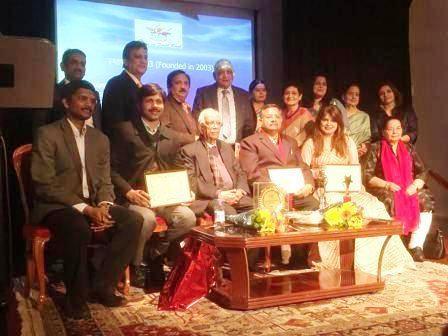 London: London based literary cultural society 'Vatayan'gave its annual awards for the year 2017 on 24th March 2017 at The Nehru Centre in London. This year, the leading publication house of Hindi, Vani Prakashan and its authors shone on the Vatayan Awards tally. Arun Maheshwari, Managing director, Vani Prakashan, poet Dr. HariOm and cultural activist Smita Parikh were conferred with the Vatayan awards in London for their exemplary contribution to the fields of publishing,literature and cultural awareness. Shri Kesharinath Tripathi, governor, West Bengal, was given the most prestigious Vatayan award, Vatayan Shikhar Samman.
Vibha Mehndiratta, Deputy Director of The Nehru Centre welcomed the guests. Bouquets were presented to the guests and after a brief introduction,Arun Maheshwari, MD, Vani Prakashan and Chairman, Vani Foundation received the 'International Vatayan Publishing Award'from YK Sinha, Indian High Commissioner to UK. Dr. Hariom, renowned poet and IAS officer received the International Vatayan Poetry Award and Ms Smita Parikhreceived the International Vatayan Culture Award, in presence of Dr. Padmesh Gupta, Chairman of UK Hindi Samiti.
Mr. Arun Maheshwari briefly addressed the attendees and thanked Vatayan for recognising the efforts of Vani Prakashan, Dr. HariOm and Ms. Smita Prikh narrated some of their poems. Mr. Mehtab Malhotra narrated Mr. Tripathi's poetry.
Vatayan gave its first International Vatayan Publishing Awardthis year to Arun Maheshwari Managing Director, Vani Prakashan. Vani Prakashan is a renowned Hindi publication house known for its quality Hindi literature and language books. Mr. Maheshwari has commissioned writings of various Nobel laureates, Sahitya Akademi awardees, Jnanpeeth awardees and many other well-established writers and authors. Arun Maheshwari has been the driving force behind 'Vak', a trimonthly magazine committed to discussion and discourse on languages and 'Pratiman', the first peer reviewed magazine of Hindi. As a publisher, Mr. Maheshwari has published more than 6000 books and more than 2500 authors. A globetrotter at heart, Mr. Maheshwari has travelled extensively throughout the world to promote literature and the culture of reading. His immense contributions to the development of Hindi have been well recognised. He has been awarded by the National Library (Sweden), Indo-Russian Literary Club and the Polish Culture Centre for Literary and Cultural Exchange that he facilitated between Hindi and Swedish, Hindi and Russian and Hindi and Polish languages.
The federation of Indian Publishers gave him the 'Distinguished Publishers Award' for the year 2008.  Arun Maheshwari is also the member of working committee of Sahitya Akademi and the Hindi Medium Executive Directorate of Delhi University.
His not for profit organisation, Vani Foundation recently concluded a 2-day Hindi Literature Festival, Hindi Mahotsav, in collaboration with the Indraprastha College for Women on 3rd-4th  March 2017.
Dr. Hariomwon the InternationalVatayan Kavita Samman 2017, an award given for outstanding contributions made in the field of poetry. Dr. Hariom is a 1997 batch IAS officer from Uttar Pradesh cadre, and has held many important positions in his long career. 'KapasKeAgle Mausam Mein', 'America Meri Jaan' and 'Dhoop ka Parcham' are his famous writings. His gazal collection, 'Khwabon ki Hansi', has been recently published by Vani Prakashan in the series, 'Dastaan Kehte-Kehte'. He has already been awarded with the Firaq Samman, Rajbhasha Award and the Tulsi Shree Samman for his writings. 
Vani Prakashan author, Smita Parikhreceived the 'International Vatayan Sanskriti Samman' for her untiring efforts to promote cultural exchange. Smita Parikh is one of the leading RJs of FM Rainbow 107.1 in Mumbai. She has also presentend some of the very popular shows like 'Apne Mere Apne', 'Kittu Sab Jantihai', 'Jai Ma Vaishno Devi', 'Bioscope' etc. Smita is the director of e-Bizz Entertainment Pvt. Limited, an entertainment enterprise based in Mumbai. Her book, 'NazmeinIntezarki' by Vani Prakashan was much appreciated by readers.
London based literary cultural society 'Vatayan: Poetry on South Bank' was established in the year 2003, on the birth anniversary of William Blake by renowned writer and Linguistics Professor at Cambridge University, Dr. SatyendraShrivastava. Vatayan has since been the international platform for non-English poets and writers. It also arranges for the translations of non-English literary works. The Vatayan Poetry Award was started in the year 2004. The society invites an Indian author for 2 weeks every year to facilitate an exchange of thoughts between Indian and British authors and thinkers.
The Indian Council for Cultural Relations (ICCR) sponsors the trip of the Vatayan Awardees. Vatayan has published an array of important books, a collection of poems by the British poets being the most prominent one. Vatayan regularly organises 'Poetry Picnics' at the Shakespeare Hall at Stafford upon Oven. DivyaMathur is the founder chairman of Vatayan and SatyendraShrivastava, Mohan Rana, Anil Sharma, Padmesh Gupta and Ismail Chunara are the founding members.
---
Tags:
Vatayan Annual Award Ceremony 2017
London
The Nehru Centre
181 Views
Monday, 3. October 2016 - 16:03 Uhr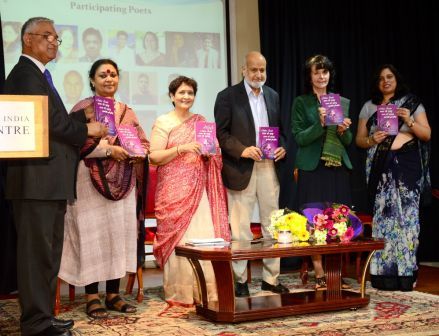 ---
The Nehru Centre, London, July 28, 2016:  the Vatayan launched its fourth anthology of poems, Native Scents/Watan ki Khushboo (Editor: Divya Mathur, Co-editor: Dr Hilal Fareed, Interviews: Shikha Varshney) in the presence of Ruth Padel, British poet and writer with close connections to conservation, wildlife, Greece and music. In chair was Dr MZA Shakeb, historian and Chairman, Ilmi  Majlis-London, who also reviewed the book, which has been part funded by the Big Lottery Fund for Languages & Linguistics.
Ms Divya Mathur, Founder of Vatayan, introduced the programme - a multilingual, multicultural and multidimensional bonanza. She said that poetry has always had a limited readership; it is fiction that sells but at present, there is no cause for despair, as some prominent publishing houses are publishing poetry now and various websites have widened its reach and if nothing else, it has a therapeutic value. Dr Hilal Fareed, author and founder of Sir Syed Foundation, compered the programme brilliantly.
Launching the book, Ruth Padel, said that a variety of poetry is not only attractive; these verses will help young generation to appreciate the good and bad of their homeland and to the west to have a taste of the orient. Dr MZA Shakeb said that the poetry of the immigrant poets reflects diverse elements such as their nostalgia, sometimes appreciation of new values and sometimes annoyance with the change. They seem to be very firm in holding the value of love and spirituality.
Uttara Sukanya Joshi sang Dr Gautam Sachdev's ghazal followed by Lalit Mohan Joshi, who paid a tribute to the two great Hindi scholars we have lost in the recent past - Dr Satyendra Srivastava and Dr Gautam Sachdev; this anthology is dedicated to both of them. Sushma Mehta, Kathak dancer and choreographer, performed Akbar Hyderabadi's ghazal, Zindaan-e-subho shaam mein' and Mehtab Malhotra sang Usha Raje Saxena's ghazal, 'Samandar mein utarna aa gaya hai,' which is included in Vatayan's album composed and sung by the well known singer Radhika Chopra. Dr Vayu Naidu, Diana Mavroleon, Shelley Williams, Neelum Singh and Arun Sabarwal recited English translation alongside the Hindi and Punjabi poets - Shail Agrawal, Pran Sharma, Jai Verma, K C Mohan and Jagtar Dha.
Poets who have contributed their poems for this anthology include the late Dr Gautam Sachdev and the late Dr Satyendra Srivastava, Pran Sharma, Shail Agrawal, Usha Verma, Usha Raje Saxena, Dr Indira Anand, Jai Verma, Toshi Amrita and Divya Mathur (Hindi), Amarjit Chandan, Jagtar Dha, Jaswinder Mann, K C Mohan and Dr Sathi Ludhianvi (Punjabi) and Akbar Hyderabadi, Iftikhar Arif, Saqi Farooqi, Siddiqa Shabnam and Zehra Nigah (Urdu)
Translators include Chaand Chazelle, Rogan Wolf, Dr Pavan K Varma, Dr MZA Shakeb, Julia Casterton, Jutta Austin, Lalit Mohan Joshi, Dr Saif Mahmood, Shelley Williams, Neelum Singh, RK Agnihotri, Paras Anand, Bhupinder Parihar, Beryl Dhanjal, Zahra Sabri, Syeda Hameed, Amina Yaqin, Francis Pritchett, Rafey Habib, Brenda Walker and Divya Mathur.
The audience was full of connoisseurs of poetry, authors, translators, artists and media personnel including Viram Jasani, founder of Asian Music Circuit, Yogesh Patel, Editor, Word Masala, Editor of Health Happiness, Vijay Rana, Urdu scholars Javed Sheikh, poet Yashab Tamanna, founder of FAB Book Club, Uma Malhotra, broadcaster Mamta Gupta, educationist, Aruna Ajitsaria, amongst many others. The programme was covered by MA TV. Mira Kaushik, Chair of Vatayan and Director of Akademi, welcomed Mr Tarun Kumar, Attache (Hindi & Culture), who has recently joined the High Commission of India and expressed that, as far as promotion of Hindi and Indian languages are concerned, the two organisations should collaborate. 
---
Tags:
News
London
England
369 Views
Friday, 15. July 2016 - 10:41 Uhr
---

The House of Lords, London, May 19, 2016:  the Vatayan Poetry on South Bank Award Ceremony-2016 took place at House of Lords in the presence of the Baroness Flather of Windsor & Maidenhead, Patron of Vatayan, Mr CB Patel, Editor of Gujrat Samachar and Asian Voice Newspapers and Tanya Wells, singer, songwriter and composer. In chair was Dr MZA Shakeb, historian and Chairman, Ilmi  Majlis-London.

The Annual Vatayan Poetry Award was conferred on the well-known and seasoned poetess, Dr Madhu Chaturvedi, who has authored over a dozen books of songs, ghazals, epic poems and  haikus. In absentia, her daughter, Anjali Doherti-Bedi accepted the award on her behalf.
The exceptional International Accolade for the Outstanding Achievements for poetry and for promoting poetry was given to Yogesh Patel by Mr C B Patel, Baroness Flather and Dr Zia Shakeb. Through his extraordinary contribution in English, Gujarati and Hindi literature, he has enriched the world literature.  Revered as one of the finest writers and poets of English and Gujarati literature, Yogesh has been singled out by critics as 'the observer of both mundane and the unexpected, and as fearless in writing what you observe.' He has published international poetry of the rare voices in translation since 1969, publishing many world-renowned names. Above all, he promotes, nurtures and publishes work of the South-Asian Diaspora now.
Finally, the distinguished Indian poet, Dr Kunwar Bechain was honoured with the Vatayan Life time Achievement Award. He has authored altogether 33 books (geet, ghazal, doha, haiku, free verse, epic, novels, yaatra-vritaant, etc.). A retired Hindi Professor, he has been honoured by the President of India. 22 PhDs have been written on him. The Govt of India has toured him to attend the World Hindi Conferences in many countries.
The distinguished speakers included Divya Mathur, author and Founder President of Vatayan, Prof Jagdish Dave, MBE, author & researcher; founding pioneer of Gujarati teaching in the UK, Dr Achala Sharma, author & former head of BBC World Hindi Service; Meera Chandran, a member of U3 movement, family and mental health counsellor; Jai Verma, author and chair, Kavya Rang-Nottingham, and Shikha Varshney, writer and Vatayan's Treasurer. The programme was elegantly compèred by Dr Nikhil Kaushik, Ophthalmic surgeon, film-maker, poet and radio presenter.
Baluji Shrivastav, the multitalented musician and multi-instrumentalist, commenced the programme with Saraswati Vandana, Mehtab Malhotra, solicitor and upcoming talented artist, composed and sang Mathu Chaturvedi's ghazal, 'ham manzil-e-maqsood se aagey guzar gaye', and Tanya Wells amazed the audience by presenting Faiz Ahmed Faiz's ghazal, 'Gulon mein rang bharey'.
Deepti Sangani, the youngest and newest Board member launched the newly built website of Vatayan. Although she is not an expert on websites but she has been building it quietly. As the time was short, Dr M Z A Shakeb summed up the programme beautifully and briefly. The host, Baroness Flather, concluded the programme by thanking the participants and appreciating the set up and the constancy of good programmes held by Vatayan since 2003.
---
Tags:
Vatayan
News
London
566 Views