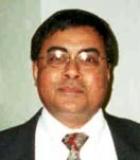 Poetry
---
A Promised Vow and Other Poems by Hillol Ray
---
Hillol Ray (b. Oct 06, 1949), poet, author, and song writer, is an Environmental Engineer and Manager of Drinking Water Supply Enforcement Program, with the U.S. Environmental Protection Agency (EPA) in Dallas, Texas. Born and raised in a suburb of Calcutta, India, he has been writing poetry since the age of six, in his native language "Bengali". His poems are regularly published in Bengali magazines from Asia, Europe, Canada, Sweden, and North America and are currently being translated into English, Swedish, Spanish, German and French languages. Many journals and magazines of English Language and literature have also published his English poems. He resides at Milestone, 2723 Riviera Court, Garland, Texas 75040, U.S.A. and can also be contacted through his e-mails: ray.hillolk@gmail.com, hillolray098@gmail.com.
---
1. A Promised Vow
Centuries have taken the exhausting tolls on me,
As I am in history as a dead forgotten poet now-
But my rhyming words and lyrics still can see
Who is reading my books when, where and how!
You have ignored me always when I was alive,
And I care less if you connect people on Earth
Through the words of wisdom in a poetic form,
Or ignite the global humanity on a flaming hearth?
I prefer you to have bright -eyed love,
Immersed in music and happiness as well-
And stay away from the racial thoughts and slurs
Through the prayers where our future will dwell!
Kinship of humanity can be built by a monolithic link,
Like the wind rises or falls and flows all the time-
And touches all kinds of people from all walks of life,
Regardless of the season and rich or poor with a dime!
Friends unspoken, unseen, unborn or unknown,
May read the words from my books, with gentle care-
Even though I expired several centuries ago,
And I am now unable to see your reactions or share!
I wish I could see your face and smile,
And gently shake hands with you now-
But I assure you to share my somnolent soul today,
And my books will greet you as my token of a promised vow!!
2. Appointed Task
My lady flies in the wings of love,
And the birds fly in search of food-
She carries the language of dove,
But birds deal with swings of mood!
Clouds have wings but they can't fly,
And depend on winds to move them in sky-
I need quietness to compose the rhymes.
My lady understands and doesn't deny!
My lady cloaks me with a "porcupine hug",
But why, I am shy and too afraid to ask-
She happily replies with an eight-inch smile,
And carries out her heart's "appointed task"!!
3. Autumn Morning in Dallas
Clean and fresh air around the Tennyson Park
Always drags me to sprint under autumn sky-
Of Dallas, where the glittering grasses, so green,
Covered with mystic dew love to yawn and sigh!
The apple trees, dappled by rickety moon,
Enchant my heart at early dawn and dusk-
While the Covid pandemic doesn't deter,
And thwarts me off not to don on musk!
I sprint around rose garden of arboretum
In Dallas and pluck a pear from the tree-
And quench my thirst of a lark and hunger,
By gnawing on it quickly to set me free!
The tolling bells from the Thanksgiving Square
Usher in the arrival of human glory and peace-
In our daily life, loaded with silent strife,
And I rush there for prayers not to miss!
The highways and by-ways leading to town
Greet the frantic travelers with smiling face-
And the passionate visitors of Autumn morning
In Dallas sip the nature's beauty of nothing less!
Sodded grass along the freeways feel sleepy,
And too soft as the breast feathers of a dove-
But the fallen leaves from the crape myrtle
Curl up and shrink to rot slowly in love!!!
4. Calligraphy of Love
Love is like a gusty wind in a high tide,
As it floods and sways the frantic tree-
At times, it's withheld or cocooned pride,
And released slowly, like in a time capsule just to be free!
Love blooms at any time, mainly in peace,
And spreads the roots deeper over time-
But it may break like a wind-assaulted tree,
And crack with broiling angers' chime!
The clash may occur in mid-stream,
And capsize the lovers in a rush-
The distress will be summoned to linger or graze,
And lawyers will douse the flame to hush!
Calligraphy of love loves to travel on a two-way street,
And closely follow the GRY signal light-
But malfunction of switches causes the mishap,
And sternly brings the outrageous bent without a foresight!
5. Flute at the County Fair
The county fair of my youth,
Today as I tend to recall-
With nickel and dime in pocket,
Probably in Summer or Fall!
The flute I liked was pricey,
And beyond all my means-
Simply I waited long and stared,
And thought through thick and thins!
Now with waves of time,
I have grown, and if I care-
I can buy that flute with cash,
To let my joy to flow and share!
Well, I still go to that fair,
But my desires changed in taste-
And I wonder where my youth went,
Or who made me old in haste?
---