Creation and Criticism
ISSN: 2455-9687
(A Quarterly International Peer-reviewed Refereed e-Journal
Devoted to English Language and Literature)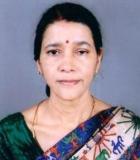 Poetry
---
A Cracked Letter and Other Poems — B. Nayak
---
Bharati Nayak (1962) grew up in Cuttack and graduated from the famous Ravenshaw College. She completed her Masters Degree in Political Science from Utkal University, Vani Vihar, Bhubaneswar. She is a bilingual writer— English and Odia. She has two books of English poetry namely 'Words Are Such Perfect Traitors' (2016) and A Day for Myself (2018) to her credit. She resides at M.I.G.-1/180, Satya Sai Enclave, Khandagiri, Bhubaneswar, Odish, India; and can also be contacted through e-mail: bharati1962@rediffmail.com.
---
1. A Cracked Letter
I chanced to see the letters,
You wrote me a long ago,
Each alphabet,
Stood before me with an image,
That hid so many stories, and
So many tender moments of affection.

I held them in my palm,
Smelt the scent,
That was hidden under each syllable.
The letters were worn out by time,
The folds cracked,
As each one of them were read and re-read
Innumerable times,
Lost the strength
To bear the emotions
That were falling heavy on them.
Some syllables had vanished by tear drops
Some had vanished in the folds.

As I held the letter,
Bits of paper fell in my lap,
Reminding me of the time gap.
I gathered the torn pieces
Tried to join them in their places
But some syllables were
Never to be found.
2. No, I Do Not Have A Want
Is it so easy
To wear a smile
Hiding your tears inside?

But do I ever have a sorrow?
Do I have any want unfulfilled?
Sarees, bangles, powder or cream
I have them in plenty.

But my sorrow is that
Nobody ever understand
That I have a want.

Mother says
Is there anybody
Who has no pains?

You got a handsome husband
And lovely children
Then why should you complain?

Look around and see
How beautiful girls die
When their fathers
Fail to give dowry.
See, how women suffer silently
and hail their in-laws!

Yes,
What mother says Is right.
Wrong is my complaint.

Is there a life without hurdles?
But I feel a void
When I fail to say
If I ever has a complaint.
3. Half Written Poem
Oh dear,
Since the day we met last
Many years have passed,
I count those years
When yellow leaves
Shed by the deciduous trees
Fly around my house.

I see the seasons
Take their turns
The naked branches
Turn into green
Again and again
After every shedding
As if they get younger
with every passing year.
My feelings for you
Like those green leaves
Remain green
Years after years.

My soul wants to fly
And sit between those green leaves
To be touched by the rain, wind and sun
That come from your kingdom.

I will mingle in the green of green leaves
Wait for the sunlight to fall on me
Every morning I will rise from slumber
To be washed by your light.

Then one day I will fall from mother tree
I will be blown off to a distant
Getting mixed in the soil
I will become nutrients for new trees.
4. When Father Passes Away
Fathers' Day has come
I look at your cot
Lying vacant.
The house you built with toil
Family you raised with love
Are left behind.

Mangoes are still hanging
from branches
The coconut trees are standing
The garden still wears its usual green.
But- - -who will take us to the garden
To show the flowers and fruits?
Who will encourage us
To clean the garden of weeds?

The hibiscus and white roses are in blooms
The squirrel squeaks
The crow caws
Are they missing you?

How all of a sudden
The scenery changes!
You are not seated
On your favorite chair
A blankness occupies the house
You are missed
You are missed, dear father.

No, I am not crying
As I know
You are still there
In your absence.
The values you transplanted in us
Are like roots
From which will grow new roots and new trees.
Yes Father, we are new trees
Growing from your root.
5. My Tears and Dew Drops
I was crying,
Feeling myself lonely,
In a crowd.
But my loneliness vanished,
The day I saw you,
Sitting as a dew drop,
On the tip of a grass.

I knew,
My tears have turned cloud,
And have mingled with you.
They come back to me,
When I become dry and thirsty.
In every winter,
They wait for me,
On a grass-tip.
---