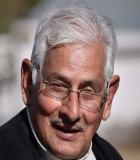 Short Story
---
A Lost Man — PCK Prem
---
PCK Prem (P.C. Katoch of Garh-malkher, Palampur, Himachal, a former academician, civil servant and member PSC HP, Shimla), an author of more than fifty five books, is a poet, novelist, short story writer and a critic in English and Hindi from Himachal, India.
---
He thought he was a good man. Everyone in the locality thought he knew. He was proud of good qualities. It was a big building. He lived at the third floor. It was a three-room suite. Quite nicely furnished it was and one could imitate his style of living for utmost simplicity. He did not have hassles in life. He only wanted freedom. He worked in an office. He never disclosed that he was a big man. He met everyone with a cheery and jovial face. If anyone was in difficulty, he rushed to help. He did it without asking. When anybody took the courage to ask, he responded with a smile and just entered the room. Sitting inside he recuperated lost energies. He believed in silence of loneliness and so closed eyes and sat quietly for a few minutes alone and undisturbed. It was soothing and enervating. He often fixed a placard on the door with the words 'please do not disturb'. That was Dev way of living.
A neighbour living in the second floor had a huge chauffeur driven car. He had two three-room suites where he had made alterations. Initial objections stood but Patel never bothered and greased palms of many and got what he wanted and was now, a free man. He had also a bungalow with a huge farm outside the city. May be it was education of children. He was a businessperson he knew. Patel knew Dev but when they met, they greeted each other with a smile only.
Once Dev suffered from headache and when he returned from the shop after purchasing medicine, Patel's wife nervously told that her mother-in-law had a massive heart attack. Without enquiry, he took the woman in the vehicle to the hospital and attended for about two hours. Of course, other members of the family were also present. After that, no dialogue took place.
Once, he simply told Patel, "Your wife did everything. I just stood nearby. Nothing very special I did." It discouraged him. However, Patel wanted to befriend Dev.
Once Patel asked, "Dev, you are restrained, quiet…we are neighbours."
"…no it is my habit. I like you." He avoided.
A few words not only belittled Patel but also annoyed.
"What is it?"
"What is your problem?"
Dev came close to Patel, gave meaningful nods and began to climb stairs with a grin. Patel stood totally exasperated but exercised tremendous control. His desperation was quite apparent in eyes, and awkward twisting of lips caused anger. He stood for a long time.
Rattan, an old friend was a frequent visitor to the suite of Dev. Even when Dev was absent, he used to come, stay and go out at will. He had one key of the suite. The residents of the building faintly knew that Rattan worked in a bank. One day, Patel spotted Rattan, enquired about Dev, and vaguely expressed suspicions and fears. Rattan, for a while just took it lightly but when coerced, told Patel, "He is a quiet person. When in the office, he works and works. He is social but words and movements are quite measured."
"But…"
"I am close but he, at times, is unreasonably tough and crude. Still, I like because he is kind and true."
He closed the door of car and looked at Patel, "You do not feel bad. If he helps, he does not want a reward. He treats it a duty."
"Yes, he saved ma…he is generous to all. I thought I should thank."
"Even if you do not ask…he will help you. Do not think that he needs thanks. I wonder but I like. I love him for the humanistic qualities."
Patel stood motionless as lips moved. Rattan realised that he wanted to say more and therefore, he lit a cigarette and offered one to him.
"I don't believe. Is he married?" Abrupt question did not surprise Rattan.
"No, he is single."
"…" Without asking Rattan understood what he wished to know.
"Old parents live in the village. A servant looks after. Dev goes to the village every month. Stays for a day or two and returns. The elder brother looks after the landed property to which, he has no claim."
"It puzzles."
"He wanted to marry a girl but…anyway forget, past is dead. Even I do not want to dig up." He was obvious that he did not desire to share private life of Dev with him. Patel's curiosity grew but he felt sorry for whatever thoughts he harboured. They stood wordless for a couple of minutes as curls of smoke rose up and up. Rattan threw the butt-ends into the little pit of garbage, and said, "Have a good day."
Rattan opened the door and closed it from inside but did not bolt. After a few minutes, Patel tiptoed into the room and found Rattan cleansing the room. He stood breathless and aghast behind a curtain but did not disturb. After dusting and washing a few plates and cups lying in the basin, he washed hands and with a cigarette in hand, ensconced on the sofa with legs stretched on to the table. He closed tired eyes and continued to puff leisurely. Patel was dumbfounded at the eccentric behaviour. He took a few steps, which disturbed Rattan, who turned head towards the door and found Patel standing as an accused as he put aside the curtain.
"I should not have…" Apparent guilt was quite clear from the hesitant words and unusual faltering.
"Please come." Rattan stood up to welcome, "I am a married man. I know the dirt man spreads. I come and I…you know he is…he does not like it. He does it but today I found…I am waiting for him."
"You are great."
"No, I come with a purpose. I spend time with him twice a week or so. To sit and drink with him is a pleasure. It is thoughtful and serious."
"I can't get you."
"He is quite…okay, sit down. I will prepare a cup of tea for you. I learn you are in some trade."
"I am a small time business man."
"I serve in a bank." He went to the kitchen. After five minutes, he handed over the cup to Patel.
He took a sip and said, "I am not a good tea-maker. I hope you'll excuse me."
Patel felt uneasy and nervous but continued to take tea. He felt quite out of place. He should not have come he thought. What was the need to know about those, who were callous and unsympathetic to feelings of others despite virtuous conduct? He thought that even if a person was noble and good, if he acted in a haughty and egoistic manner, it was not advisable to continue with the relation. He did not know as what precisely he expected from Rattan's expressions. Not at all was the intent to peep into the privacy. If he had entered the room furtively, it was curiosity and no ulterior motif. He wanted to know but still was reluctant. Now, he sat silently and took tea. If Dev turned up, it would be awesome. The thought filled him with fear, panic, immense disgust and repugnant feelings. Rattan looked at him with a fixed gaze and probably tried to read him.
"Yes, it is good tea. You know when you taste something different it gives novel feeling and pleasure. I am used to tea prepared by skilled hands. Here, it is something new. It is a feeling of…I do not know what it is exactly but the way you stood up even if tired after that work, and prepared a cup of tea, it is wonderful. It is sweet and you are not an inexpert." He tried to give a smile.
"I am happy you liked."
They relapsed into a prolonged silence. None wanted to share inner feelings of uncertainty or reveal what to do next. After a long pause, Rattan said, "Let us wait for him. He shall be here any moment. He does not sit after office hours. He tells me if you do work sincerely without wasting time on gossip and politicking, you still have three hours without work and then, one can relax. He never keeps anything pending…and here, in the room he sits, drinks, smokes, contemplates a lot about man and destiny, about everything…and then, he is happy. That is why I love Dev."
Patel found brilliant rays in the eyes of Rattan. After a few seconds, words of Rattan pierced his ears, "I do not know if it has any purpose. I find a bond everyman has for another. You came. It is not just for nothing. You must have thought over."
He picked up the empty cups and went to the kitchen.
"He is a nice fellow." Patel tried to say, "Only that he is quiet and at times, appears blank even if communicates in syllables or smiles. It irritates. It confuses and then, you become very upset." He was quiet for some time.
Again, he said with slow and confident words, "You said he thinks a lot. Why and about what he is worried. Is he a philosopher? You just hide a weakness. He did not marry or…no, I do not want to know. It is enough to say that he is a different man, an entirely..."
"He is quite right."
"…"
"He knows he is not a saint. He tells he does not want to become an intellectual." He stopped for a second and added, "He is just a common man, he says and wants to live like…he wants to sell the flat, and wishes to live in some poor colony." It was a shocking revelation. When he kept silent for a few minutes, Patel looked up and found Rattan looking at the door with bewildered eyes and whispering voice. As eyes followed, he saw Dev standing still with a bag in hand.
Without saying a word, Dev placed the bag on a corner table, emitted a smile of greetings, shook hand and picked up the bag saying, "I shall be back within a few minutes," and went to the adjoining room. They kept sitting without a word, and heard sounds of shower, and a humming tune. None tried to give meaning. After ten minutes, with a beaming face, Dev was out in spotless white kurta and pajama.
Rattan was a little surprised for the unusual and characteristic expression of delight. He wanted to scrutinise his feelings but failed.
"So, gentlemen, you are right. I am a man…quite…" He thought for a while and said, "Thinking too much makes you sick."
He tried to smile.
"Do you want tea or…"
"I gave orders to the restaurant for snacks and …he will also bring simple food. It is good you also came." He turned to Patel and said, "I say, I did nothing special for you. I do not think you ought to thank. When someone thanks I feel small. It is not necessary that you help only when you know somebody." Rattan got up and brought a pack of cigarettes from a drawer of a table. Dev did not want but Patel picked up one and lit. Earlier nervousness seemed to have disappeared. Dev was casual and informal he found. He could not understand the incredible change in the attitude.
"You wanted to say something."
"No, I did not want. Only that you are so discouraging when you meet outside."
"I am never. But it appears perhaps." He said softly, "I wonder if it really hurt you. How is the old lady?"
"I told Rattan, you saved ma."
"I don't believe. We just say so to take the credit." He was serious.
"It is not a formality. Here, everyone admires."
"You know people ought to have something to talk about." He poured water into a glass. He drank a half glass of water and looked at them, "I don't know…but it happens. I fail to understand but still I know why people keep eye on everything that goes around. Others' acts attract. Man forgets his own doings or precisely putting it…it is interesting to know about others. It is to hide, to conceal and…but a man does not know that people known or unknown observe each word or act closely. I do not want it."
It was clear to Patel. A truth in simple words struck him hard and he found it difficult to argue.
"It is life and…"
"I think, one can live better if one refuses to meddle in others' world."
"In isolation life is difficult."
"It is not isolation but a feeling of it."
"…" Patel kept mum, for he found it hard to convince Dev. He was right, he thought but quite irrational he concluded. His thoughts ran at many levels. Dev was nice and un-disturbing but he was also not very convenient. He was confused now and so kept puffing off rather in haste as if.
When Dev found him fiddling with the half-burnt cigarette, he said, "Rattan, if you wish…"
Ratan understood the hint but did not get up. Obviously, he was in a contemplative mood and wanted to share inner feelings.
After a pause, he said, "Patel is right. One must open up. It is good to live an exclusive life but if one learns to…I hope you know what I want to convey."
"Yes, I understand. That is how I am happy. I do not want to elicit pity or compassion. I get weak. Alone, you are the boss, you move about, eat what you like, think what you feel and …you have to do so many little things, you often ignore. It is good to do work at home. A few years back, I thought, I needed… but she had different thoughts…I do not have grievances. I wish everyone well. You do not get what you wish. Life moves on for me without a barricade. I may feel desolation or certain disagreeable instincts may perturb but to live freely and independently means a lot I learnt. Mr. Patel is right. But I want to keep ties to that extent." He was extremely low in voice.
Dev got up and opened the cabinet. A little bar with variety of drinks opened up before Patel, who was unable to collect feelings.
"Rattan, I wish…" He did not say more.
Rattan got up, took glasses and bottles of soda and kept them on the little flat wooden plank fixed on the ball, which worked as a table for preparing drinks.
"I will not take." Dev said, "My stomach is little upset…not exactly it is but I want to give a break."
Rattan knew Dev's attitude and so he did not make a drink for him. Dev opened another cupboard and took out three little jars where he kept dry fruit.
"Just give me. No need to make it formal." Rattan took the three little pots, opened the lids and kept the jars in a line on the table. In the meantime, Dev talked to an hotelier.
"I asked him to send roasted chicken and cubes of fried cheese." Dev told and then spoke to Patel, "Feel comfortable. Don't be formal."
Patel and Rattan were quite at ease. Patel realised that Dev was a good person at heart, and earlier suspicions about him, no longer perplexed. Dev was quite serious it appeared.
Rattan after sometime said, "Something worries you, I think?"
Dev listened to him, gave out a faint smile, took a cigarette, held it in between fingers and after a few moments lit it. After a puff or two, said, "The old men are not fine."
In the meantime, a knock alerted. He got up, opened the door. A young man entered, kept eatables on the table, brought out plates from the kitchen and after putting the snacks properly before them, stood and said, "Sir, when should I bring…"
"Yes, say after an hour or I may ring up. Feel free." The young man went out. After heaving a sigh, Dev said, "Mr. Patel, it is impossible to straighten life. I did try long back but failed. I learnt it is possible to live life as you wish but it confuses you when you think of imitating others."
"It is not necessary." Patel said reluctantly.
"It is very important. You talked about isolated living. It is exactly here, you need to think about. I know you were annoyed or maybe you felt like abusing me when I did not respond warmly. When I step out, I feel I am alone. Here, inside, I am not alone, I say and that is how I perceive life. I knew you are not there. I took ma…and do it too often with others. I cannot avoid. Inside, I want to be alone. Rattan comes here, and he spends time and goes out. It is just a wordless meeting or if we talk, it is not very long or wearing, and that is how an adjustment appears congenial."
None spoke for a few minutes. Patel felt a little uncomfortable but drank at ease also. He found little to contribute in terms of thoughts to what Dev said. Patel thought he was a man of the world and so to think of matters at another level never appealed. Rattan shared thoughts and worldly matters with Dev but lately, he found Dev quite indifferent at times. Today, when he spoke, he was not off the mark. Rattan heard each word and thought over. Patel was simply stunned.
"I meet a man…very tall…" Patel wanted to say but immediately Dev curtly told, "Please stop. I am not interested. You may agree or may dislike what I said but facts often stay."
"Do they face…?" Rattan did not elaborate.
"Yes, I could not do much. Old men are like that. Perhaps, it will visit us."
He was silent. Now, he stoically looked at them. It was a tricky situation, Rattan realized. For Patel, it was failure of words. He wanted to say but still was incapable of saying and that complicated the situation for him. Dev was now composed and signs of previous worries or tension had disappeared. He stood up, poured a drink to each and said, "I may go tomorrow. I fear. I have doubts. You never know, age does not favour old people. Or maybe it is…"
He opened another cupboard, took out certain papers, placed them securely inside, and told, "I believe a man must learn to live with loneliness. It provides inner contentment I say." He looked minutely at them. None was ready to touch a serious subject.
After sometime, Rattan said, "But it is not so easy. You give it a deep thought I know. It is not with everyone."
"Yes, it is not so. However, parents nurse wrong notions. I do not know why they need children to stay around. It is just not possible in modern times. One must learn to reconcile."
"Everybody cannot be like you, Dev."
"…"
"Dev, don't you think, it is inessential to foresee a situation which is not…and then it happens with old men. You have a sense of utility. If you learn to live in isolation, a sort of solitude, it is a blessing. In this frame of mind, meet the last minute. One has to learn to spend time alone."
"Alone and happy and with a good of amount of satisfaction I say."
"It is not with everybody."
"Rattan, to face facts needs courage." Dev said in measured words, "I think but I am unable to emerge out."
He stopped for a second and said, "I went to the house of a peon in the village. Aged parents and two married sisters he has. Old parents lived in a village. I always found him happy and…he goes to the temple daily. His mother was on the deathbed because of cancer. She died and he was upset. I went to console. All wept profusely. The old man was quiet. His eyes and face looked placid and calm."
"I sat crossed legged beside him. He said with sure and confident voice, "You know, it is an age when you learn to live with time. You have a short living in time and space. Tears are normal but too much means you are sick. We learnt to live…alone. I told him to live in the town and look after wife and children. Yes, we were alone. We could move very little. I often prepared meals and…but that gave me pleasure. We are alone in the house but still it was satisfying. In togetherness of two persons, a big world exists I say and it is a large beautiful world. I saw that beauty in vast littleness. Old men ought to live alone or learn to live alone. In the village also, many are old and none can expect to…that is why learning to live…she was always smiling. She spent time in whispering prayers. I found brilliance on wrinkled face. Even when she experienced pain within, she assured me and gave a prolonged laugh. A thinker deliberates on loneliness, and fears the spectre of loneliness, and I think of that old man."
He was silent now.
"You are right."
"Do you think only intellectuals think about life? Even an illiterate man can think better and more confidently. I was stunned when I heard the old man saying words of wisdom. Can you do it? Even that peon is happy now. He never says life is difficult. Our class condemns and criticizes but…he laughs only. It means he is mature and knows what life is. I have yet to know…and Mr. Patel perhaps you…"
"Have a drink." Rattan offered a drink to Dev.
"Thanks…" He took a sip and rang up for food. After a few seconds, he said, "I will go in the morning."
At that moment, he got a call. His father was dead. Dev stood enigmatically unruffled and silent, lit a cigarette, stretched hand for a drink, and sat without saying a word.
---