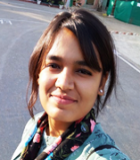 The Budding Poet
---
Beauty and Other Poems — Vanshika Sharma
---
Vanshika Sharma is a fifth year law student at Law College Dehradun, Uttaranchal University, Dehradun. Her interest in poetry started when she first narrated Wordsworth's 'Daffodils' in her 5th grade at a school competition. According to her, poetry has no limits, no time and no subject. She is an admirer of Sylvia Plath, Walt Whitman, Robert Frost, Emily Dickinson, Maya Angelou and many others. She is presently the Secretary of Legal Aid Centre, a student body of her college.
---
1. Beauty
Her curls clutched,
strands talking with the pearl.
Her face nude,
eyes living the dream.
Her lips mumble,
braces defying system.
Her clothes filthy,
threads inked with hope.
Her am's live the light,
light of moons and stars.
Her pm's set aside,
she is no vocal wars.
"She is no filth", her shelf whispered.
"She is no nerd", her diary said.
"She is no beauty", when said I,
the whites fell on the floor,
I 'had', had to deny.
Her beauty lied inside her,
the lines of her work,
in the shelf,
the diary,
the locks,
the strands,
the nudes,
the filth.
2. Emotion
In a barren land,
where the only hope was rain,
it rained drops and drops,
and stopped,
not enough to wet those dry eyes,
eyes knew there is a hope.
Two days later,
it rained drops and drops,
and stopped,
not enough to seep into the roots,
roots knew it will survive.
Six days later,
it rained,
it rained heavily,
everything flooded,
roots eroded,
the bad dam eyes burst,
"hate it!", screamed the thirst.
There was a barren land wishing for rain,
rain flickered its emotion,
it won't ask again.
3. Grass
Pink petals fell on the grass,
grass is greener than the greenest green.
A happy pup playing on the grass,
grass is cradle to the meek.
A drowsy man fell asleep,
grass is bed to that geek.
A blade burst on the grass,
grass is trimmed like a baby.
A seed sown in the place,
grass is savior of grace.
Pink petals fell on the grass,
bearing hope for eternity.
Grass is greener than the greenest green.
A concrete rolled over the grass,
grass is…
Walk on the grass in the morns,
searching your place in the crowd,
grass was greener than the greenest green.
Pink petals fell on the grey,
crushed!
4. River
The boat sailed down his spine,
the purple foam clogged his whine.
Panic at waters turn on the play,
zeus got threads plight on way.
Heaven and hell are thread line apart,
his hands will give them a new start.
Lifted him up and displaced a boulder,
ah! red strands in water, stumped his shoulder.
Aqua creature if he be,
to all the leaders and not to me.
Palms won war of tighten rope,
heart picks another, "He was my hope".
They sprinkled holy water,
in a shrine nearby.
He swamped in it,
no one to cry.
They gave some notes,
to deposit their homage.
Was a psephologist-
and polarized their votes.
Vermilion inks shiver,
nothing left but cry a river!
5. The Hands
He filed a petition for change,
a messiah of many bloods in heaven,
the blind fold wakes up to evidence,
sleeps with proof,
he collected what all was seen,
his pen was weapon and mind clean.
My lord the hands have cut some kids,
the hands speak money and no cry,
look at those faces they turn to you,
the handed robe gives another week try.
He walks with his daughter on road,
the hands have hands handshaking the system,
daughter hits a boulder,
the second she wakes - has gone the shoulder.
His print is working on lines of truth,
headlines run an unknown change,
the hands clutched around the neck,
of public just a number,
he- suffocated lies beside those graves,
to collect 'more' truth.
---