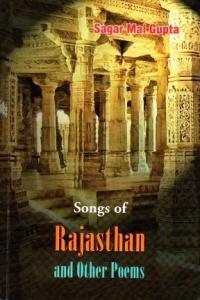 Critique
---
Songs of Rajasthan: Expressions of the Present
---
K. Balachandran
---
Sagar Mal Gupta's Songs of Rajasthan and Other Poems containing 88 poems have the rhythm of language, feelings, sentiments, ideas, thoughts, unique experiences, meaning, figures of speech and startling expressions. 19 poems are about Rajasthan, her forts and palaces, cultural heritage and natural phenomena. Poems also deal with Bikaner and Jaisalmer festivals. Some poems celebrate the egalitarian, co-operative and sensitive behaviour of Nature, animals and other objects. Man's selfish and exploitable trend, death, loneliness feminine exploitation also find their poetic treatment by S.M.Gupta. The last section professes about the most powerful invisible enemy Covid-19.
The anthology begins with 'Ranthambore" poem. It is a forest unpeopled, unfrequented and undestroyed where "the whole area was oozing out tons of fragrance." (p.9.) of amaltas, bougainvillea, hibiscus, ker, marigold, palash, rohida, semal and woodrose flowers congregate. Merrily singing birds; unprecedented freshness – no cars, jeeps; no human soul but a family of tiger – husband, wife and two cubs moving to seek victuals! A celebration of Nature and its inhabitants.
In "Ram Prakash Theatre" poem, the poet bemoans, for, now RPT is deserted, abandoned and neglected. His anguish, "Is it possible for anybody / to restart the theatre anymore"? (p.12.) "Jal Mahal" (Water Palace) poem is about this tourist centre at the Man Sagar in the valley of Amagarh and Amer Hills.
Water Palace, a five storey building
With fifteen feet submerged in water
Without any room but only corridors
and a park on the roof of the top storey. (p.13.)
"A City of Monuments" poem glorifies Jaipur. The technique followed by the poet is wonderful. It is about an American tourist who wants to drink the delight of Jaipur by his eyes, (infact accompanied by a guide). The guide takes him to the various historical places (palaces) there. The tourist's first hand experiences are narrated by the poet forcefully and humorously.
While they were crossing New Gate Road, a hefty bull chased the foreigner. When he didn't know how to save himself from it, the guide bought a bundle of grass and gave it to the bull; the tourist heaved a sigh of relief. When they stood under a huge banyan tree to rest, the tourist took a banana from his shoulder bag. Sitting in the branch of that tree, a monkey watched him; jumped on the tourist's shoulder; snatched the fruit from his hand! There was a crow sitting above the monkey. Now its turn, it dived into his shoulder bag, dug out a packet of cookies. Flew quickly to taste it. While peeling the wrapper, some cookies fell down! Some dogs who saw this fall, grabbed them in mid air, brushing the legs of the tourist.
Now they had to cross Tripolia Road where "a bevy of cows appeared followed / by two hefty bulls". (p.15.) These bulls tried "to claim possession of the cows" – about to have sexual congress in the busy road! Luckily a policeman separated the bulls! How alarming and arresting is the story in verse! The guide took him to the various historical places like Victory Tower (Surgasuli), Hawa Mahal, Jantar Mantar, Albert Museum, Nahargarh Fort, Amer Fort, Jai Garh, Jagat Siromani temple. Now the tourist is in dilemma, "…Whether to call Jaipur / a City of Animals or a City / of Unique Breath - taking monuments." (p.18.)
The poet speaks of the importance and speciality of Gaund Chitoriya (descendants of Maharana Pratap who sell traditional medicines for living), Thanaghazi Castle, Kisangarh Marble Slurry, Sambhar Lake, Rampuria Haveli of Bikaner, Jaiselmer, Sand Dunes of Sardarshahar, Bikaner, Jaipur, Tordi and the concerned festivals in these places. They are a realistic word-painting by S.M. Gupta. Well done!
Any poetry anthology is incomplete if it doesn't have autobiographical touches. In his poem "Illness" he laments, "….nobody came to see me / I feel lonely and neglected / May be I don't have those qualities of character / that attract other persons to care for me." (p.35.) Thcho… Thcho, But it has been compensated both by Nature and people. The plants he watered have wilted; the birds he fed with grain gathered outside his house. When he goes to buy milk that milk-girl seems to welcome him with her "bewitching smile." Next the green grocer lady seemed to ask him, "What ails you my lord?" For which, "I said the days of lords are gone! / I am no lord but a lonesome / old man pining for words of sympathy / and an 'ointment of companionship'" (p.35.) After seeing these young ladies he "no larger cared for the neglect by / old erstwhile fellows and feel / that a new lease of life is entering / my body effortlessly." (p.35.) How great the poet is in acknowledging the truth!
"Territory" poem narrates Safali Verma who had to hide her sex to join a Cricket Academy by wearing a boy cut hair when denied admittance of her being a female. The way in which the poet weaved the story of Adam and Eve in this poem is miraculous. He has much concern for the young generation, for, they immerse in K-wave (Korean) - passion for colourful attractive Korean objects and music! About middle class people, he has word-painted "Great Middle Class" poem which is cent per cent true. They are the "sustainers to the loans of rich / custodians of moral principles in society / carriers of all values, duties / but not rights to the nation." He has no companion among the fellow middleclass. The poem ends very aptly:
So, go on, o members of the middle class
suffer, get exploited, but never
utter a voice protest
which is against your grain. (p.39.)
Who can portray the middle class better than S.M.Gupta? What the governments do both State and Central? Do they help the poor and the daily wagers?
Was Gandhiji's 150th Birthday celebrated in his footsteps? 2146 trees (of Arre forest in Mumbai) felled down. "Killing hundreds of birds and / decimating hundreds of their eggs / snatching jobs from thousands / of auto and taxi drivers / to benefit the rich businessman / to make them richer." (p.41.) This is very painfully recorded in his "Mahatma Gandhi's 150th Birthday" poem.
Poets inscribe their philosophy in their poems. S.M.Gupta also does this in his "Why Fear Death?" poem. People generally become restless when they receive / hear the news of death of their near and dear. "You think tomorrow it will be your turn / though you are not ready to die." (p.42.)
People may ask God for extension. He encrypts his poem thus: "Extension or not, / one has to die at the appointed hour." (p.42.) In "Minimalism" poem his philosophy is to have "fewer things", for, when ones enters his / one's room, he is seized with mental and physical tensions and spend much time sorting out things. It reminds the proverb "Less luggage more comfort." Though his "Geothermal Dallol Fields of Ethiopia" poem tells in pools of hot saline and hyperacid water, microorganisms will not exist as in Ethiopia. It has 6 lines which read like maxims.
If there is hard work, there is success
If there is an objective, there will be systematic preparation
If there is luck, there will be wealth
If there is love, there will be happiness
If there is sacrifice, there will be a stronger bond of love
If there is mutual trust, there will be no divorce. (p.49.)
This may also be considered as the poet's view of life or philosophy.
If Nature is not celebrated, an anthology will be incomplete. S.M.Gupta's "Rivers Meet" is a fine example. All the important rivers of India, Ganga, Yamuna, Krishna, Brahmputra, Mahanadi, Cauvery, Narmada and Godavari meet to discuss "the tyranny of man / to Nature including rivers." (p.80.) Now all these rivers are glad since, "all of a sudden man has confined / himself inside the house. Factories are closed" (p.80.), indirectly referring to the spread of Covid. They ended their conference - "ended with a resolution / to keep away the man from / the intrusion in the lives of the rivers / where civilization prospered / and other objects of nature in future." (p.81.) The way in which the poet has made the rivers speak is really appreciable. Another interesting speaker is "Gangotri Mountains" poem. It professes that man is a great polluter of the environment, plundering greenery, natural heritage, biodiversity, clean air water resources ruthlessly. The questions raised in this poem are verily relevant.
Do we want co-existence between man and nature?
Do we want only vehicles and industries? (p.83.)
He also suggests that we should live and let others live as it was preached by Lord Buddha. "Wedding Dancers" poem is one such. The poet narrates,
They danced for the drunken wolves
at the wedding ceremonies.
They were obliged to make sexual movements
to entertain and please their libido
These wolves forced themselves on the stage
touched and groped the body parts of the young dancers. (p.58.)
In the next verse para he tells that "the Nat dancers were taught / to keep silence on sexual / violence and harassment to safeguard their profession / and earnings for their children / husband and mother-in-law". Is this not pitiable and abominable? Will this practice disappear?
Who will not sing about Love? His "Love Letter" poem is verily unique. The various alphabets in the letter of his lady love evokes in him different images. Letter 'H' denotes her two shapely legs and the hyphen in between the midriff 'C' her soft stomach, 'B' her beautiful breasts; 'Z' her red cherry lips; 'V' her sharp nose; 'Q' her extraordinary and powerful brain. (p.72.) An unforgettable poem!
His short poems sound like maxims. "No recognition / No friends / Life is / Without celebration." (p.89.) "Loyal voting / For a political party / Expectations belied." (p.69.) The present crisis created by Covid finds its treatment in many poems like "Corona Defined", "Novel Covid-19", "Effects of Lockdown", "Novel Covid-19 (2)", "The Agony of Migrant Workers", "Goodbye by a Corona Patient", "Corona Virus: Genesis", "A Corona Patient" "Covid-19: Present and Future"
The anthology has reviews for S.M.Gupta's previous anthologies Crescent Moon, and The Songs of India and the World. There also a Preface by the poet.
A poem has to convey something useful to a society. It is not merely a jugglery of words. Each poem has its own unique way of telling / conveying a message. Also it has to be done in the diction of common man as Wordsworth believed. S.M. Gupta has these qualities in his poems. His versatile pen has touched every aspect of life of man, place and country. Very convincingly and appreciably he has done this. So kudos to him! Any reader will have the satisfaction that he / she has gone through a very impressive and powerful book of poems by S.M. Gupta! The poetic world expect more anthologies from him for the upliftment of humanity and change of social set up!
Work Cited:
Gupta, Sagar Mal. Songs of Rajasthan and Other Poems. Prakash Book Depot, 2020.
---
About the Author:

Dr. K. Balachandran, Former Prof., Dept. of English, Annamalai University, Annamalai Nagar – 608 002 (Tamil Nadu), is a bilingual writer. He has published 24 books (20 in English and 4 in Tamil) and a number of poems, research articles and reviews in India and abroad. He has a dozen national and international awards to his credit. He can be contacted at prof_k_balachandran@yahoo.co.in.
---