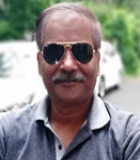 Obituary
---
A Poem for dear CL Khatri — R.Y. Shinde
---
Dr. R.Y. Shinde, the editor of Cyber Literature International Online Journal, is former Professor (Selected) & Head, Department of English, Kisan Veer Mahavidyalaya, Wai. He can be contacted at rajendraprasad.shinde@gmail.com
---
Brother in Jungle
My Baba told about him,
Gopal, the brother in jungle,
The poor student had nothing,
Other princes had cows and jewels
He kept sobbing at mother's lap
What shall I give to my Guru?
He walked dense forest,
Every day alone among wild animals,
Mother told him to call his brother
''The Brother in Jungle will save you"
Anyway, he had to go to the Guru,
He decided, asked his brother,
My dear brother, Gopal, please help,
Thus he went with a bowl of leaves,
Filled with a mouthful of milk,
The milk never stopped pouring.
Bewildered Guru and students,
Went in search of the brother,
Who told only the boy could see him.
Our eyes filled with tears,
I told Baba to name new born brother as Gopal,
Like the 'Brother in Jungle'
Thus my younger brother became
My elder brother Gopal,
Looked after all my duties with devotion.
Many years passed in strife and struggle,
In the real jungle of greed,
I pined to meet the 'Brother' in this 'jungle',
Who would come to succour and to save,
Me from clutches of tyranny,
What we call life and career,
Just because Baba named me after Babuji,
Babu Rajendra Prasad Ji,
You patted me and told,
Look here I am, come for your succour,
Your 'Brother' in this 'Jungle'
A few others and me, we saw you,
A different scholar, a different poet and,
Above all a unique human being,
You paved the academic world,
With 'Cyber Literature',
Eminent scholars from the world,
Worked with you, Sudhir being closer than all of us,
I for 'Online' and he for the 'original',
Your 'Two Minute Silence' and many other anthologies will,
Keep on reverberating the literary world,
Though you were younger,
You were the true elder brother in jungle.
What they say is true,
God calls his most beloved,
Earlier to him than all others,
I pray I strive to become beloved,
To Him, end this loneliness forever.
May you keep visiting the academic world,
With translations of your anthologies,
Your words have truly conquered,
Death and other 'Ways of the World'.
Leading you to true Eternity.
---