Creation and Criticism
ISSN: 2455-9687
(A Quarterly International Peer-reviewed Refereed e-Journal
Devoted to English Language and Literature)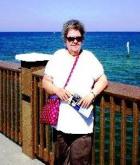 Five Poems of Floreann Cawley
---
Floreann Cawley was born in Pennsylvania, U.S.A. on Sep 22, 1949. She began writing poetry in the year 2000 and as poetry is one of her favorite passions. Her favorite kinds of poems are love poems where her words flow together with emotions and experiences and release feelings from the deepest part of her soul. Floreann was 'Poet of The Month' in October 2001 at an online poetry site The Starlite Cafe and has written over 3000 poems till date. She can be contacted through her email: cindypat70@aol.com
---


1. I Write From My Heart

I write from my heart
gentle feelings
surround my soul
my passion is strong and deep.

I take you
into my thoughts
I give you life
through writing
of love
on wings
I lift you up
not alone
with you
in my spirit
I feel joy!
---
2. Elvis Presley

Some people see with their eyes,
he saw with his heart
giving his all from the very start
each song a gift
from a voice blessed above
every note he sang with love
gentle soul, as we all know
Elvis, I love you so

A simple country boy
who loved his Mamma
the sparkle in his eyes dimmed
the day her heart-light died
others watched his fall
with a blind eye - the death of a legend
to those who loved him
he will always be the King!
---
3. Rhythm Of The Waves

The soft rhythm of the waves caress our souls
dancing in the gentle breeze
entering into Paradise.

Melting moments, mellow is the night
racing thoughts captured into one
moonbeams cross a shadowed wall
slow movement, sweet pleasure
flowing across the lovely shore
whispering
and I Love You
softly
and I Love You tenderly
and you love me
---


4. The Wonder of You

The wonder of you
deep in my heart
keeping me strong
soft and tender, gentle and warm
a combination of your charm
witty and wise beyond belief
sweet dreams come alive
in moments of sleep.

A heart touching my soul
caressing sweetly
now we grow old
seconds are a treasure
being near you
beautiful one
love so true.
Once in a lifetime you came along
presenting a gift
the magic of song
whispered
upon a breeze
from above
all we feel now is love.
---
5. Grandma
Yesterday is a sweet memory
tomorrow is a gift
butterflies race around my heart
as I think of you
tears sometimes fall
bittersweet moments we shared
we cried together and felt the same pain
your laughter was my joy
love happened instantly
no guessing no games
my heart knew
the exact moment
I saw you
always protecting me
from harm
words never hurt
you took the pain away
more than anyone can measure
you are my greatest treasure
Grandma.
---