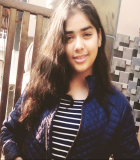 Five Poems of Ishika Bansal

---
Ishika Bansal (b. 2004) is currently studying in class 8th in St. Conrad's Inter College, Khandari Agra. She has published one Poetry Volume titled 'Threads of Life' published in 2017. Her second poetry volume titled, 'My Diary and Other Poems' containing 46 poems is slated soon for publication. She can be contacted at rajivk92@gmail.com.
---
1. Where Am I?
In the zigzag, jumbled poetry I am
In the folded, personalized pages, I am
I am a chirpy bird's friend
In the blue sky
In the green meadow, I am
I am with my quirky friends
In their giggles and pranks, I am
I am in the mesmerizing content of a book
In the tossed, marinated, fresh poem, I am.
2. A Sneak Look Outside
The archaic beauty
Why it appears so pale
Where are all the glistening grounds
And the blooming dales?
The liberty to move around freely
Where it's gone
The pick-pockets, robbers
Are ready to strike horns
The depression and anxiety today
Have replaced the placid demeanour
The trees will soon be vanished
So un-fragrant are the flowers
Let's wake people in deep slumber
Within our range
Looking out
Let's urge for a change.
3. Mom
She's the one to encourage us
Without being acknowledged herself
She's the one to serve us first
At the stake of starving herself
She's the one to wipe our tears
And cheer us up
Without being comforted
Without being consoled herself
She's the one to withstand us
At every phase of our life
Just for a day sit beside her
She's a mother, daughter and a wife
It's a really petty thing to think of her
As just our caretaker
She's the one and the only one
Multitasker a perfect homemaker.
4. My Worthy Hand
I use you to create
I use you to destroy
I use you when sad or bored
To express my joy
You're always there with me
True companion - at times
Smelly, sweaty, sticky
And so clean sometimes
With the help of yours
I'll try to beautify this world
And some ways I'll mend
I want every goal of mine set by myself
Till I have this worthy hand
5. Copy, Cut and Paste
For those who think
Yes I copy, cut and paste
The words are my own
But yes I blend the taste
The ideas I reflect, I observe when alone
Yes I copy, cut and paste
The thought is my own
I scribble at last, gather ideas when bored
Yes I copy, cut and paste
But a little effort is required
Yes I copy, cut and paste
But my determination and
My dynamic struggle, need a start
Because it's nothing less than a dream
To create a piece of art.
---