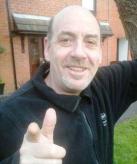 Five Poems of John Kavanagh
---
John Kavanagh was born in Dublin, Ireland on June 8, 1963. He began writing poetry in 2013 and has published a book of his poetry with Exlibris titled All Kinds Of Everything. He enjoys reading poetry and is a member of many online groups, where he publishes his poetry daily: 'Heart and Soul Poetry Group', 'Poetry Circle', 'World Wide Poetry', 'Poet's Garden', 'Poetry Train.com', and 'Poet's Corner.' He can be contacted through his email: jonkava5@gmail.com
---


1.
I Am With You
When you waken in the morning
And you open up your eyes
When the light shines in your window
And the birds sing in the skies
Do I still become your first thought
Do you still call out my name
Am I still your shining knight
Your life's eternal flame
When you step into the sunshine
And feel the cool fresh air
Do you feel a little lonely
Do you wish that I was there
Do you think of me each moment
Does my memory bring you joy
Do you have those tender moments
When alone do you still cry
When you lay upon your pillow
And the moon is big and bright
Do you say a little prayer for me
And wish to hold me tight
When you drift into the dream world
And all again seems real
Does it help to ease your heartache
When you tell me how you feel
When you awaken in the morning
And your eyes are open wide
Is your pillow wet from teardrops
Wept from deep inside
Do you feel it in your heartbeat
That things will be alright
For my darling I am with you
Throughout each day and night.
---
2. I Gave To You My All
You took my heart and broke it
As though it was a toy
You put me down with every word
So often, I did cry
You make me feel so worthless
With the mental games you play
And make it though all was my fault
Every time you'd stray
You never noticed any time
you were my shining knight
And in this broken heart of mine
For you there shone a light
But your vanity and selfishness
Had blinded you in lust
Long before these written words
You had betrayed my trust
For many years I turned my head
Pretending to be blind
Inside of me the awful fear
Of the truth that I might find
Until that fatal day arrived
And we stood face to face
Your lies and your excuses then
Proof of your disgrace
You beat me with such viciousness
You fists your feet did pound
You hit me off of every wall
Then dragged me along the ground
Consciously you left me there
In pain in agony
Not caring if I lived or died
Your hatred I could see
As I fell in and out of sleep
I began to reminisce
Back to when we first had met
The passion of your kiss
The first time we walked hand in hand
Beneath the star filled sky
You said your eyes were just for me
You were my pride my joy
When you asked I be your bride
I did not hesitate
I said yes with heart and soul
To being your life long mate
I gave to you my all throughout
Being a mother and a wife
A best friend and a confidante
Who helped you when in strife
The bitterness I've felt inside
Has lessened through the years
I've learned to put it all behind
I smile now not shed tears
All those yesterdays have gone
Now from you I am free
For you'll never have the happiness
that grows inside of me
I have my independence now
I've found a new life role
I have the inspiration too
Down deep within my soul.
---
3. In My Mind Will Always Remain
I boarded the train down in Houston
I was heading to dear Castle bar
in the next aisle the most beautiful smile
beaming the light of a star
I could feel that magnetic attraction
that feeling of love at first sight
Right from the start she had captured my heart
An Angel for sure here tonight
She turned to look out of the window
A sweet kiss she blew through the air
I took it to be that sweet kiss was for me
Her reflection suggested it were
I found I had will and the courage
to tell her just how I did feel
and ask for the chance that we might romance
I felt it was life's fortune wheel
We found that we had much in common
we shared in a joke and a wine
this woman for me was all there could be
I hoped from today she'd be mine
I could not help I was staring
Deep into her green and blue eyes
From her chin to her brow I was smitten somehow
The most beautiful I'd ever seen
We exchanged with each other phone numbers
I said I would soon give a call
for if ever there were someone with to share
my life she would be it all
We wild our first nights away talking
Like mine her feelings were strong
She would like to see a lot more of me
Things were now moving along
Soon we were planning our future
we painted it rosy and bright
we never would part we were joined both in heart
we would share all we had with delight
We got our own place in the Autumn
Together we chose the decor
with paper and paints and the patience of Saints
We went through the house floor by floor
How ready we were for the winter
Together our first Christmas day
with our first Christmas tree the best there could be
lit up in its shining display
On New Year's Eve we threw a party
to see out the year which had passed
but we did not foresee this was going to be
not only our first but our last
It all happened quite without warning
with what seemed like a cough or a cold
she did not complain but ill did remain
not knowing that cancer took hold
Just like my sweet love my Angel
Life does not come with an age
Cancer can take just for its own sake
Any-one at any stage
I sat with my love through her torture
as she silently suffered her pain
her courage of heart before her depart
in my mind will always remain
I think of that train ride from Houston
and that journey to dear Castle bar
The wine and the joke and the sweet way she spoke
And her smile which shone like a star
Sat on a park bench in Dublin
the people I watch pass their day
How many I thought would I see or not
Tomorrow passing this way.
---
4. Rekindled Life
From the depths of hell you snatched me
when I had nothing it did seem
where my soul did writhe in torture
you brought to me a dream
Your appearance, yes your timing
Within my ring of fire
Brought onto me the liberty
For so long I did desire
You joined my darkest moments
you were brave and oh so bold
you stretched your arms out to me
you embraced me and consoled
You tended my emotions
with tender care and love
you drove away my demons
as though an Angel from above
You gave back to me the confidence
to get my life back straight
you removed the whiskey bottle
before all was too late
Your love and understanding
to my new envisioned eye
Rekindled life inside my soul
my woes restored to joy.
---
5. Mother Nature's Varied Hand
As I lay upon my bed this night
Thunder rolling, lightning bright
Teeming down the pouring rain
Tap tapping on my window pane
Lightning forks bolt from the sky
the thunder growls, the earth does sigh
Mother Nature in her own way
Enchants me with her fine display
The break of day the sky is clear
the birds in song, my spirits cheer
as Mother Nature seems to rest
we see her at her very best
The seasons as they come and go
for each old nature had her show
Rain and shine, ice and fire
Whichever of she might desire
So much I may not understand
of mother natures varied hand
but snuggled up in my duvet
I lay in awe of her display.
---