Creation and Criticism
ISSN: 2455-9687
(A Quarterly International Peer-reviewed Refereed e-Journal
Devoted to English Language and Literature)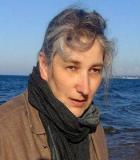 Five Poems of Małgorzata Skałbania

---
Małgorzata Skałbania, born in 1965 in Tychy, Silesia in Poland, is a graduate of the Academy of Fine Arts in Cracow and intern in the Academy of Fine Arts in Kampen, the Netherlands. She has published one of two her dramas: Golej divi-divi"; three books of poetry: Accretion ("naleciałości"), Der Schmutztitel ("szmuctytuł") and ćwirko. She lives in Lublin, Poland, where she works as a upholsterer. She can be contacted at goska492@wp.pl.
---
1. How to Live
Written on a piece of old cardboard overhead of cashier
fuck the theater
on the window
called several companies
for cleaning inscriptions difficult to take off
letters entered into glass.
2. Do Not Repeat Yourself
Echo
an acoustic wave reflected from an obstacle
an obstacle was the rock audience
(for twenty thousand people)
completely empty.
I have entered the arena by a narrow tunnel
walls were damp despite a fine day
in the sun
a modest spectacle
screaming of Italian scouts
eco, eco, eco.
3. After Eavy Water
Catching soft
an epic river poem of a few hundred hexameters
decimus magnus ausonius
we have made a big step
we know nothing about a water structure
this here mosella
it is like a snake with heart of stone
maybe it has the memory
our heads are full of water
riverbed road pater oceanus and edge
a miracle of lack.
4. A Chimney
A balaclava helmet
lies in cracow's market
a gadget of catholic world youth day
you can put it on the head as do modern Muslim
to protect your throat
to cover the entire face
or half
to leave a strange
in peace.
5. Essential English
Related words
life-live-alive
two pen drawings
running hares alive
hinging by the hind legs dead
joy-enjoy-enjoyment
sorrow-sorry-sorrowful
certain-certainly-uncertain
fun-funny.
---