Creation and Criticism
ISSN: 2455-9687
(A Quarterly International Peer-reviewed Refereed e-Journal
Devoted to English Language and Literature)
Book Review
---
Cultural and Philosophical Reflections in Indian Poetry in English—Pathfinders Volume II by Sudhir K. Arora
---
Sudhir K. Arora. Cultural and Philosophical Reflections in Indian Poetry in English—Pathfinders Volume II. New Delhi: Authospress, 2016. Pp.173. Price: 800/-. ISBN: 978-93-5207-207-207-1.
---
Reviewed by Abnish Singh Chauhan

Sudhir K. Arora's Cultural and Philosophical Reflections in Indian Poetry in English—Pathfinders Volume II is a detailed study of five poets, namely, Henry Louis Vivian Derozio, Toru Dutt, Sri Aurobindo, Sarojini Naidu and Rabindranath Tagore, who are the pathfinders as these poets introduced India to the West and also paved the way for the future Indian poets. It shows Arora's critical ability in an authentic manner. What is stated in the blurb: "Derozio's vison of reforming society with the light of knowledge, Toru Dutt's cultural richness in Ancient Ballads, Sri Aurobindo's spirituality and his vision of transforming man into godhead in Savitri, Tagore's vision of cosmopolitanism and the Biblical touches in Gitanjali and Sarojini Naidu's Indian landscapes dotted with season, festivals and Indian people surprise the West as well as the Indians who become conscious of India's cultural heritage" is best demonstrated in the 173 pages of the book.
The first chapter 'Introduction' gives a brief introduction of the early poets and also mentions how they began their poetic journey from imitating the English poets and how they became mature enough to develop their own idiom with the passage of time. It prepares the reader mentally to go deep into the poetry of the five poets.
The second chapter is devoted to the contribution of 'Henry Louis Vivian Derozio' who identified himself with India and her culture and recommended "the westernization of India without losing her basic structure." As a poet, he has a vision of reforming the society. Arora has discussed Derozio's poem The Fakeer of Jungheera in detail and demonstrated how he has attacked the outdated tradition and superstitions.
The second chapter is devoted to Toru Dutt's contribution to Indian poetry in English. With her superb story-telling, she makes the past alive and infuses the cultural values in Indians, particularly children. The simple choice of words with the deep meaning is what makes the reader spellbound.
The third chapter is about Sri Aurobindo who, with his philosophical and visionary outlook, writes with a mission of redemption of mankind to bring the Divine Life on earth through his integral yoga. Arora has analysed his poems and particularly Savitri in detail. He is a poet of the few. A yogi reader can decipher his poetry. Praising his poetry, Arora writes: "Aurobindo's poetry, which is an ideal of creative imagination, exhibits sublimity; explores the unexplored subjects; reflects deep philosophy; emits the mystical fragrance; releases spiritual energy; surprises the serious reader with meaningful contents robed in a balanced idiom; reveals lyrical symphony; and paints the concrete picture through images and symbols."
The next chapter is devoted to Sarojini Naidu who, though lacks depth, offers Indianness and paints the Indian landscapes with people, things and colours of life like religious tolerance, secularism, Indian festivals, Indian ethos and culture.
The next chapter is about Rabindranath Tagore who has "almost become a symbol of Indian rich heritage by virtue of his realizing the ideal of cosmopolitanism in his poetry, and supporting independence and interdependence at local and global levels respectively." He is a world poet who has become a cultural ambassador. His poetry is mystical, tinged with humanitarian colours. Arora while writing 'Conclusion' evaluates these five pathfinders who have presented India and her culture. These poets are relevant in the present scenario as their poems talk of joy, peace and love.
In brief, the book Cultural and Philosophical Reflections in Indian Poetry in English—Pathfinders Volume II is a worth reading book not only for scholars and teachers but for general readers as it offers the rich Indian cultural storehouse, presented in the poetry of the five pathfinders. It attracts the reader with its beautiful cover but his taste becomes sour when he sees its price which is too much. He wishes to go through the five volumes because of the contents about Indian Poetry in English right from Derozio to the present time. It will be better if the publisher releases the paperback and e-book editions for the wide readership.
---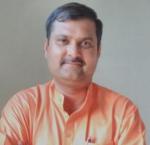 About the Reviewer:
Dr Abnish Singh Chauhan (1979), the editor of two online journals– Creation and Criticism and IJHER and a Hindi magazine– Poorvabhas, is presently serving as a Professor and Principal, BIU College of Humanities & Journalism, Bareilly International University, Bareilly. He has authored a number of books including Swami Vivekananda: Select Speeches, Speeches of Swami Vivekananda and Subhash Chandra Bose: A Comparative Study, The Fictional World of Arun Joshi: Paradigm Shift in Values and Tukda Kagaz Ka (A collection of Hindi Lyrics). He can be contacted at abnishsinghchauhan@gmail.com.
---