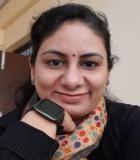 Poetry
---
Love and Other Poems — Shraddha Sharma
---
Dr Shraddha Sharma, with more than 14 years of teaching experience, is a Senior Assistant Professor at Department of English, Govt. P.G. College, Ambala, Haryana. She is M.A., M.Phil, Ph.D. and UGC-NET (2005) in English. Her areas of interest are American Literature, Indian English Literature, Comparative Literature, World Literature and Literary Theories. She resides at Sector-6, Panchkula, Haryana and can also be contacted at shraddha581@gmail.com.
---
1. Love
Love what you have,
Do what you can,
This life is nothing
But a mechanism to understand-
The earth, the water, the fire, the air and the sky.
Don't overdo,
Don't seek for someone's approval
We are not here to get approval or disapproval,
This life has a living purpose,
Purpose to celebrate,
Don't live it only for Facebook, Twitter, Instagram, Whatsapp
Or anything else that is not real.
2. Live Lively and Depart!
Don't mind this mundane world my love,
Cry a little and show your palm out of glove.
This world is full of faults and fear,
Don't judge your skills for it my dear,
People of this colourful world may suppress you,
Don't let your spirit succumb and stress you.
There are immense and intense possibilities,
Don't stop yourself for someone's idiosyncrasies,
This world will judge you for your tiny mistake,
Don't hold yourself for any stride you can take.
They will see you from their own Binoculars,
They don't have your specs and colours,
Your mind is your own experimental lab,
Don't let anyone prove you a mental Lad.
Have faith in yourself on every turn of life,
Don't let others create havoc in your strife,
Get help, do good and feel good,
Do talk, take rest, face your mood.
There are unequal equations in this world apart,
Choose wisely, live lively and depart!
3. Gratitude
When heart is tranquil and serene,
The flux of compassion is unseen,
Tears wash away all pain and fear,
Inner world is pure after dust is clear.
O Lord! We are grateful for this most awaited tide,
You gave one purpose to everyone for one's stride.
We overlook the realities in our dismay,
And play blindfold with real characters of our play,
We reap whatever we saw in our journey once,
And forgot this law sometimes of His surveillance.
This is the way to celebrate life-
Give something or take something ,
Nothing goes with us after demise.
An unseen power is omnipotent every moment,
But we ignore it in rage or in dissent,
Be in Gratitude keeps us alive,
Rest is entanglement of a beehive.
4. Do They See
One person has many diverse faces,
And shows them at different places,
One face in storage for every occasion,
And add colours in accord of every season.
The most artful face is a social face,
It dupes own self to get a social space,
Being recognized and noticed is one's desire,
Unnoticed one feels that one is on fire.
Society judges one for one's curt reality,
So, why does one put up a face, with garnished duality?
And goes on a conflict between Id and Ego,
For this preoccupied world that is placebo?
Isn't face value most overrated thing?
It can deceive anyone's most sincere string,
A good social media status is one's priority,
And it is farthest from one's inner proximity.
They talk politely for everyone around,
But, mistreat others who are blood bound,
Do they know how to refrain themselves
From this fake bubble of pride?
Do they know how to hold rein
And face the ultimate rain?
Do they look at themselves for their inner light?
Or do they see the glow in others?
5. Angles
In this colourful world
Darkness impairs our vision, creating fear
But, some souls are full of brightness
Shine like stars in the sky
God has a very simple mechanism
To create and nurture
But, some of us pollute His creation
Malign hearts are they
They represent thoughtless race,
Driving us afar from our blissful path
Many times HE intervenes
To save this beautiful cosmos
And assigns this task to His chosen one
Wrong directions
Wrong aim
And blaming intent
Take us to a cauldron of flame
We can elevate ourselves to the highest dome,
Where each is welcomed with a smile, full blown
To be called as angles in human forms.
---