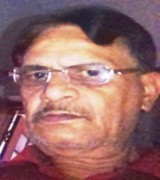 Research Paper
---
Manas Bakshi's Dance of Satan: A Structural Study
---
Suresh Chandra Pande
---
Abstract
Manas Bakshi, born in 1954 at Kolkata has grown into a major voice in the realm of Indian English Poetry. Although besides poetry he writes columns for newspapers & contributes short-stories almost regularly to major Indian English journals, his poetry finely blends real and insightful perceptions of his life and times in a way holistic, spiritual, romantic, material and meaningful. Born in early fifties of previous century, he slowly yet amicably got a distinctive place by dint of his exceptional quality noticeable in the presentation of topical , philosophical , dynamical and metaphysical interplay of themes in a diction sober, elitist ,intellectual and excellent having really a meticulous command over English .Widely published , anthologized and severally explicated , Manas Bakshi shines in his own light and in his peculiar individual way leaves on his readers the scope for analysis and appraisal. Dance of Satan that appeared first in 2017 is a unique collection of poems mainly centering round the difficulty of man's fate and destiny further churning against the tide of changing patterns and human emotions. In this paper, a humble attempt is made to elaborate thereby to bring into light almost all salient features of his poetry with special emphasis on Dance of Satan in the article that follows.
Keywords: Contemporary, Dance, Diction, Dramatic, Evocative, Preamble, Poignant, Satan, Verbal, Viciousness
---
Unarguably, Manas Bakshi of Kolkata is assuming, at a snail's pace, a prominent place among contemporary Indian English Poets. He has been avidly read, admired, treasured even evaluated by natives as well as outsiders with equal ease and poise. Being prolific he writes aptly much more adeptly on day- today's affairs encircling the larger section of humanity. He is a pioneering writer who explores humanity in miscellaneous forms .That is why humanism undertakes recurrent forays into the literary world of his own making. Devices such as meter, metaphor, rhythm, intonation, humor and irony comingle in a harmonious balance adding and suffusing life into art .Visibly so, his poetry has been greeted (1) as a genre of progressive humanism and polychromatic aesthetic athletics .He does not confine him only to visual renderings but focuses attention on a bigger canvas that embraces global and universal concerns and turbulences. Bakshi's innate dexterity further lies in exposing the sensational predicament of modern man angled against the backdrop of immoral dealings, angst and anguish at the raucous sight of perverted and crooked brutal viciousness. Above all he is an interpreter of human life and values and excels in artistic finery of a rare sensible sort. Regardless of being too abstract, ambivalent, subtle, shrewd and cerebral, Manas Bakshi is a poet and writer par excellence.
Bakshi's poetic collection Dance Of Satan And Other Poems (2) has God's plenty so contains 74 poems in all .The title poem appears on page 12 to terminates on 13 in which the Poet in a laconic way narrates the aftermath of India's freedom and partition .He talks of two doorways- one shut and the other open. The door that is closed shows a picturesque silhouette of the promises specified in the preamble at the naissance of secular, socialistic, democratic set up .Time past is succinctly fused into time present. The freedom and its aftereffects spotted in the social structure of the growing nation is the topic the poet chooses for his critique. The dawn that symbolizes divinity's advent is the beginning of 'faith in humankind and devotion to cosmic reality' (12) so, avers the poet. But the post millennia epoch has turned the good into the evil, the divine into the diabolic and cosmic reality into cosmic delusion .Social equality has been replaced by social injustice, economic prosperity by plunder and smuggling, peace by hoodlums and rapists. In this way, the rampant evil has cleft the nation's heart .So the anguished poet heroically interrogates this invasive shamefulness—Dance of democracy or Dance of Satan? However, it is a beautiful poem that has the capacity to accommodate the macrocosm into the microcosm by further depicting man in the image of God though awkwardly tuned by Satanic forces. Christ-imbued Satanic agents like greed, anger, lust, selfishness operate secretly and stoke constantly the material cravings in all unenlightened minds. Alongside social and national insecurity, injustice and dwindling ethics the poet aims to look at and exterminate growing evil from human spirits for the predictable emancipation of individuals.
What is singularly unique with Bakshi is that his poetry rolls in a mystique plainly evenhanded so honestly graspable. The existential contours agreeably exculpate divine joys and human woes. How much thrilling and throbbing is his unfailing company with natural stuff: "Rainbow after rain / In a clear sky / A musing for mind" (11). Moreover, love that sustains human life is conspicuously visible and forms the main thrust of his poetic crop .When time and space both stand still and earthly existence smacked between day-disasters and nights full of mournings, there then love appears, amazingly entices and binds humanity in a flowery band of relationship by entwining sense and scent .Nonetheless the struggle that enables life and existence, challenges rivalry of being and becoming, more than ever gives vent to Bakshi's poetic knack. When best made plans go awry, the poet approaches life as spiritual warrior with enough of gusto and piquancy .His stories and reports more than poems highlight this acerbic aspect that bites sharp. How scathing are these lines: "a long-left fingerprint / Of a moon-struck pimp / Singing songs of divine love" (19). This song of divine love is sung '"from the balcony of a brothel" (19).
Another engaging feature of his poetry effortlessly discernible is metaphysical ecstasy. There are moments of sauntering delight wherein the poet seems to experience spiritual wholesomeness. The imagery used to demarcate such experiences often turns dramatic so vivid. It is habitually suggestive of finely tuned sensibility operating at two levels individual and universal. The moment the universal manifests into the individual is really elating –"Staying indoor / I muse it over / Start singing within" (22).This inner joy is a moment "In wait for the moment / When I could be /A rapturous song" (22). Likewise, the idyllic dream world where we see us sipping nectar to gain immortality is soon adversely traumatized by the venom of ghastly, gruesome and macabre world of day- today realities. At the juncture at such the poet evokes nature to find immediate succor- "Incessant rain brings out sometimes / Inherent human pain /….The ocean within" (23). The self within the poet further says is "A known still ever unknown self / Is churned up to salvage" (23). This inquest further propels to put experiences of everyday's tedious journey into an eloquent structure that induces reader's inquisitiveness for observing the vicious circle woven by the agency called life: "Why these pungent thoughts, delicate moments / Illusive motifs, enigmatic sequences / Do not relieve me of the day today terms of living" (26).The day-today living is nothing but intrinsically "Meant for an incomplete sentence / That is but mundane existence" (26). This existential crisis persists and the poet is sad, despondent and depressed at the sight of ensuing violence and communal intolerance. His restlessness at the helplessness of the ruling elite to calm down the ghost of hatred finds expression in the lines as such—"No word of compromise / No emotional spur / When life bleeds" (37). Nature as a source of consoling power keep on lingering with a tinge of spiritual bite at the site of such heinous acts of massacre where the contract killers escape without any qualm of conscience and scruples of guilt—"If anything exists between / A serene sky and / A stinking bog" (33). This stinking bog is fully explained by the images as such: "It's halfway duality / Sometimes someone grapples with / To think he's absolved" (33)!
The bite continues in multiple modes with multiple implications of meanings .When existence is at the decisive end, we see, how good and evil coalesce to form the predicament of contemporary man / woman. Loss of faith and diminishing inborn divine traits give ample of thoughts to the poet for employing a teasing wit : "Who knows since when / God has ceased to be / A dividing line.. ."(84). This dividing line is really in between "Faith in man and a craze for crime" (84). The poet creates two extremities—one relays rapidly changing growth of materialism known as the bemusing web of Maya and another an inescapable way of resorting to hostilities by sheer denigration of existing righteousness. Faith in man's goodness is not questionable but forms an enigmatic ambiance frequently visible in the sphere of circumstances. The poet in moments of creativity looks to laugh and deride amiably, least affected by the existential malady of those who hurt others. If there is a war-like situation and the self is tormented by external foes causing conflict in conscience the only remedy suggested by the poet is to hurl the missile of silence. It is an indrawn wish-weapon leading to more perfect domain of spiritual meditation. Ominously, the precarious situation of relegating life to the subterfuges of the ravenous is indeed a route invented to serve the desired object. The plunder and the prostitute are twin aphorisms used to depict the deprived and exploited little guys mainly known as the downtrodden. What matters here is the beautiful tactic the poet invents to bring close the imagery and the metaphor: "The blue in her eyes, / Wandering // In seclusion" (57) is similar to "Hibiscus / In disguise" (57).
Additionally thematic paradigm lends to his poetic diction an adorable charm. It gives his readers accordingly an occasion to pose and then to brood over before drawing the finale. Getting ahead we see the poet painting a picturesque image: "The morning / Smiles as a woman" (57).This smile of the woman is a smile "After giving birth / To her first child" (57).The consecutive phase refers to the monopoly of caste, class and creed that is hard to abolish. It is because it has its roots ingrained in the socio-economic fabrication of modern nation's uneven society. But the learned poet recoils back to numinous experience so as to present the reality as it is: "Who cries there …../The dead in the womb/Before birth" (58).Thus error in the execution of time, lies and illusions, distortion of facts and utter seclusion impels Bakshi to muse: "The face of truth /Staring /The facade of falsehood" (59). And the falsehood, the poet adds is for "scaring / You" (59). He then marches forward with his poetic proclivity and rich imagery to highlight the rationale behind the action. Phase -5, onward we find awe-inspiring injunctions such as—Dried up sentiments when flared up spread communal violence. The spark of violence not fully doused bubbles in social taboos. God in vibrant form appears yoked by ethical disorder .Subsequently, he robustly implores for nipping in bud all rampant impieties lest there may well nurture a more hurtful virus. Slowly the darker phase wanes and the poet is seen savoring brief delight in the fleeting objects of nature: "Romance / Short lived" (61) and "A dew drop / On a lotus leaf" (61). Where faith eludes and living does not fructify the only substitute left for humans is to board the situation as it entails: "Before / The broken mirror / Of existence" (63). He goes on saying "Everyone seems /Either / A victim"(63).Victim he says: "Of / Crossfire / Or"(63)is "A champion / Of / Compromise"(63). This long poem indeed embodies an ideology superbly becoming visible in phraseology virtuously adequate.
As myth participates considerably in the construct of the poem, we see the poet, undulating in mythological allusions to explore contemporary life and its appalling unruly state. Also by drawing analogies from the ethical-code of the divine, he vehemently denounces ultra-modern tendencies escalating to humiliate the pristine and the unspoiled .How humorously the poet sneers at dumping of the new-born in the dustbin .It is his own city branded for empathy. Also being progressive now is losing spiritual essence despite governmental vigilance. The ironic notion of birth along with the philosophy of rebirth consciously beautify thematic design: "Bereft of the ideology / Of myth-born Yudhistira /…If there be rebirth"(47).The animal imagery is superb but of the cannibals more sardonic. The purposeful use of contraries further titivates the robust rhythm and the lilting tempo of the poem. Besides, there are several junctures wherein we find well defined confidence in life, non-life and after-life all infused together in subtle poetic precision—"If soul be a deathless spark / In the endless journey of life hereafter /…Nor can faith in rebirth divulge" (64)! At another occasion the poet appears reveling in the mundane cacophony of life coexisting with the inefficacies of mistrust in rituals: "Goddess Kali ! / Do we really revere her / Garlanding the deity with ritual bound scalp" (29). The idea is further brought to light by "Offering her animal blood / Or, pretend so to stave off our own guilt-psychosis / While living with darkness" (29).The whole of the poem like a Yagna energizes and interconnects every part of creative energy in a single scabbard. While usual mugging at socio-political maladies lends special charm to his poetic legerdemain. One more long poem that narrates poignant fissures of life of a progressive man against the backdrop of oncoming International Woman's Day intriguingly argues ancient ideals of womanhood in modern setting-"His only daughter , Durga / A techie / In an IT firm" (118). She has not yet returned, the poet wants to tell the readers. At another place in the same poem he avers: "At the ignoble legacy / Of Sita /And Draupadi"(120) his daughter was severally jibed. Christian (Hebrew) myth too finds an appropriate locale to outline contemporary reality- "The kiss of Judas mingles with / A slaughterer's impenitence, /An uneasy calm foretells" (33).
Manas Bakshi's Compos Mentis probe into multiple fads of life such as—love, social-relationships, national issues, personal tribulations, mal-treatment of weaker sections ,moral lapses ,religion and hypocrisy-- goad an avid reader into the luxury of easiness and minimized anxiety. How pungent and pertinent is the picture of the architects of national unrest and instability-"For political culprits / To creep in, befool people and plunder— / For hoodlums, smugglers and rapists having a free run…" (12). In another poem national concerns, worries and anxieties compel the poet to interrogate then imperatively define major political issues-"Secularism—an eye-wash / Democracy at the cross-roads / Whom do we swindle ?"(15).The rising hypocrisy in social circles often seems to provide ample of thoughts to the poet to intuit-"And morning /A white pigeon / Flying as a peace symbol" (39). He further adds "Butchered one day for ethnic ritual" (39). Loss of faith and complete disharmony between tradition and modernity forms the thematic intent of many of his poems: "It's 21st century / Full of neo-liberal thirst, / Fond of bustling with Wi-Fi buzz" (43). At another place the poet meticulously delineates the permeating disquiet: "Peace is nowhere / Save the lexicon / Of the soothsayers" (41). Socio-Economic disparity, discontent and legacies of financial crisis appear as powerful tools to protest not only against a set geographical locality but also broader areas of heightened political volatility around the globe .Significantly long poem "After the Economic Meltdown" (57-63) throws ample light on the darker and gloomy side of changing times. How pithy is the inequality aptly noticeable: "Mega shopping mall / For the affluent /..Crumb for the downtrodden" (75)! Rapidly declining ethical values and the subjugation of the subaltern by the well heeled also gives pain to the poet in the same poem: "It pains again / To think of the day / She will be nothing more than" (74). It means she will be less than "Her customer's cigarette butt / In the smudgy ashtray" (74). However all beliefs and convictions appear wonderful as are put under spiritual garb.
Spirituality thus forms the creed of the poet. The Satan is no Satan at all but an apprehended faction from the illusory nature of ignorance or material Maya. All that works and operates seems to be the reality hidden behind contemporary ways deep-seated in changing set of socio-political circles. This is the alteration of all those morals which carry out divine message for the well being of humanity. So the putrefaction of these ideals that further lead us to Satanic ethics impels the writer to raise his voice against such existential no-win situation. He is not traditionally orthodox but skillfully adept in voicing forth the impasse, the face-off and day-today challenges confronting the abstruse norms of life and living . Art and life coalesce to give to his oeuvres a unique place and set him apart from existing contemporaries. The self-rendering becomes more explicit when the poet compares his creative-yen with the figurative flight of a lone bird affecting the acme of dream and reality: "An ecstatic bird / Lone in flight / Swoops sometimes" (18). It swoops only "To touch / The river water.."(18) and "Its depth unknown / Like the endlessness /Of the sky…" (18).There is one more poem wherein we see the vision of loneliness becoming personally possessed –"Everyone has / An absolutely own loneliness--/ Own sky of imagination"(49). But this vision "Colliding at times / With some dark reality clouds / For the flash of a fading future line"(49). The poet says: "A dream fragile / Often in poorly translated feelings / Of a trackless mortal being" (49). Here indeed we find a human-being striving hard to identify his grappling self with the art. All different forms of joys and ecstasies experienced during amorphous creation spring up from soul-source comprehended implicitly by the intellect. The Bhawad Gita describes this pastime as joy mixed with the intellect in Verse-2, Chapter VI.
A customary reader who is more or less familiar with Manas Bakshi's riddling poetic technique finds him prudently wise, sane and sensible in combining temporal reality with the spiritual even though with angst of despondency .His mode of narration varies as per varying moods his poetic pieces display. There are in total 74 poems having different thematic basis, tone and tenor but all in a flash flaunt the same propensity—the analogous penchant for the florid. Man-Woman Relationship, International Woman's Day and Women's empowerment are some such themes where we see the poet ambling through the dull, drab and dreary desert of loneliness, time and again evoking love to nurture life's sparkling foliage. Rich in imagery man-woman relationship against the backdrop of nature exhibits a unique figurative blending: "Believe it or not / Like so many things / Man-Woman intramural relationship too / Sometimes livid as a river / Sometimes vapid as a desert" (92). Carnal or physical attraction too takes an abstruse form to compromise with poet's metaphysical conundrums. Mortality and momentary rudiments often come to fore, repeatedly arranged to irk conjugal love in terms of life and existence: "Like a flickering lamp / Inside a ferry / Sailing at night / This life, transitory"… "One Life, One Chance "(102).The mystery of living amid multiple incompatibilities, incongruities and anomalies rife in social set-up lends the poet an urge to discover elemental reality behind apparently fleeting World. The unbearable agony of existential demeanor is so intense and desperate that nowhere in contemporary poetry we can find Bakshi's equal contender. There are poets who write on socio-political malaise with equal ease but the existential catch-22 phenomenon is so conspicuous in his poetry that it effortlessly apprehends the attention of thoughtful readers. Hence it will not be loutish to call him a crypto-existential poet in every respect. There are poets who practice and use poetry as a vehicle to fight against prevailing inhuman tendencies. Contrarily, Bakshi's ante is incomparable. It looks like an indigenous salvo awaiting eruption. In a world dominated by Satanic ethos humanity appears shrieking and yelling, moaning to find respite in love's charisma: "Remember me / When the soil / Of human substance / Will no more grow flowers / In love's absence" (127).
Manas Bakshi's 11th poetry collection Dance of Satan and Other Poems, being introspective in parts, broadens into significantly imperative tenets such as: ' quest for the self ' and ' turn inward angel '. This collection is so aptly dedicated to the benign poet D. C. Chambial and honorably truthful writer / editor A. K. Sharma. Bakshi deserves all praise for bringing out such an excellent collection of poems to stir hitherto unheard and unsung music and rhythm of human life and spirit.
Works Cited
Bhagwad-Gita, Gita Press, Gorakhpur :12th Reprint, 2012.
Manas, Bakshi. Dance of Satan and Other Poems. Authorspress, 2017.
Rao,V. V. B. Rama. "Polychromatic Short Poems Of Manas Bakshi." Poetcrit Vol. 30, no. 1, Jan-June 2017.
---

About the Author:
Suresh Chandra Pande, born in Nainital (U.K.) on 2nd October 1955, gained an M.A. in English Literature in 1976 and a Ph.D in Indo-Anglian Literature in 1983 from Kumaun University, Nainital. Pande's first Biography appeared in International Who's Who of Intellectuals, 13th Edition from I.B.C. Cambridge, England in 1998-99. As a poet and critic, he is well-known in contemporary literary and academic scene. He can be contacted at drsureshpande@rediffmail.com.
---