Creation and Criticism
ISSN: 2455-9687
(A Quarterly International Peer-reviewed Refereed e-Journal
Devoted to English Language and Literature)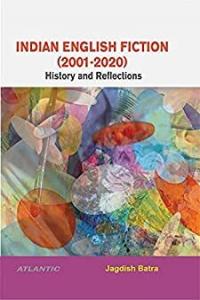 Book Review
---
Indian English Fiction: History and Reflections
by Jagdish Batra
---
Jagdish Batra. Indian English Fiction (2001-2020): History and Reflections. New Delhi: Atlantic Publishers & Distributors, 2021. Pp. 191. Price : Rs. 1195/- (Paperback). ASIN: ‎B09BMZLT37
---
Reviewed by Priyanka Lamba
The genre of fiction has attained immense popularity in our times. Surely, it has happened at the cost of poetry and drama. To this vast corpus, Indian writers too have contributed significantly. According to Jagdish Batra, the author of Indian English Fiction (2001-2020): History and Reflections published recently, more than 1400 novels have been published by Indian-origin authors till date. Therefore, he has painstakingly documented all these novels in his book.
The genre of literary history is not an easy subject to write about and the writers dealing with this subject in the Indian context are few and far between. K. R. Srinivasa Iyengar was the pioneer in this field whose book on 'Indo-Anglian Literature' appeared in 1943. The term denoting this genre itself underwent revisions and changed to 'Indo-English Literature', 'Indian Writing in English', finally, 'Indian English Literature'; and the segment of fiction subsumed under it has been referred by Batra as Indian English Fiction, thus holding it aloft as a prestigious category when compared to its rather lacklustre inclusion in the western category of South Asian Fiction or Literature.
The present book enlists 1400 novels out of which the author has selected some 400 novels to comment upon in detail, categorizing them in 23 segments on the bases of themes like individual, family, socio-political, diaspora, history, myth, terror, region, travel, thriller, etc. At present, it is the only one book dealing with the latest period in Indian English Fiction. The categorization makes the study of this sub-genre of Indian English Fiction easier for studentsand researchers. The author has tried to deal with the subject matter in an objective manner so far as possible.
Apart from dealing with the history of Indian English Fiction of the two decades, Batra has also included, under the section- 'Reflections' in the book, detailed critiques of selected works by authors like Salman Rushdie, Arundhati Roy, Jhumpa Lahiri, Rohinton Mistry, Shashi Tharoor, Kiran Desai, Chetan Bhagat, Aravind Adiga, Ashok Banker, et al. It was interesting to read about the novels produced by Keki Daruwalla, who is otherwise well-known as a leading poet of India. The critiques are based on different theoretical approaches like postcolonial, postmodernist, feminist, new historicist, psychological, sociological, structural, etc.
The language of the book is rich and impressive and thoroughly literary, which bespeaks the author's great scholarship. A specimen: "Postmodernity converges with contemporaneity [in Rushdie], with the now and the near, with our ephemeral and immediate experiences; as it mocks the veracity and claims of permanence of hallowed texts, of revered icons and the biblical promises. In this context, the narrative itself becomes suspect and turns into metanarrative" (110).
The lacuna that one notices about the book is its limited documentation of 1400 novels and the strong possibility of there being a hundred or more novels which the author was not able to access. Batra himself points out that he had been meticulously taking down notes since the advent of the 21st century, there being no readymade databases available on the subject. That surely underlines the importance of this book as also the amount of hard work that went into preparing it. I am sure the book will prove to be a valuable resource for students, researchers and faculty members alike.
---
About the Reviewer:

Dr Priyanka Lamba (1974) teaches English at Dronacharya Government PG College, Gurugram, affiliated to Gurugram University, Gurugram (Haryana). She has her research papers published in reputed journals and books. She resides at 567B, Sector 15 Part 1, Gurugram and she can be contacted at priyanka.tanisha@gmail.com.
---