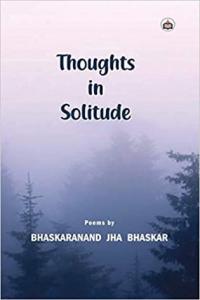 Book Review
---
Thoughts in Solitude by Bhaskaranand Jha
---
Bhaskaranand Jha Bhaskar. Thoughts in Solitude. New Delhi: AuthorsPress, 2020. Pp. 94. Priced: 295/-
---
Reviewed by RK Bhushan
Every time, Bhaskaranand Jha Bhaskar comes up with a new book, there is in it a fresh strain of intense creativity of thought, expression and poetic idiom. His present collection of poems, Thoughts in Solitude, bears an abundant testimony to this observation. A highly renowned scholar and critic, K. Satchidnandan, has aptly said that Bhaskaranand Jha Bhaskar's poems showcased here "are a beginner's quest for the meaning of life, love and death though he never loses his concern for the social." This collection has 72 poems wherein "The Sole Spirit of Existence" of the "Participatory Being" speaks volumes about the quest of Divine Clay "From the Finite to the Infinite" with a notable success. The aura of Bhaskar's personality with his ennobling vision transcending the life even of the reader is well-reflected, suggested and expressed in his poetry. Bhsakaranand Jha Bhaskar often rises above the level of subjectivity to view life around and beyond and come out with the best in the sagacious poet, this youthful, zestful and passionate boy, to explore and reach near the fulfillment of the age-long human yearning- the high-serious function of a poet! From reflective to contemplative in the mood of spirituality, the poet becomes meditative. There is a strong mystical strain running in almost all these poems and there emerges a new personality of Bhaskaranand Jha Bhaskar. This present collection of poems is a clear pointer to Bhaskar's marvelous growth and ripeness into what we may conveniently call his Karmayoga guiding him into Gyanyoga and Bhaktiyoga. The poet in him had been budding with a promise to reveal the meaning of life in his earlier work but this poetic advancement with a lot more revealed than concealed is a sure sign of his grand fulfillment as the birth of a sage in poetry like Rumi, Kahlil Gibran and many more packed with a message of universal appeal.
These poems are indeed a solemn quest for LIFE in a world of inevitable DEATH and they create and rejuvenate LIFE in a DEATHLESS World beyond for the Participatory Beings in the ceaseless FLOW! Bhaskar says:
A poet never dies
But his reader always cries.
**
The world ever holds up
His flag of Truth
Over the 'grave' where he lies
And the poet never dies. (A Poet Never Dies, 13)
The placid and the tranquil movement of thoughts and reflections about the Mortal and the Immortal are a delight and a bliss, the poet experiences and conveys to the reader in the solitude as "Thoughts in Solitude". The enchanting beauty in "Burial Ground" makes the poet spell-bound but-
Hurt-heart sky
With pleading tears
Praying for some balms
On the wounded mind
Of hapless humanity.
A growling hound
Makes me still
In the burial ground! (94)
These are highly metaphorical lines with deep pain and anguish dripping in tears in the "still" storm! This is the lasting pain amidst the lasting beauty, light and floating shadows engraved on the sensibilities of the poet! And the mystic has the courage to smile in endurance.
Similarly, Man and Manhunt, shatters the very core of our being and awakens us to urgency of the fulfillment of life on the uneasy bed of thorns and thistles. Here also, the poet is at his usual best in his poetic and mystic strain to communicate the only Truth, the only Meaning to fulfill the ordained divine purpose of LIFE HERE and HEREAFTER! Wah, dear Bhaskar! Are these sprouts the first cotyledons of your Tree in your future Forest of Mysticism? Whatever be the Supreme Verdict-
I always stand on my staggering feet
To face and confront the One
Who is no longer there in front of me. (15)
This is because of his daring grit and resolution-
I am all ears and eyes for my sojourn of solitude.
Self-declared as His counterpart this side
Out of the prolonged antagonism against Him. (15)
This inspiring poem reminds us of Longfellow's world-famous devotional poem pregnant with pragmatism, Psalm of Life, and Bhaskaranand Jha's closing here is more uplifting and elevating enthusing and infusing and energising fresh courage when he says-
Life is what is lived and relived with aplomb.
Even Death tends to explore in the dead.
**
Yet it will be full of what I have had-
The undying zest and zealot live my life. (16)
In these stiff challenges of Uncertainty Principle, From the Finite to the Infinite, the poet's Soul's Quest blessed with the Sole Spirit of Existence enlightens the paths. This becomes not only a Sojourn but an Excursion for Love Flow in Divine Clay so that we have unflagging enthusiasm and undying resolution-
Resolved to give splendid wings to their poetic bird young inside
Enthusiastic bards soar high in the vast sky
With strong pen and blank paper,
Just jostling out the procrastination and attitude to withdraw,
Engulfed in their fertile mind with an irrigating heart.
Creativity in them craves to croon eternal songs of love and harmony:
Imagination helps them transcend the boundaries of the world.
Their vision nurtures lofty thoughts, ideas and sweet feelings for humanity. - Creative Bard
Here, Bhaskaranand Jha Bhaskar has glorified the divinity in the performing role of the poet as rhetorically defined with full-throated ease by that Victorian Aristotle, Carlyle, in his essay, Hero As A Poet! This reminds me an Urdu couplet-
Khanjar chale kisi pe tadpate hain hum "Amir"
Saare jahan ka dard hamare jigar main hai. - Amir Minai
(It may be translated as "Dagger may be used at anyone, pain is mine, Amir/the pain of the whole world is stuck in my bosom.")
Another marked feature of these poems is that the poet has reached excellence in his use of the refreshing and vibrant idioms and metaphors that add new dimension to his deep thoughts and insightful understanding of life to be lived with aplomb. I'm sure that Thoughts in Solitude with enhance the treasures of the reader's delight and interest.
Happy reading!
---
About the Reviewer:

R. K. Bhushan (1947) at Kartarpur in Jalandhar District of Punjab has a very rich and fulfilling experience in the diverse academic and professional environment for about 45 years. Prof. Bhushan, also known as Raghukul Bhushan, is a well-known creative writer, poet, critic, a short story writer and a book reviewer and an editor; he has published five Indian English Poetry books, two books of criticism and a book of short stories. He can be contacted at rkbhushan@yahoo.co.in.

---