Creation and Criticism
ISSN: 2455-9687
(A Quarterly International Peer-reviewed Refereed e-Journal
Devoted to English Language and Literature)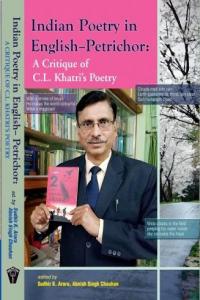 Book Review
---
Indian Poetry in English—Petrichor: A Critique of C.L. Khatri's Poetry
---
Indian Poetry in English—Petrichor: A Critique of C.L. Khatri's Poetry. Eds. Sudhir K. Arora & Abnish Singh Chauhan. Bareilly: Prakash Book Depot, 2020. Pp. 266+VI. Price: Rs. 598. ISBN: 978-81-7977-658-2
---
Reviewed by Dakshta Arora

C.L. Khatri left for Heaven on March 20, 2021 leaving behind him a legacy—the legacy of criticism, of poetry and above all of editing. There are a few poets who see the criticism of their poetry collections while living. C.L. Khatri is one of them. He could see the criticism of his poetry in the form of Indian Poetry in English—Petrichor: A Critique of C.L. Khatri's Poetry edited by Sudhir K. Arora and Abnish Singh Chauhan.
This book is quite relevant and offers a critique of C.L. Khatri's poetry. What its blurb states is hundred percent applicable to the book. The blurb says: "The book contains articles and research papers of the critics who have discovered new idioms, cultural ethos, contemporary reality, socio-political perspectives, ironic undertones, postcolonial concerns, Indian sensibility, philosophical irony, reflections on physics and metaphysics, the satirical vision, representation of Anthooropocene, colours of life, petrichor and many other critical dimensions in Khatri's poetry."
The book, besides having five segments divided into Fire: Kargil, Fire and Water: Kargil and Ripples in the Lake, Air: For You to Decide, Sky: A Critical View, contains Life (quotable quotes), Fragrance (15 poems), The Making of a Creative Artist (Interview of Khatri by Abnish Singh Chauhan), Record (Bibliography) and an Index.
The book begins with Sudhir K. Arora's "The River: Indian Poetry in English" which offers a journey of Indian English Poetry right from Derozio to the present day. R.S. Tiwari peeps into Khatri's Kargil and finds in him "the potentiality of a genuine poet." Amarendra Kumar throws spotlight on Kargil and praises it for its simplicity, precision and verbal economy. S.L. Peeran sees a patriotic colour in Kargil and concludes saying that "his poetry is sure to sail smoothly during this turbulent times to reach to the shores of high success."
A.K. Thakur traces socio-political rim realities of contemporary India and particularly of Bihar in Khatri's Kargil and Ripples in the Lake and finds that Khatri takes common themes and weaves them with thread of images and symbols. Sandhya Saxena traces ironic undertones with which Khatri targets the souls of his readers and gets success in making them aware to the contemporary scenario. Sudhir K Arora searches Indian ethos and sensibility in Kargil and Ripples in the Lake and praises him for awakening the readers' "conscience towards rich Indian heritage of which Indians should feel proud."
Rajiv Ranjan finds Two-Minute Silence "a timeless creation" for its sentiments and cultural ethos. Two-Minute Silence is "A sequenced cultural fizz" for Suresh Chandra Pande who considers Khatri's poetry as "a multicoloured stunning mosaic inviting the love, admiration, friendliness and care of all and sundry" For P.C.K. Prem, Khatri is "ironically modest" and so considers him as a poet of philosophical irony. Abnish Singh Chauhan compares Khatri's poem "Two-Minute Silence" with Kedarnath Singh's "Do Minute Ka Maun." Ira Jha smells pertichor in the poetry of Khatri, particularly For You to Decide. Payal Nagpal searches in For You to Decide a balance between earthy and metaphysical tones. P.C.K. Prem considers Khatri as "a poet of short carefully crafted lyrics" and finds the web of experiential anxieties in the texture of For You to Decide. Bhaskaranand Jha Bhaskar reviews For You to Decide and finds the thread of reflections on life and its physical and metaphysical dimensions. Basavaraj Naikar sees in Khatri a satirical and ironical attitude which he has towards all the important aspects of life He observes that Khatri's satire is not harsh or hurting, but mild and educative and eye-opening to the sensitive readers." Jindigi Kumar studies Khatri's poetry from environmental issues and finds that his poetry offers a powerful discourse on Anthropocene. Sanjay Sharma and Vinay Shanker Shukla believe that Khatri's poetry will survive "the test of time" and it is honest in his presentation of the realities of the harsh world. Sudhir K Arora sees colours of life in his haikus which are rich in content but technically poor in form. Nishi Chauhan declares Khatri not only "a poet of cultural values" but a poet with mission of restoring the lost cultural values. Sudhir K. Arora presents a long critique of the poetry of C.L. Khatri, calls him "a magician with a brush" and tags him "a significant poet by virtue of his Indian themes, inbuilt irony, sparkling wit, and fusion of idea with feelings."
The quotes on the back cover reveal the potential of C.L. Khatri as a poet. Prof. Satish Kumar praises Khatri for his "Indianization of English and noticeable expression of Indian sensibility and ethos." Shymala A. Narayan considers him "a careful craftsman" while D.C. Chambial calls him "a champion of the sufferers." For Sudhir K. Arora, "Khatri is a promising poet who values human relationship." Prof. Shaileshwar Sati Prasad sees Khatri's love "for his land, his people, his culture, his festivals, his flora and fauna, his family and his trilingual existence in Bihar" while G.I. Sheriff finds his poetry the portrayal of "what is simply Indian."
In brief, the book offers the criticism of the poetry of C.L. Khatri in wide perspectives. It will certainly motivate the researchers and teachers to go through his poetry in order to find out something more precious that has remained untouched, unnoticed and unexplored. Both the editors—Sudhir K. Arora and Abnish Singh Chauhan have done a good job in editing this book in Khatri's life time. The publisher is praised for the beautiful and meaningful cover page and the very fine presentation of the book from every angle.
---

About the Reviewer:
Dakshta Arora, a Gold Medalist Postgraduate, JRF & GATE qualified in English, is pursuing her research from M.J.P. Rohilkhand University. After graduating with Honours in Electronics and Communication Engineering, she has switched over to Humanities because of her keen interest in literature. She has got her scholarly papers and book reviews published in reputed journals. She resides at B-72, Deendayal Nagar, Phase II, Near Sai Temple, Moradabad, U.P. She can be contacted at dakshtaarora@gmail.com.
---