Creation and Criticism
ISSN: 2455-9687
(A Quarterly International Peer-reviewed Refereed e-Journal
Devoted to English Language and Literature)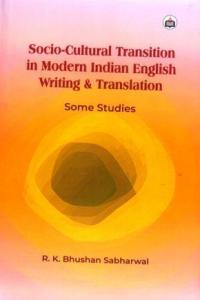 Book Review
---
Socio-Cultural Transition in Modern Indian English Writing & Translation: Some Studies by R. K. Bhushan Sabharwal
---
R. K. Bhushan Sabharwal. Socio-Cultural Transition in Modern Indian English Writing & Translation: Some Studies. New Delhi: Authorspress, 2020. Pp. 161. Price: Rs. 800. ISBN: 978-93-89615-74-6.
---
Reviewed by Sudhir K Arora

Socio-Cultural Transition in Modern Indian English Writing & Translation: Some Studies is a very relevant critical book which reveals R. K. Bhushan's critical acumen and the mental labour which he has put in accomplishing this meticulous critical venture. The book under review, besides four book reviews, namely, Bapsi Sidhwa's The City of Sin and Splendor, Gopal Lahiri's Living Inside, Mutalik Desai's Aldous Huxley: The Novelist and the Thinker and Lalit Mohan Sharma's Pearls and Pebbles which reveal Bhushan's knack of writing book reviews, contains eight research articles on Nissim Ezekiel, Kamala Das, Namdeo Dhasal, Rabindranath Tagore, Fakir Mohan Senapati, Suryakant Tripathi Nirala and Pankjam.
The first research article, titled "Defining Indian English Literature and the 'New' and Nissim Ezekiel in Indian English Poetry" explores the dimensions of Indian English Literature which has registered its presence in the Council of World Literature after 1947 with its move towards national literature. After 1947, the trendsetting poet Ezekiel who is also called the father of modernism has given the modern trends to Indian English Poetry. Bhushan finds in Ezekiel a close symbolic parallel with the wandering Jew and so calls him "the Wandering Jew of Indian English Poetry." In a very authentic manner, he observes Ezekiel's poetry and feels that "his poetry has a FLOW that sweeps away the rot from the stinking shores and breathes freshness of sight and smell in its beauty leaving the reader under the spell of visionary enchantment" (25). He finds in him a subtle fusion of romantic strain with modernity. What makes Ezekiel a romantic poet is his art of intellectualizing passion. The poet in him has shown how the modern man has lost touch with nature.
In his second article "The Adventures of Kamala Das among the Traps and Tangles of Love, Lust, Life and Light: A Study", Bhushan has illustrated how Kamala Das, who plays various roles, has universalised the personal in her poetry which has become "a drama of aches and endurance in longing and languishing." Bhushan also presents Das' other unexplored aspect which reveals her pain at brutal killings and rising terrorism resulting in the genocide of the Sikhs.
In the third article, "Poetry as a Movement, Movement in Poetry: A Study of Dalit Identity & Voice in Namdeo Dhasal", Bhushan finds a fierce voice of protest and resistance in Namdeo Dhasal who challenges the authority and becomes himself a movement as a person. Dhasal's poetry is the poetry of a fierce fighter who fights fiercely to unite mankind with "no lebels of caste, colour, class, religion and even sex." The gist of Dhasal's movement lies in following humanism and happily living with the principle of liberty, equality and fraternity.
Bhushan goes through the short stories of Tagore and takes the issue of "the dramatic unfolding of adolescence" of the main characters of the stories like 'The Cabuliwallah', 'The Castaway', 'The Homecoming', 'The Child's Return', 'Chitra', 'Master Mashai', 'The Hungry Stones', 'The Victory', 'The Post Master', 'The Broken Nest', and 'Aparchita' in his article, titled "The Genius of Rabindranath Tagore in his Short Stories: A Study." He traces the modern traits in Tagore's stories in which he sees the use of suggestive, realistic, impressionistic and even surrealistic techniques.
In "Fakir Mohan Senapati and his Six Acres and a Third—A Fine Narrative of the Dynamics of History and Divine Justice", Bhushan takes the novel Six Acres and a Third of Fakir Mohan Senapati who is known as the Father of modern Oriya literature. This novel, for Bhushan, "is a critique and an ironical narrative in the form of an allegory to transform the then existing system of relations between the colonizer and the colonized, lords and lewd, the exploiter and the exploited in Indian society" (108).
Bhushan is quite submissive and frank in admitting that he studied Hindi language upto Matriculation and for one year at the college level. He admits that he is not a good reader or speaker of Hindi and cannot think of scholarship in Hindi. But his conversation with Dr. R. S. Toki about Surya Kant Tripathi Nirala created an interest in Nirala's Saroj Smriti. In his critical essay, "My Casual Ventures in Literature: Suryakant Tripathi Nirala's 'Saroj Smriti': A Formidable Challenge", he finds Nirala "uncelebrated among the celebrities" and connects his Chhayavad to English romanticism. He critically examines the poem "Saroj Smriti", an elegy on the death of the poet's daughter Saroj and finds its ending on "a note of surrender, perhaps accepting in all humility the Will of God and the Omnipotence of callous and mocking Destiny" (124). What makes this research paper striking is Bhushan's own translation of some excerpts of "Saroj Smriti" into English. For instance: "Silence soothing loaded with music / Landed in the song of new life" (123) and "Suffering was ever a tale of life, / What to say today which didn't say before!" (124).
Bhushan has given sufficient space to K. Pankajam, the bilingual creative writer (English and Malayalam) by writing two articles, titled "The Song of the Eternal in the Poetry of Pankajam: A Spiritual Perspective" and "Critique of K. Pankajam's Bunch of Blooms." Pankajam's poems which are "wonderfully simple and spontaneous and sonorous" reveal her as "an enlightened spiritualist." He sees her kinship with the best of Romantic and Pre-Raphaelite tradition.
The poet dominates over the critic. Bhushan, being a meaningful poet, has turned his prose into poetry. Criticism becomes creation. Only a poet can pour alliteration while writing about Nirala thus: "Nirala romanticizes the beauty, movement, seasons of Nature in all her rough, rolling, receptive, rejuvenating, reminiscing, regenerating, resurrecting postures and roles (118)." About the poetry of Dhasal whom he puts among the universal fraternity by virtue of the fighting spirit of his poetry, writes, "This is the poetry of a fierce fighter; this poetry also fights fiercely. This poetry succeeded where Dhasal might have failed. Poetry is an art of a very high order and artists of high order alone take it up to search for its beauty and truth in their own way and present the same for posterity" (69). Such instances which demonstrate Bhushan's art of writing poetic prose are spread in the text of the book.
The book, Socio-Cultural Transition in Modern Indian English Writing & Translation: Some Studies fascinates the reader by virtue of its relevant content and keeps him engaging with its frank and objective criticism. It will prove its worth as a good reference book and contribute to the field of knowledge. In brief, it is going to be a worth-reading critical feast for every lover of literature. Kudos to the critic R. K. Bhushan whose experience as a critic speaks itself in every research paper and the publisher Authorspress for bringing out this significant book of critical studies.
---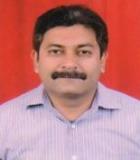 About the Reviewer:
Sudhir K. Arora, the Chief Editor of Creation and Criticism, is presently serving as Associate Professor, Department of English, Maharaja Harishchandra P. G. College, Moradabad. He has several significant publications to his credit including Aravind Adiga's The White Tiger: A Freakish Booker and Cultural and Philosophical Reflections in Indian Poetry in English.
---