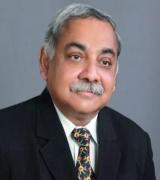 Thank You and Other Poems — Rajiv Khandelwal
---
Rajiv Khandelwal (1957) has published three volumes of Poetry – 'Conch Shells and Cowries' (1998), 'Love is a Lot of Work' and 'A Monument to Pigeons' (2013). He has co-produced a documentary film titled 'Visit India, Discover Agra.' He resides at 223- Pandit Motilal Nehru Road, Agra - 282 004; and can also be contacted through email: rajivk92@gmail.com.
---
1. Thank You
No one from my house died
When the commercial capital bled
Either as hostage
Or spectator
Or part of the crack team
My thanks
Due not to God
But to the street dog
Who by constantly glancing
Towards our house
Imbibed in me the confidence
That sans political endorsement
I am
As yet
A valued surviving citizen
Who lines up routinely for the hit
By bomb or bullets
While going about our daily way
2. An Unplanned Visit
A shadow
And 'her' scent
Spiked with pheromones
Entered
As silently
As the stack of softbacks and scratchpads
Lying around the study
My first sniff
Startled
Surprised
Happiness
Arousal
Heightened
And my face lit up
With a smile
I glance up
See her standing
Her back against the shut door
Her presence
Engulfs
Submerges
Like a avalanche
I gaze straight into her eyes
And as our eyes lock
The look is held
Then my sight slowly slides lower
Stares
Beyond the legal
Acceptable
Time limit
With a come-here-look
She notices
The directed look
Her impish smile
Conveys: You have a dirty mind
3. A Backward Glance
Suddenly
Without warning
We bumped into each other
After ages
In the Gurgaon mall
Shock, surprise was writ on our faces
Like that on the robber accosted by the police
I asked her: How's the family?
She said: Fine
I asked: "Can we have coffee and catch up"
She said: "Sorry. Do not have the time"
I insisted
She relented
We talked
We listened
Then it was time for her to go
She got up
Looked towards me
With a hesitant, clouded look
As if she wanted to say something
Then her face cleared
And she
Put her palm on mine
Softly, asked: Had I loved her?
The question
So unexpected
So untimed
Hit me like a heavy weight boxer's punch below the belt
I could only gasp out:
"Still do"
She silently stared at me
For a moment
That instant froze, for me
Like insect fossilized in amber
Then with a sad smile
Turned and left without a backward glance
And once more
After so many years
I was again left
Without a "backward glance"
Handling frozen time
Alone
4. Guilty
Though we believe
God exists in men, women and child
Yet we go to temples
Our Temple
Serves as a venue
To mark festivals
To celebrate marriages
To commemorate birth of children
To mark death of a loved one
To seek joy
Or Emotive pleasure
To ask for economic progression
Or to request for political success
Temples are the places
Where in their interiors
Fulfillment of all wants
Desires
Due-undue favors
Are shamelessly solicited
And shockingly
Outside temples sanctum sanctorum
A temple-goer
Who just gave a substantial sum
In homage to the deity
Refuses a tramp
Paltry charity
A thirsty child
On basis of caste
Is not allowed to drink water
Umpteen such diverse acts
Of denial of compassion
Of social apartheid
Undisguised
I see
In day to day life
But like most of my fellow travelers
On the path to God
I walk by
With little or no thought
Unconcerned
Unaffected
Like most Indian pedestrians
Who stride past
Without even a tokenism of concern
When they see
A dead drunk dude
Curled on the paved path
On a high speed street
5. The Kick
Musky
Fresh
Pleasant
"Earthy" smell
Combined with
The "green" scent of a just-mowed lawn
Permeated the air
The soothing sound
Of rain drops
Entertained
I dodged the small pool
But then
Whimsically
Mischievously
Slopping wet
I kicked the puddle
And that "kick"
Jogged my memory
To the freakish way -
You had said: "I do not miss you
For there are no issues
Unfinished or unresolved
And thus
Have booted you out of my dreams"
And I kick the puddle again
And again
For therapy
The pothole
Took the kicks
Silently and with surrender
Just like the untouchables
Taking it
Since ages.
---