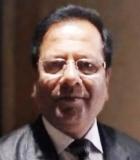 Short Story
---
The Corona Man — Sanjay Johari
---
Dr. Sanjay Johari teaches English at K.G.K. College, Moradabad, affiliated to M. J. P. Rohilkhand University, Bareilly. He has three books and several significant research papers to his credit. He can be contacted at sanjayjohari9@gmail.com
---
I was very much upset to think the cagey behaviour of my family members, neighbours and relatives. Perhaps I thought nobody knew me well. I felt alone in hoi-polloi. However I tried to abscond the situation but I couldn't.
I want to tell you that I am Anil Deshmukh. I am a working man of 40 years and have a family and I serve in a multinational company in Maharashtra. I want to share an incident with you. When I was living in Mumbai, unfortunately, I had been affected by Corona disease. Before this Covid-19, I noticed that everything looked jubilant. My parents, wife and children and neighbours showed affection towards me. I remembered well when I used to go to my office, Mr. Diwakar, one of my neighbours always teased me and made taunts with alacrity. The blandishment of his nature was not unknown to me. Sometimes he made fatuous remarks according to his inveterate nature. Often I felt offended and irritated and thought that he was an egregious man.
My wife was very caring and devoted to me and my children showed enormous affection to me. Sometimes I denied anything to eat, she became annoyed and I had to maroon my wish, then she began to smile. When I went to my office, my children came to me to offer their desires to eat. If they didn't come, seldom I waited for them at the gate. I felt that I was the luckiest person in the world. But Covid-19 had changed my whole life.
I remembered the day when I came from Mumbai to my hometown. My father immediately reported to the C.M.O. about my arrival and the result was that my whole family was quarantine for 14 days. It was a very difficult time. I had to live in a lonely wide room where there was no means of facilities because it was a rural area. The blood of my family members and mine had been taken for testing. The room, in which I was confined to, was not so good. It was the room of a school where the mosquitoes attacked me the whole night. Perhaps they (mosquitoes) thought that my blood would sweeten their taste after all I had come from Mumbai.
I felt much relief due to the treatment during the Covid-19. The nurse, who came to test or check me, looked so beautiful. Her ubiquitous influence was always felt. Sometimes I remained waiting for her because she was a lone companion in my quarantine days. She came in my ward with a healthcare provider who used a long swap to take a sample from the nose and throat. One thing that irritated me much was the food. It was not delicious as I used to take in my house. My wife and children were in another room so it was a setback for me to handle the situation. There was no means of recreation except my mobile. But the problem was that there was no network and no facility to recharge the mobile. In my compartment, there were many persons but we had to follow social-distancing. When I felt bored, I called in my friends they did not give me a favourable response and often I realised that they didn't take much interest to talk with me. Mr. Diwakar, my neighbour didn't receive my call and whenever I rang him, he diverted my number. It was a very bizarre situation for me. I was stunned. When I rang him from another number, he picked up my call.
Mr. Diwakar : Hello! Hello!, Who are you?
Myself : Hey, Anil Deskhmukh, Your neighbour
Mr. Diwakar : What! The sound isn't clear. ... Ok, I will call you later.
(The phone was cut off)
I became phlegmatic.
After four days of quarantine, the report came. Fortunately, all the reports were negative except mine. I was found positive. I was apathetic and nonplussed. My family was set free from the quarantine period. It was very egregious that my wife did not connect with me. She did not meet me and thus absconded from there with my children. I realised that she became the victim of solipsism. I regulated myself and accepted the situation with equanimity. My parents didn't take interest in me.
When I was being taken to admit in the city hospital, that beautiful nurse came near me with a smile and helped me to seat in the ambulance. Her smile soothed my feelings. A team of doctors wearing PPE kit attended me in the ambulance. It seemed me as if I were a victim of murder and they did not want to leave me anyhow or often it was imagined that I was being taken to the gallows. It was strange as if I were in aberration. When I reached the hospital, some ward boys came close to me and took me into the ward. A team of doctors came into my ward and examined me. They were cognizant of Covid-19 and showered upon me a volley of questions. After that, other testing like fever, cough, fatigue, anorexia, myalgia etc., were prescribed by the doctors. When I took rest in my ward, I kept on waiting for that beautiful nurse but she was not there.
It was very awkward for me that nobody came from my house to know about my deteriorating condition. When I asked the ward boy about this, he told me that nobody was allowed to visit any patient. I became anxious how my family would cope up with the lockdown. But I couldn't forget the conduct of my wife. When she found me Corona infected, she fled away from there with my children. It seemed to me that I was in ostracism. To me, that act denigrated the value of my family.
The team of doctors came to examine me from time to time. Their behaviour was very pleasant. In fact I thought that they were really the Corona Warriors. My family began to scare with me while these doctors never felt any hesitation in looking after the patients of Covid-19.
In the meantime I got a chance to read the newspaper. I said, "What happened!" Another patient asked me: "What?" "Some miscreants violated against the service of doctors, nurses, police and sweepers. They were pelting stones at them. How ludicrous! I replied. It was very poignant to me to see the reprehensible conduct of the people. I could not sleep that night because I knew very well the chivalrous steps of the doctors and nurses and policemen who risked their lives for the sake of such right-wingers.
Next day a doctor came to me and said, "Well done! Mr. Deshmukh, You're responding positive." Without any hesitation I replied, "Sir! This is your efforts and I am very thankful to the whole team. Really you're Corona Warriors. The doctors and others smiled. I became hopeful that I would be releases soon from the hospital. But my mind did not accept the strange behaviour of my family and neighbours. It impeded my thoughts. It became a clog in my mind. In the hospital when I heard someone's death or recovery, I became upset. But doctors tried to soothe me with their polite behaviour and sweet speeches. It overhauled my drowned feelings.
I become habitual to that atmosphere and totally mixed up with the doctors and other helpers. Sometimes it seemed to me that they were my family members. I didn't remember that my birthday happened during this period. Somehow the doctors came to know about this. On my birthday, early in the morning, they came into my ward with their team and brought a cake for me and presented me a bunch of flowers. They celebrated my birthday with zest. I was elated. That was a new experience for me. For a short while I forgot that I was a patient of Covid-19. Those things were unforgettable for me.
Whenever I became happy to see the amicable and polite behaviour of the doctors, and their staff, I also remembered my family especially my children. I was much worried about my parents who were old enough to bear such pandemic situation.
After some days the whole team of doctors and their staff came into my ward and one of the doctors patted my back and said, "Congratulations! You're going to your home, dear. You are now free from Covid-19." I was very glad to know that. The doctor also warned me: "But you should have to look after yourself". "Yes", I replied. When I came outside from the ward, I saw lots of workers were standing there in the lobby following social distancing. All of them wished me. I imagined as if I were a warrior. When I began to go to my house, I observed that a band began to play the drum. I was so overwhelmed that tears began to flow from my eyes.
When I reached my own block, I found my neighbours standing there with social distancing and covering their faces with masks. They welcomed me. I noticed that my wife burst into tears. My children were very happy. Suddenly my neighbour, Mr. Diwakar came and stood before me with a distance of 1 metre and said: "Oh Yrr! You should have lived there little more. Without you, we were very happy". At this, first, I was shocked and, then, smiled. People began to laugh and I went in my own house.
Today I felt that I was a Corona Man as I got victory over Corona and understood the real meaning of my name surname. Yes, I was Deshmukh—the Corona Man.
---