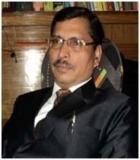 Research Paper
---
The Poetic World of C.L. Khatri: A Critique
---
Dharmendra Kumar Singh
---
Abstract
Khatri, who is the juggler of the words, knows how to enchant the readers not only with the title of his poem but also with its sense, manner and method. Ironic and satirical undertones are the major base of his poems. He uses nostalgia as a weapon. Through the nostalgic feelings, he tries to restore the bygone sentiments and longing of the noble cause. He never remained untouched by the socio-political and cultural scenario of his era as his poetry glimpses both the gray and green realities of his age. What he sees, he writes. His lived experiences are reflected in his poetry.
Keywords: Inbuilt irony, Satire, Ethos, Postcolonial concerns, Nostalgia
---
Bihar is the state of prodigies and C.L. Khatri (11 December 1965—20 March 2021) proved it. Hailing from Bihar, Khatri, a bilingual poet writing in English and Hindi and editor of Cyber Literature is not only a well known critic, reviewer and translator but also a promising poet. In the area of versification, his works secured him a reputed rock in the history of English writing in India. The literary horizon that he touched with his pen is rarely touched by any other poet in the present India. Besides being an academician, he has his own literary world. He has been editing Cyber Literature, a bi-annual journal dedicated to poetry and criticism, regularly since 1997 and a college magazine named, SANKET for more than a decade. Later on, he was selected as an editor-in-chief of The Indian Journal of English Studies in All India English Teachers Conference at Osmania University, Hyderabad in 2017. He versified 4 poetry collections in English and one in Hindi. His poems are widely published not only in India but also in distant countries. He is so popular among the readers that his volumes are translated into various languages such as Chinese, Oriyas, Bangla, Urdu, and Hindi. His maiden anthology of poetry Kargil was published in 2000 consisting 43 verses and his second anthology of poetry came into existence in 2006 with 43 versic buds on various subjects related to Indianess while the fall of the third volume is in 2014 entitled as Two-Minute Silence in 2014 with 34 poems and 55 Haiku and For You to Decide is his fourth poetic volume consisting 51 poems. While his only Hindi poetry is Goolar Ka Phool which was published in 2011. Besides this, he tried his hand at Haiku writing 55 in number.
Khatri, who is the juggler of the words, knows how to enchant the readers not only with the title of his poem but also with its sense, manner and method. The poem "Khajuraho" is its instance.
In Khajuraho
stones
speaking
smiling
kissing each other
embracing his beloved
making love with her
dancing in ecstasy
climaxing together
writing a new discipline
with words engraved on stones
ask a visitor
looking for catharsis
who is stone
we or you ? ("Khajuraho", Kargil 14)
In Khatri, we find the endless stream of cosmopolitan surge that reminds us not only Tagore, the saint poet, but also Shakespeare, the bard of Avon and this surge breaks the momentary and temporal man made boundaries of time and place. He has a great love for all the citizens, traditions, creeds and religions of the world equally. Such a stream of cosmopolitan feelings and tendencies can be found in his "Divine Design" where he versifies:
Let an endless streams of love
runs through the universe
wash away the shadow lines
that separate cause from effect. ("Divine Design", Kargil 9)
The rainbowy imagery of Khatri has an everlasting impact on the mind and heart of the scholars. His playing on visual, auditory, olfactory, gustatory, tactile, kinesthetic and organic images and imageries make him the magician of images and these various images steal the mind and soul of the scholars so silently that they start to soar in the space of imaged things with his imagination without any distinction whether it is his "Khajuraho" or "Brandawan", "Holi" or "Kargils." His visualization in "Khajuraho" presents a keen vividness to his imagery power. While reading, we feel roaming there. None can escape from such a feeling in which he pens:
stones
speaking
smiling
kissing each other
embracing his beloved
making love with her
dancing in ecstasy ("Khajuraho", Kargil 14)
While reading his poems "Two-Minute Silence", we find the images of modern world such as:
On the uprooted microphones
On the broken chair in the Parliament
On the torn pages of the constitution ("Two-Minute Silence", Two Minute Silence 67)
His "Holi" presents before our eyes the whole screen play of Holi, the festval of colours—'drenched in colour', 'drunk in bhang', 'chautaal songs of Holi sung in chorus' 'High pitch of cymbals and drum etc. In this way there is a surging stream of various imageries and images in most of his poems.
Ironic and satirical undertones are the major base of C.L. Khatri's poems. The title of his poems are chiefly ironic but sometimes satiric. In his poetry irony and satire are the two sides of a coin and the cloth of his poetry is woven with the colourful yarns of irony and satire. Pull a yarn and unweave slowly-slowly you will have all that you want. He has used irony as arms to grip the harsh realties of the Indian society. Irony is in various forms in his poetry such as ironic contrast is in "I feel No Pain', shrewd and pungent irony in his poem "Welcome Millennium." It seems that irony and satire are inseparable in his poetry. Through the help of satire, he wants to improve the Indian world. For instance: In Khajuraho he presents insensitivity of the modern man who does not respond to the vivid arts. He writes:
ask a visitor
looking for catharsis
who is stone?
we or you? ("Khajuraho", Kargil 14)
While in "Rag Picker", he has satirized the harsh realities or the bitter truth of life through the following words.
This water pipe is my other face
and this sack is my third leg
with two faces and three legs
I can not really be called a man. ("Rag-Picker", Kargil 10)
Sometimes his vision is satirical in tone and his irony philosophical. The harsh realities of the present India compel him to express his vision of life satirically and ironically. His best jingling of irony and satire can be found best in his poem "Bapu", where he satirizes such Indians ironically. Such Indians are far from the ideals of Mahatma Gandhi, the father of the nation. They use his name, his cap, and khadi clothes for their selfish indulgences without any sense of shame. The poet regrets of not being born during the life-span of the Mahatma; but born when India was still suffering from hangover of post-colonialism. He feels that the Indians were physically and politically freed but mentally enslaved or arrested. He shows how the symbols of Mahatma Gandhi ji were misappropriated by the politicians for the attainment of power and self aggrandizement.
Your cap, and Khadi attire
Hijacked to mask power and pelf
As the sea hides the blackness of sky ("Bapu", Ripple in the Lake 29)
Nostalgia is also found in his poetry, though it is thought to be a bad thing for a great cosmopolitan man. But, for Khatri, it is for good cause. He has done a little wrong to do a great thing as nostalgic feelings are chiefly found in his poems "Homage to Maa", one of the finest and heart-touching poems in Two Minute Silence. It makes very sensitive reader nostalgic about his own mother. This poem has a special significance to modern Indian when the sons become highly sensitive and educated migrate to foreign land in search of wealth and sensuous pleasures and luxuries abandoning their parents or sending them to old age homes. Even though they cannot attend the funeral of their parents in India as they have no leave or will to do so. Against such background, Khatri's poem on his mother assumes a great importance and puts all the callous sons and daughters to shame. The poet begins the poem with the scene in which his mother breathes her last in his arms.
I was holding her in my arms
In the icy winter morning
Her breath slipped out of my hands
My numb fingers could not hold her
My palms were greasy, vision hazy ("Homage to Maa", Two-Minute Silence 20)
After the departure of the dear mother, the son begins to feel her absence more and more acutely as the days go by. He repents of not having shared her burden.
She was standing like Mother Mary
Feeding me her breast
Alas! I could not be her Christ
She bore the cross all through her life ("Homage to Maa", Two-Minute Silence 20)
Nostalgia is a weapon for him and not a disease. Through nostalgic feelings, he has tried to restore the bygone sentiments and longing of the noble cause.
"Let us cultivate poetry in ourselves. It is also a kind of fight against dehumanizing forces. It humanizes, spiritualizes and sensitizes a soul." These words appear in "An Epistle" of the second poetry collection Ripples in The Lake. The poet follows what he utters. In this connection, Sudhir K. Arora writes" "Khatri has broken the fetters of British tradition and appeared as an Indian to spread Indianness and her rich heritage all over the world. The poet is an Indian with the Indian heart and Indian mindset. the ink that he uses is of Indian blood in Indian pen. The words that follow from his Indian pen are English with Indian fragrance, myth and imagery" (52). Indiannes is running through the veins of his poetry, mostly in two collections: Kargil and Ripple in the Lake. Here Indian ethos and sensibility of his heart have a smooth and calm flow. To him, Indianness stands for brave and bold people who are always ready to face the challenges not only of life but also of the world circumstances so being Indianness, he pens –
Pen snug in my finger
Like a gun will fire
Not to invoke Mother Kali
But to wake up her sleeping lions
To determine the destiny
Of their destiny makers (Kargil 1)
He was ever a fighter so his life was only for fight sometimes against social inequality, sometimes against corruption, sometimes against the mental, social, political and economical things. His fight was of pen. Like many Indians, he was always in fighting with his bold pen firing at the little ironies of Indian life. His poem "Kargil" is a clear proof of it.
Everyone is busy with his Kargil
My son has broken his leg
Hari's promotion is delayed
Rahim's Loom has grown outdated
Michael's priesthood is threatened
Your son has failed, wife is nagging
Brother's application for licence is pending
These are our Kargils. ("Kargils", Kargil 22)
The enchanted preaching of ancient seers and sages resounds in is poem "Death" where he declares death as a circular cycle of evolution and involution. To him death is not an end but a beginning and here we find the glimpses of the Bhagvad-Gita. As Lord Krishna preached Arjuna the philosophy of death, Khatri preaches us here too.
Death lies on the point
From where journey starts
And there ends making
A circular cycle of
evolution and involution
It is mere amnesia of the past (Kargil 18)
Khatri's poetry is not aloof from the postcolonial concerns. Silently and minutely his poetic wings of Kargil and Ripples in the Lake prove it. In the world of his poetry, he always stands first and suffers long for self-respect, oppressions and exploitations. He always cries against the evil intentions of the occident especially to them who have the thought of "White men's burden". Through his poetry, he always tries to heal the wounds given by the occident or the western people to our tradition, culture or civilization. Although gone are the days of the East India Company and her sahibs, Khatri is afraid of the repetition of the history. This is why he writes:
Ships are sailing to the East
Cleaving our breast
To repeat the history again
Indian ocean is surging and howling
vultures are hovering in the sky
A dark is chasing us ("Generation Gap", Kargil 25)
The dreads and fears of colonization in the post-colonial era, its evil intentions and nature of uprooting again the tradition, culture and civilization of the colonized country's past-reality but the dream again of exploitation with the stony heart by the occident of the orient, etc. force him to write such lines in which he weeps while writing:
Those who ruled our body now rule our mind
We behave their manas putra
languishing in cultural amnesia
imbibing like a parrot alien definition
of time, space, culture, civilization, religion
And become alien to what is ours ("Hangover", Ripples in the Lake 63)
Like a true poet, Khatri never remained untouched by the socio-political and cultural scenario of his era as his poetry glimpses both the gray and green realities of his age. What he saw, he wrote. Nothing could escape from his eagle eyes. His lived experiences are reflected in his poetry whether it is in Kargil or Ripples in the Lake or Two-Minute Silence or For You to Decide. Especially in Kargil and Ripples in the Lake, his social commitment is clear in which he uses poetry as a weapon not only to change the society but also to change the human perception. His clarion call can be heard in his poem "Poet's Commitment" in which his anguished soul utters:
Swear, I won't mum
Mortgage my tongue
Or wag my tail ("Poet's Commitment", Kargil 1)
It is known to all that literature is the mirror of society and Khatri was a literati so his literature mirrors his society especially of Bihar which was trouble torn, naxal-infected and languishing in backwardness due to forest rule. The echoes of Bihar are continuously resounding in his poems like "Gun fire", "I feel no pain", "Devaki", "Night", "Waiting for the Sunrise" and "Dashanan." Uncertainty of mishaps can be cited from his poem "Gun Fire":
Tonight the sky is clear
Moon calm and cold
There is no storm in the air
But birds are apprehensive
of a storm in the cup
And looking desperately for shelters
Trees are wild
Cattle are lowing loud (Kargil 16)
The dread and fear of Jungle Raj (Forest Rule) of Bihar is vividly expressed in his poem "Dashanan." That Bihar where beheading was common, people were butchered like sheep and goats due to caste war or group war. In this poem, the dread and fear of a common man has been presented politely but ironically and satirically:
Every morning when I go out
I pray to Dashanan
To lend one of his heads
As a spare part
If I am beheaded, I'll use it
If I escape, I'll return it. ("Dashanan", Ripples in the Lake 62)
No doubt, C.L. Khatri was a great patriot. What though he did not go to the front physically, heartily he lived and died for it. The very fact that he has chosen to title his anthology Kargil and dedicated the poems "Kargil I" and "Kargil II" to the Nation proves itself his patriotic feelings. To him his pen was gun showering poetic bullets at the enemy and inspiring and motivating not only to our brave soldiers but also all Indians saying :
Let's be Jawans of Kargil
Arise, Awake, Ascend
And fight to the end ("Kargils", Kargil 22)
As our soldiers were fighting against the enemy at the front, our poet Khatri was fighting with big and little ironies of the country, particularly of Bihar. He was ready to lay his best upon the altar to illuminate the country with peace and happiness as such desires are presented in following lines:
I am burning like a candle
In the dark recess of Time
To spread the light of Christ
To extinguish myself ("I am Burning", Kargil 15)
Every good and great poet is optimistic to some extent and C.L. Khatri is no doubt a good and great poet. He is optimistic to the core. When we soar in his poetry, we have an eagle view of optimistic feelings. His poetry reminds us Robert Browning, one of the greatest Victorian poets. Like Browning, Khatri too is a very consistent thinker of the optimistic philosophy of life. Besides being optimist, he, like him, is a moralist. His optimism is based on life's realities. Life is full of imperfections but in these imperfections lies hope and such things are boldly expressed in Khatri's poem, "Night" where he says:
But night is night dear,
It has to end ("Night", Kargil 33)
His optimism is also found in poem "Turban Man" where he writes:
Truly he lives in hope and dies without hope.
But hope does not die; it transmigrates ("Turban Man", For You to Decide 66)
He believes in the perpetual existence of hope. This is why he writes:
Dreams and hopes from an unbroken chain
mysteriously connecting generations
From Adam to your grandson ("Your Dreams Live Afresh", For You to Decide 71)
The tendrils of Indian myths are winding round and round on rugged trunks of Khatri's poetry. Sometimes their grips are strong and sometimes fragile but their existence is visible in his poetry. Such a blending of myths not only maintains the gravity of his poems but also imparts us the stories and anecdotes related to them. The readers are excited to learn more and more. In his poetry we find myths in fragment, sometimes in title, sometimes in allusions but they inspire us to get not only the poetic pleasures but also the tense and sense in the applied context. His poems like "Dashanan", "Draupadi", "Brandawan" and "Holi" etc. directly or indirectly connect us to the related myths, stories and anecdotes, related to them and we feel proud of our great tradition, culture and civilization.
English poetry, in India, is rich and varied in its theme and such is the case with C.L. Khatri. He has tried his hand at various subjects. The theme of his poetry is not stereotype dealing with love and loss but with a new diversion in each and every poem of his anthologies. He does not follow a set theme like the romantic poets of 19th century but his each and every poem has its own separate theme. As his maiden volume of poetry Kargil chiefly deals with the effect of the war on the mind and soul of the country and its people while his second anthology Ripples in the Lake, deals with the Indian ethos, Indian tradition and Indian code of conduct which will remain ineffective by the hectic life style and shrewd western thoughts. While his third anthology of poetry, Two-Minute Silence generally deals with the fighting against the erosion of cultural roots and values. The side effect of globalization in the mess of materialism has also been the theme of this anthology of poetry while his last anthology For You To Decide, dedicated to his father, deals with myriad themes of vital importance in the contemporary scenario such as of rape, corruption, masking ,and the conflict of the self etc.
C.L. Khatri has applied a unique stylistic form to promote his ideas. Syntax that he has used in his versification represents a deviation from the normal. The poet in them has done so in order to intensify the mood and the tone of subject matter of the verse. His verses are brimming with the syntactic peculiarities and deviation. For instance: "But night is night, dear. / It has to end" (Kargil 30) Parallelism is common in his poetry. There is a great use of repeating words and forms to give pattern and rhythm to a stanza in poetry. It can be found in most of his poems as his poem "Holi" enchants again and again: "Holi hai bhai Holi hai." The poet has paid a great attention to the rhyming words to create rhythm in his poem as he writes: "It is a game where everyone is same" and "In love, war and Holi nothing is unholy" (Two-Minute Silence 52) and "Jogi Ji wah, Jogi ji wah" (Two-Minute Silence 53) etc. Foregrounding of his poetry is praiseworthy. He has uniquely handled it to highlight the intended choice and meaning to his text. Questioning is common in his poetic world and there is always dominance of the first person pronoun "I" with endless surging of the various phonological devices including alliteration, assonance, consonance, simile, metaphor and personification etc. Colloquialism is also common in his poetry. Repetition, Mesodiplosis, Juxtaposition, and Ellipsis give his poetry a new life, force and direction. Besides these aspects, the mosaic of Hindi words in his versification increases the sense and beauty. About his language, in an interview with Abnish Singh Chauhan, C.L. Khatri shares: "My language is simple, unambiguous because my life has been very simple, down to earth. Many of my images have come from the field, trees, canals, rivers or workers toiling in sun and rain in my village" (251). In the words of Prof. S.C. Dwivedi, Khatri's poems are "full of didacticism, aesthetic pleasure, wisdom, mythical method, vision-mission and a typical Bihariness which is the hallmark of his poetry" (2). He is a great poet "by virtue of his Indian theme, inbuilt irony, sparkling wit and fusion of ideas with feelings" (Arora 225).
Works Cited
Arora, Sudhir K. "The Poetry of C.L. Khatri: A Critique." Indian Poetry in English—Petrichor: A Critique of C.L. Khatri's Poetry. Eds. Sudhir K Arora & Abnish Singh Chauhan. Bareilly: P.B.D., 2020.
Arora, Sudhir K. "Indian Ethos and Sensibility in the Poetry of C.L. Khatri." Indian Poetry in English—Petrichor: A Critique of C.L. Khatri's Poetry. Eds. Sudhir K Arora & Abnish Singh Chauhan. Bareilly: P.B.D., 2020.
Chauhan, Abnish Singh. "The Making of A Creative Artist: C.L. Khatri: In Conversation with Abnish Singh Chauhan." Indian Poetry in English—Petrichor: A Critique of C.L. Khatri's Poetry. Eds. Sudhir K Arora & Abnish Singh Chauhan. Bareilly: P.B.D., 2020.
Dwivedi, S.C. "Critics on Kargil." Ripples in the Lake. Bareilly: P.B.D., 2006.
Khatri, C.L. Kargil. Patna: Cyber Publication House 2000.
---. Ripples in the Lake. Bareilly: P.B.D., 2006.
---. Two-Minute Silence. New Delhi: Authorspress, 2014.
---. For You to Decide. New Delhi: Authorspress, 2016.
Works Consulted
Indian Poetry in English—Petrichor: A Critique of C.L. Khatri's Poetry. Eds. Sudhir K Arora & Abnish Singh Chauhan. Bareilly: P.B.D., 2020. (Articles by S.L. Peeran's "Patriotic & Nationalistic Fervour", Sandhya Saxena's "Ironic Undertones in C.L. Khatri's Poetry", Sudhir K. Arora's "Indian Ethos & Sensibility in the Poetry of C.L. Khatri", A.K. Thakur's C.L. Khatri's Poetry: A Socio-Political Perspective" and P.C.K. Prem's "Two-Minute Silence: Khatri as a Poet of Philosophical Irony" are specially consulted.)
---

About the Author:

Dr. Dharmendra Kumar Singh is an Assistant Professor in the Department of English at Maharaja Harishchandra P.G. College, Moradabad, affiliated to M. J. P. Rohilkhand University, Bareilly, India. His areas of specialization include existentialism and Thomas Hardy, educational philosophy, and creative writing both in Hindi and English. His research papers have been published in various national and international journals. He can be contacted at dksinghdharmendra@gmail.com
---