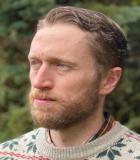 Poetry
---
Virgil, as a Woman and Other Poems by Jake Sheff
---
Jake Sheff (b. 1984) is a pediatrician in Oregon and veteran of the US Air Force. Poems of Jake's are in Radius, The Ekphrastic Review, Crab Orchard Review, The Cossack Review and elsewhere. He won 1st place in the 2017 SFPA speculative poetry contest and a Laureate's Choice prize in the 2019 Maria W. Faust Sonnet Contest. Past poems and short stories have been nominated for the Best of the Net Anthology and the Pushcart Prize. He's also published translations of poetry and reviews of translated poetry collections. His chapbook is "Looting Versailles" (Alabaster Leaves Publishing). A full-length collection of formal poetry, "A Kiss to Betray the Universe," is available from White Violet Press. He resides at: 14480 SW Chardonnay Ave, Portland, OR 97224 and can also be contacted through email: jjsheff@gmail.com.
---
1. Virgil, as a Woman, Studies Modern Nature
More important than our intelligence, our
bravery. Civilized with a wild streak, we
keep our eyes closed, taking a punch and our jobs
seriously. Very
insecure, our wisdom is out of place in
perfect worlds. Not caring about the wrong things,
manly chins and visions devoured forests;
gracefully dittoed
self-control's pursuit. The impermanence of
pain and friendship plans our society; hardy
semi-knowledge works for us. Hardihood is
memory's temple.
Born with likability, our republic
fails to warm the cockles of elevated
hearts. I love a man, his preponderance of
overseas pity.
Hardier than all of the rhino calves* in
dreams, he oversees – with his missing eye! – my
spiritual foundation. To each his owner's
magical posture
is parental. Drowsy and drunk, a thought-crime
sells itself, but this one's a rental. Working
ends in shame with naked enthusiasm's po-
etic technology.
*Rhino calves are known to stay by their mother even as hyenas eat her body from the inside out.
2. Elegy for Dog II: A Failed Acrostic
"If that's not high praise, tell me higher, and I'll use it."
- Charles Dickens, A Christmas Carol
Control it all! A memory frisbees by
Offhandedly. Fall also rises; this
Prepares me for the days what's past is nigh.
Potential grief's blind eye despises this
Emotion; joy improves my worth. The place
Reunion happens houses you the best.
Tenacious love can taste like herb-of-grace:
"His floppy ear was buried in my chest."
Enough! Enough! My words still couch your fur
Or thunder lavenders my night. You hide;
Dreams rearrange misfortune's furniture
On purpose: you receive me so glad-eyed
Redemption hurts. You chose to brecciate,
Ere early's loss, what can't depreciate.
Celestial keyholes above are not
Occult when violins on vinyl cry
"Pare it all down!" What Scooby-Doo forgot
(Parents are poor parentheses; we try
Endlessly not to be) was Mother Nature's
Regular irregularities:
That rock and roll's not here; another nature's
Hospitality and home it is.
Electric loss, electric absence pains me.
Obedience, where firesides reside,
Delights no more. Nobody's knob maintains me;
Observe what faulty faculties deride:
Relief from known oblivion; they mourn
Embarrassed Plenty's supernatural horn.
Copper's face. Copper's face and loyalty
Oppress my heart today. Copper, you're cute;
Perfected cuteness is too cute for me.
Protect your flaws up there, where sounds transmute.
Everyone knows, when death asks "wasn't it?,"
Replies are verb-like, very verb-like nods
Together; beauty fetches, doesn't it,
Hellacious loves we lost, recast as gods?
Empires calm what dust dismays. You stand
Outside of time, with opposition's charm,
Denying a hard row to hoe needs land.
Old saws give man its ever-wrestling arm…
Rekindled tug o' war? I feel your worth,
Embodied by this tug still here on earth.
3. A Ronduet on Learning to Shoot Trap and Skeet
When the moon shines on beautiful
Nonsense, I break it; they're a dime a dozen
In a dreamer's head.
Forgive me this long night of memories frozen
And thud-thawed by my dutiful
Reminder; dreams are not why midnight's ulcer
Lingers. Morning's cause
Célèbre: shooting nothing dead
Until history's paws
Are licked. The fields cried, "Oh Mylanta!," falser
Than what game birds are okay with.
It hits like Funky Cold Medina; clouds
Part too, when a hagridden
Clay evaporates. If part two clouds
My shotgun's aim, we'll spend a day with
My cleaning kit, whose rod is somehow fey.
Root-filled, I ask for woodsy
Targets. Clay abides. "Good riddance!,"
Cries the high house, sudsy-
Voiced, with an affection none can weigh.
4. A Minuet for Watson Falls
I bet your brooks brook no dissent. They bus
Time's hypothalamus
Through Douglas County. Oceanic aerie;
I bet your fall's not scary
When viewed from memory's isthmus.
What's none of my business? I bet it's your asthma's
A tenured migraineur
Or TV with a built-in VCR
To bums in Idleyld Park's sequestrum.
I bet here's the best restroom:
Three graces grace three crags; slugs with e-cigs
Lack egos (pagan's eggs);
It's not a hopeless quest,
Au fond: revising every heart's request.
You invigorate Hegel's
Second fiddle; I bet water haggles.
5. Two Silver Trumpets of Hammered Work for Pat Tillman
"Nor do I see any longer
The sway of my strong,
And wealthy,
And multimilitant
Brother Yaroslav…
Eight-minded Yaroslav of Galich!" (The Song of Igor's Campaign, trans. by Vladimir Nabokov)
"We bards
sing of you both when we begin and conclude - it cannot be
that one forgetful of you remembers sacred song." (Hymn 1: To Dionysos, Homer)
Some say we scrape the floorboards' bottoms in heaven's basement
To hear the mountain speak, some say in the meter of Homer's
Hymn to Demeter we meet her (the voice of the deepest speeds
And mountain's peak), still others maintain us poets meander
Through lands whose tresses are trees and best guesses to find who won't die,
But I say to them, what summons the muses, what sets all our memories in
Motion, is witnessed communion with nature, holding that slithering
Thing by the neck until it's a rod – to the glory of God!
Most likely the soul's obsidian dagger is hatred, the one
Inscribed, Peace is good, but war is great, that we sheathe in our pride.
When the rains took the shape of evil, he cried. With the stamina
Of a thousand rivers, he chose to partner with liberty, whose arms are
Always hugging her struggle. The dreadful scream in his chariot's
Dream was all that he heard. He chose to join Ares' utmost
Brotherhood. And he abandoned both fortune and fame to exceed
The immortals in morals.
Secular seconds run amok
In the holy hours a war brings. With the stamina of a thousand
Thousand eternities, liberty won't give up on herself, although
Humans are doomed to die. Freedom, who knows her duties and always
Exists, is rarely broad-pathed; she'll be sad for days at a time,
Or too hard to see under yesterday's blood bath. Raided by raiders,
Our free wills need constant self-discipline. Choosing to make itself decent
When the rains come, it might say, What a piece of work
Is goodness, or make goodness more than a friend; it might cover
Its fear in pale honey for eating, or make its fear more than a foe;
It might go be great in some ways, but not all, and have little time left
To play football again for a laud-loud crowd – to the glory of God!
---