---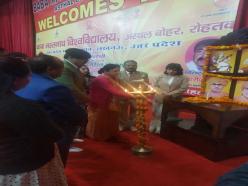 Rohtak: Faculty of Humanities in association with Uttar Pradesh Bhasha Sansthan, Lucknow organized One-Day Interdisciplinary National Seminar on "Life Values: Literature and Society" in the main auditorium of Baba Mastanath University, Asthal Bohar, Rohtak on Feb 07, 2019. In the inaugural session, Chief Guest Dr RC Mishra (Additional Director General Police, Ambala), Special Guest Dr. Harish Kumar (Additional Inspector General, Jail), Prof. Ramsajan Pandey (Vice Chancellor, Baba Mastanath University) Prof. Anjana Rao (Dean, Administration) and Dr. Vinod Kumar (Registrar, Baba Mastanath University) lighted the lamp before Mata Saraswati and Baba Mastanath.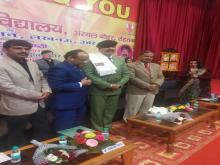 Addressing the Inaugural Session, Chief Guest Dr. R. C. Mishra said that knowledge is not everything in life, discretion power and life values are even more important. Dr. Harish Kumar, a Special Guest, said that thousands of criminals, who are imprisoned in the jails of India, are now serving the punishment of their crimes. The main reason for becoming a criminal is anger, so the students should keep their stress and strain in control. Prof. Ramsan Pandey, Vice-Chancellor, exhorted that education is a precious gift of life and Sanskar is the essence of life and, therefore, there is the imperative need to get this essence today. Registrar Dr. Vinod Kumar rhetorted that exuberance is the specific value of life and it can be energized with good thinking. Dr Abnish Singh Chauhan, Convener of the National Seminar, appreciated the august presence of all the guests, professors, researchers, students and media persons appearing in the national seminar. Dr Anand Sharma excellently anchored this session.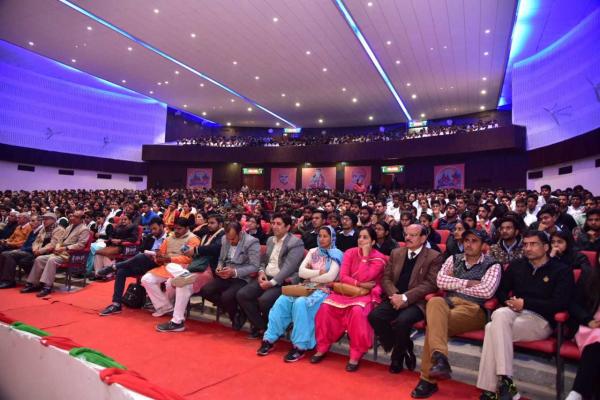 This one-day interdisciplinary national seminar was organized in three different sessions. In the First Academic Session, Prof. Suresh Gautam (Delhi), Chairperson, Prof. Ravi Kumar 'Anu' (Patiala), Chief Guest, and Prof. Baburam (Bhiwani), Special Guest of the session uniformly emphasized on life values and literature. The Second Session was chaired by Dr. Krishna Hooda, while Prof. P. C. Tandon (Delhi) and Prof. Ajmer Kajal (JNU, Delhi) were the Chief Guest and the Special Guest correspondingly. The Third Academic Session was chaired by Prof. Pushpa Rani (Kurukshetra), while the chief guest was Dr Sudhir Kumar (JNU, Delhi) and the special guest was Prof. Santram Deshwal (Sonipat). These prudent resource persons gave inspiring statements on life values, literature, society and culture and answered the queries of the curious participants elucidating how to live a cultured and happy life. Mrs. Neha Aneja and Ms. Alisha Dhingra anchored the sessions successfully.
The main cooperation in making the program successful was received from Dr. Ramfool Sharma, Dr. Ajay Bamba, Dr. S.P. Sharma, Dr. O.P. Sachdeva, Dr. T.P. Singh, Dr. Pawan Jalwal, Dr. Kavita Jain, Dr. Baldev Singh Mehra, Dr. K. Dabas, Dr. Sarojbala, Dr. Sudhir Malik, Dr. Manjeet Kumar, Dr. Meenu, Dr. Yati, Dr. Pradip Sharma, Dr. Kuldeep, Dr. Ashutosh Kaushik, Dr. Anoop Singh, Dr. Kranti Kushwaha, Dr. Rajiv Kulshreshtha, Dr. Kamal Kumar, Mr. Tarun, Mr. Hariom, Ms. Devina, Dr. Komal, Dr Madhu Ahlawat, Mr. Sandeep Jangra, Mr. Ombir Sharma, Mr. Revati Nandan, Mrs. Sudesh Sharma, Mrs. Poonam Verma, Mrs. Naresh Kumari, Sunita Yadav, Brahmtala, Deepshikha, Sanju, Parvesh Kumari, Pooja, Himanshi, Nandini Ahlawat, Savita, Neeru, Sunita, Sharda, Kusum, Devvrat, Preeti , Ritika, Aanchal, Sonia, Dhruv, Dev, Vishal, Padmini, Lovekesh Sharma, etc. Convener Dr. Abnish Singh Chauhan (Associate Professor- English) and Co-Conveners Dr. Jagdish (Assistant Professor- Sanskrit) and Dr. Suman Rathi (Assistant Professor- Hindi) gave votes of thanks to all the visitors, guests, research scholars, participants and professors. The seminar ended with group photographs and joyous celebration.
---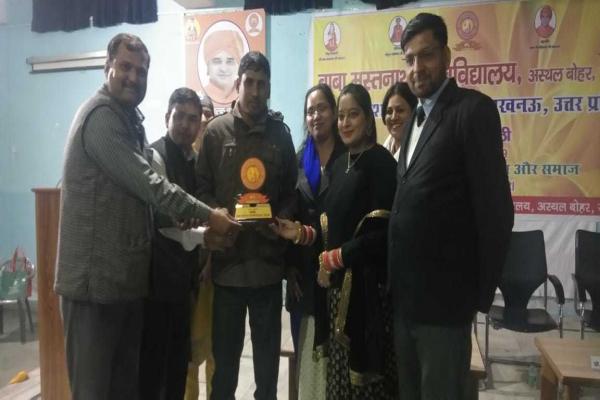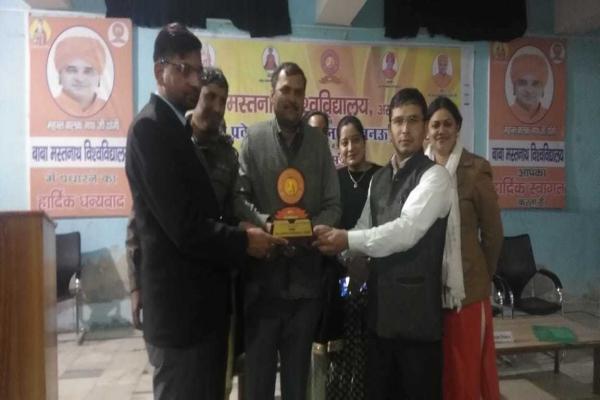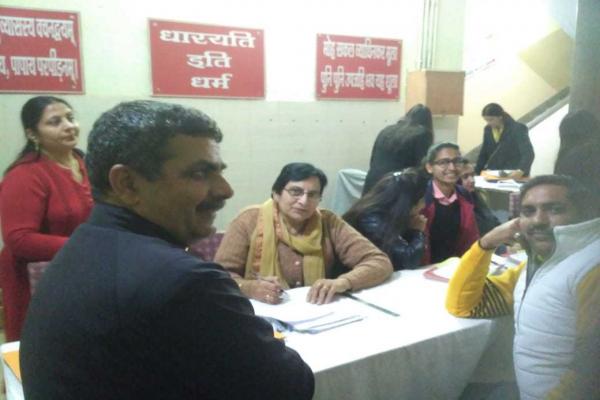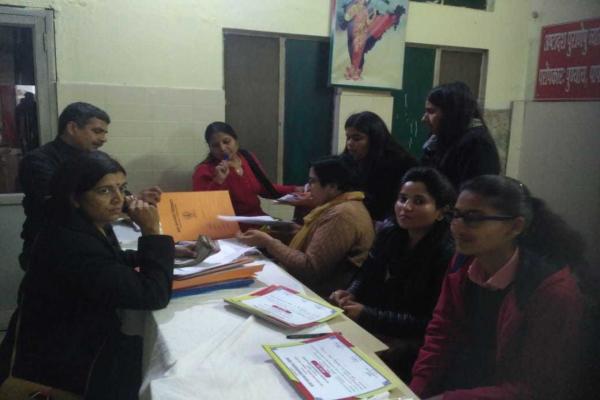 ---
4230 Views