Creation and Criticism
a literary e-journal
Visitors
Videos
Featured Interviews
News
Call for Poems.
Anthology on Contemporary Indian English Women's Poetry. Editors: Charu Sheel Singh & Binod Mishra
Friday, 15. July 2016 - 10:01 Uhr
---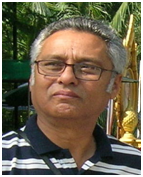 Syed Ali Hamid is popular for naturalness, cosmopolitan vision and loving heart. His poetry collections include Autumn Rainbow (1993), No Man's Land (2003) and Desire, Ultimately (2013). His recent poetry collection is The Ontology of Desire: New and Selected Poems (2015), which, besides new poems, contains selected poems from his earlier collections. Critics have high opinion about his poetry.
At present, Hamid is working as Professor of English at Kumaun University Campus, Almora in Uttarakhand, India. As a translator, he was awarded by the Uttar Pradesh Urdu Academy in 1990 for his translation of Hemingway's The Old Man and the Sea into Urdu. The fusion of Lacknavi culture and Almora's spiritualism makes him a true human being who sings the song of desire—desire for love, peace, joy and freedom. 
Professor Hamid has two daughters. He lives at 'Ehsas', Ranidhara Road, Almora-263601 (Uttarakhand). He can also be contacted at syedali.hamid2@gmail.com
Contents:
---
Tags:
Syed Ali Hamid
Poet
Interview
Video
505 Views