---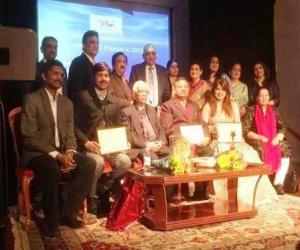 London: London based literary cultural society 'Vatayan'gave its annual awards for the year 2017 on 24th March 2017 at The Nehru Centre in London. This year, the leading publication house of Hindi, Vani Prakashan and its authors shone on the Vatayan Awards tally. Arun Maheshwari, Managing director, Vani Prakashan, poet Dr. HariOm and cultural activist Smita Parikh were conferred with the Vatayan awards in London for their exemplary contribution to the fields of publishing,literature and cultural awareness. Shri Kesharinath Tripathi, governor, West Bengal, was given the most prestigious Vatayan award, Vatayan Shikhar Samman.
Vibha Mehndiratta, Deputy Director of The Nehru Centre welcomed the guests. Bouquets were presented to the guests and after a brief introduction,Arun Maheshwari, MD, Vani Prakashan and Chairman, Vani Foundation received the 'International Vatayan Publishing Award'from YK Sinha, Indian High Commissioner to UK. Dr. Hariom, renowned poet and IAS officer received the International Vatayan Poetry Award and Ms Smita Parikhreceived the International Vatayan Culture Award, in presence of Dr. Padmesh Gupta, Chairman of UK Hindi Samiti.
Mr. Arun Maheshwari briefly addressed the attendees and thanked Vatayan for recognising the efforts of Vani Prakashan, Dr. HariOm and Ms. Smita Prikh narrated some of their poems. Mr. Mehtab Malhotra narrated Mr. Tripathi's poetry.
Vatayan gave its first International Vatayan Publishing Awardthis year to Arun Maheshwari Managing Director, Vani Prakashan. Vani Prakashan is a renowned Hindi publication house known for its quality Hindi literature and language books. Mr. Maheshwari has commissioned writings of various Nobel laureates, Sahitya Akademi awardees, Jnanpeeth awardees and many other well-established writers and authors. Arun Maheshwari has been the driving force behind 'Vak', a trimonthly magazine committed to discussion and discourse on languages and 'Pratiman', the first peer reviewed magazine of Hindi. As a publisher, Mr. Maheshwari has published more than 6000 books and more than 2500 authors. A globetrotter at heart, Mr. Maheshwari has travelled extensively throughout the world to promote literature and the culture of reading. His immense contributions to the development of Hindi have been well recognised. He has been awarded by the National Library (Sweden), Indo-Russian Literary Club and the Polish Culture Centre for Literary and Cultural Exchange that he facilitated between Hindi and Swedish, Hindi and Russian and Hindi and Polish languages.
The federation of Indian Publishers gave him the 'Distinguished Publishers Award' for the year 2008. Arun Maheshwari is also the member of working committee of Sahitya Akademi and the Hindi Medium Executive Directorate of Delhi University.
His not for profit organisation, Vani Foundation recently concluded a 2-day Hindi Literature Festival, Hindi Mahotsav, in collaboration with the Indraprastha College for Women on 3rd-4th March 2017.
Dr. Hariomwon the InternationalVatayan Kavita Samman 2017, an award given for outstanding contributions made in the field of poetry. Dr. Hariom is a 1997 batch IAS officer from Uttar Pradesh cadre, and has held many important positions in his long career. 'KapasKeAgle Mausam Mein', 'America Meri Jaan' and 'Dhoop ka Parcham' are his famous writings. His gazal collection, 'Khwabon ki Hansi', has been recently published by Vani Prakashan in the series, 'Dastaan Kehte-Kehte'. He has already been awarded with the Firaq Samman, Rajbhasha Award and the Tulsi Shree Samman for his writings.
Vani Prakashan author, Smita Parikhreceived the 'International Vatayan Sanskriti Samman' for her untiring efforts to promote cultural exchange. Smita Parikh is one of the leading RJs of FM Rainbow 107.1 in Mumbai. She has also presentend some of the very popular shows like 'Apne Mere Apne', 'Kittu Sab Jantihai', 'Jai Ma Vaishno Devi', 'Bioscope' etc. Smita is the director of e-Bizz Entertainment Pvt. Limited, an entertainment enterprise based in Mumbai. Her book, 'NazmeinIntezarki' by Vani Prakashan was much appreciated by readers.
London based literary cultural society 'Vatayan: Poetry on South Bank' was established in the year 2003, on the birth anniversary of William Blake by renowned writer and Linguistics Professor at Cambridge University, Dr. SatyendraShrivastava. Vatayan has since been the international platform for non-English poets and writers. It also arranges for the translations of non-English literary works. The Vatayan Poetry Award was started in the year 2004. The society invites an Indian author for 2 weeks every year to facilitate an exchange of thoughts between Indian and British authors and thinkers.
The Indian Council for Cultural Relations (ICCR) sponsors the trip of the Vatayan Awardees. Vatayan has published an array of important books, a collection of poems by the British poets being the most prominent one. Vatayan regularly organises 'Poetry Picnics' at the Shakespeare Hall at Stafford upon Oven. DivyaMathur is the founder chairman of Vatayan and SatyendraShrivastava, Mohan Rana, Anil Sharma, Padmesh Gupta and Ismail Chunara are the founding members.
---
3334 Views