---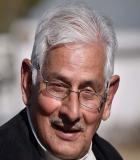 An author of more than fifty books in English and Hindi, P C K Prem (P. C. Katoch 1945 of Malkher Garh, Palampur--176 061, a former academician, civil servant and Member, Public Service Commission, Shimla, Himachal) post-graduated from Punjab University, Chandigarh in 1970. He has published nine collections of poetry, seven novels and two collections of short fiction in English. A few significant works on criticism are: Contemporary Indian English Poetry from Himachal-edited 1992, English Poetry in India: A Comprehensive Survey of Trends and Thought-Patterns 2011, English Poetry in India: A Secular Viewpoint-Co-edited 2011, TEN Poetic Minds in Indian English Poetry and Time and Continuity (2016). Creative writings in Hindi include twenty novels, nine books on short fiction, one collection of poetry and criticism. He is a recipient of more than twenty literary/social awards including HP State Guleri & Academy Awards and Bharat Hindi Rattan Award. Many academicians and scholars have published critiques/research articles on his works that are included in various anthologies/reference books. His critical articles on poetry and fiction have appeared in numerous anthologies. Many literary journals of International repute have also published his critiques on poetry and fiction.
"He not only offers an expose of life in its shocking shallowness or outward show but also provides, down deep, philosophical prop or basis to sustain life. Prem deals with the present day world, its problems and dilemmas, fears and aspirations. Katoch (Prem) tries to unravel the mystery of life by looking into the life of things. His fertile imagination and mature artistry enable him to manage complex situations and a vast spectrum of life. In the lineage of the nationally known Maharaja Sansar Chand, Prem is the only major poet, novelist, short story writer, translator and critic in English from Himachal Pradesh," says Dr Atma Ram (former Director of Education and Advisor to the Government of Himachal).
He has one daughter Dr. Shivalik Katoch Pathania and a son P. Vikranta Jay Katoch. Presently, he lives with wife Shakun in their farm at Palampur-176061, Himachal. He can be contacted at pckprem.katoch@gmail.com.
Poetry:
Story:
Essay:
Review:
Interview:
Other Publications:
333 Views